While going out to eat can be fun and something I truly love to do, it can get really expensive, especially with our family of 4, soon to be 5. I mean, a casual meal for 2 adults, and 2 kids meals, with drinks can really up there in price, so our nights out are treats and indulgences for special occasions.
But there ARE times where convenience wins out, because seriously, it's hard sometimes to get something put together in the kitchen after a long day of wrangling the kids and making sure everything around the house is in order. And yeah, being pregnant has made me TIRED.So TIRED. Sometimes, I just can't. I'm not saying this happens all the time. Most of the time, I actually do head to the kitchen around 6 p.m. and prepare a balanced and yummy din-din for the family. But when I have those nights where I just can't? I just can't...
And those are the nights we usually leave up to McDonald's, Domino's Pizza or Jimmy John's, or *gasp* Hamburger Helper. Bleh. I hate to do it, but like I said, convenience wins out more times than I'd like to admit.
And guess what, I'm not the only one for whom convenience wins. I read a something in an article that Millennials spend about $175 a month on restaurants, 14 percent more than older generations. And 87 percent of millennials will splurge on a nice meal even when money is tight, according to Restaurant Marketing Labs.
Though I never considered myself a "Millennial," I guess we totally do fall into that category. The article goes on to talk about a new option growing in popularity: recipe-delivery services. Basically, these services provide you with the ingredients you need to make a meal in exactly the right proportions from the different dinner options you choose on the websites. "For about $190 a month, you get two servings of two or three recipes a week (depending on the service) all delivered to your door."
Now, on this line of thought, I'm sure by now we've all heard of Plated, HelloFresh and of course, Blue Apron. There's SO many other options these days too. Basically, each service delivers amazingly fresh ingredients straight to your door for a reasonable price, and offers a variety of dishes and easy-to-read recipes.
But sometimes, that's even a lot of work. Yeah... I said it. Sometimes I don't feel like doing THE WHOLE THING. Yeah, even prepping the protein, the sides and all that jazz can be just too much for my tired bones. Pathetic, right? Whatever.
Before this intro gets absurdly out of control in length, and in explanation of my occasional pitifulness, let's get to the point, shall we?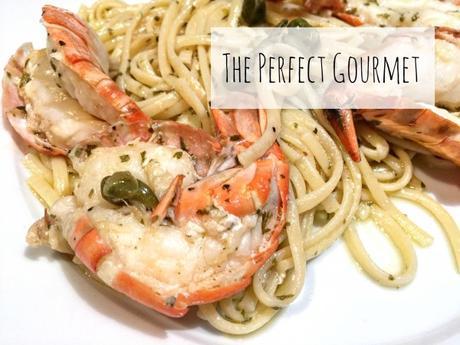 A couple of weeks ago, I received an email from someone involved with local culinary service, The Perfect Gourmet, a service which provides chef-prepared frozen foods not only for dinner parties and special events, but for deliciously easy weeknight dinners.
The Perfect Gourmet, owned by Carol Allen, sells high-end frozen food to the masses, and comes straight from Towson, MD, just north of Baltimore. I was really excited about a meal-delivery service based not even 30 minutes from my home, and especially excited about a meal-delivery service that featured ALREADY PREPPED FOOD. All you needed was to make a side, add a salad, and you were done. Boom. EASY. Exactly what I was after for those nights where even a meal-service where I had to do all the work was too much. Please. You've been there too. Even if you don't want to admit it.
"We do all the prep work for you, so that your food can go from freezer to oven to table in a few short minutes. That way, you can spend less time in the kitchen, and more time tending to the rest of your busy life." Thank you. Oh, THANK you.
So it was a no-brainer. Of course I'd link up with The Perfect Gourmet, and of course I'd try out a few meals on them for the purpose of review. After emailing back with a resounding YES! I was prompted to head to their website, where I was to choose 3 meals. There are three categories, appetizers, entrees and sides. I decided to go with all entrees since it's no problem for me to provide the sides, and I was most interested in the main dishes anyway. That's the hard part on those days where I just can't.
So after selecting the entree tab, I was prompted with even more choices. Did I want (red) meat, poultry, seafood or vegetarian? At this point, I decided to grab one from each of meat, poultry and seafood, thinking that what I'd be receiving was a portion of each, so that when they arrived, we could each try one, and sample off each other's plates.

My first choice was the Chicken Marsala, "Juicy, seared chicken breasts are slowly cooked in a traditional European sous-vide style to ensure tenderness, and infused with a reduction of Marsala wine, mushrooms, and herbs. It will taste like you spent hours in the kitchen, but no one has to find out how easy it was to prepare." The price tag seemed a bit steep to me, at $47, but I failed to notice that one order of chicken was 4 portions, 6 oz. each. Whoops. So NOW that I know it's for 4 meals, I'm totally on board with the money aspect.
My second choice was a Moroccan favorite, Beef Tagine, $29.00 for 4 Entrées at 4.25 oz each, and is described deliciously. "Morocco is a food lover's paradise, so we've taken one of its best dishes and made it easy and accessible. Our Beef Tagine has tender pieces of beef, diced tomatoes, carrots, and garbanzo beans, all smothered in an authentic, tantalizing sauce."
The final choice I made was the Lemon Caper Colossal Shrimp, $45.00 for 2 lbs (about 15 shrimp total). "Colossal shrimp are bathed in a mouthwatering sauce that combines the tartness of lemon, the saltiness of capers, and the richness of butter. Serve it atop linguine or your favorite pasta, and wow your guests with a simple but elegant dinner."
The ordering process was seamless, and 2 days later, a much heavier than expected box showed up at my doorstep. Like I mentioned earlier, I really thought that I was receiving 3 portions of very expensive food. 1 beef, 1 chicken and 1 shrimp. What was up with this huge packaging?
When I opened the box, then the cooler it contained, I saw it was stacked with dry ice to ensure the food inside remained frozen. Then, I noticed that I didn't get just 3 portions of food. I received 12 portions of reasonably priced proteins I selected, prepared from fresh ingredients, expertly crafted into individual dishes that were flash frozen, safeguarding optimal flavor and nutrition, and designed to be prepared from frozen in a matter of minutes.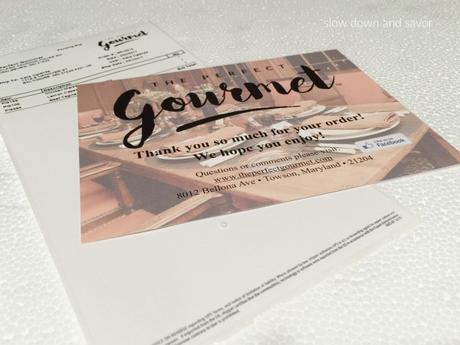 Bonus? Each individual serving is wrapped and ready to cook from frozen. Yep! No thawing required! Cook what you want, when you want it. The rest can be stored in your freezer for six months to a year, eliminating waste and facilitating meal planning. WINNER.
Talk about easy!!!
So that night for dinner, since it was just Major and myself that would be eating since Michael was away on business and Jack prefers hot dogs to just about anything else, I unboxed and unwrapped 2 portions of chicken marsala, stuck the breasts in baking dish, and followed the instructions on the box.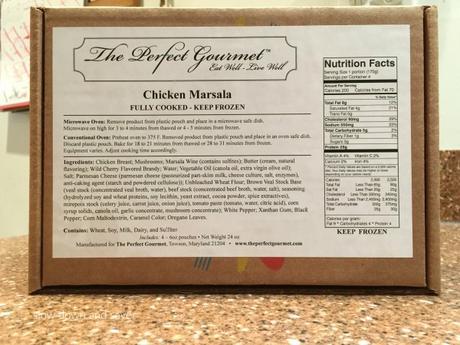 I also made some rice, and whipped up a side salad. When the timer for the chicken went DING, and the rice was cooked, and the salad was... well, still salad... it was time to serve.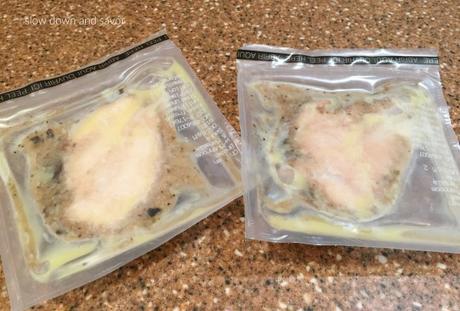 So, the big question: Was it good? Was it worth it? Should I have just sucked it up, taken the time, and made my own?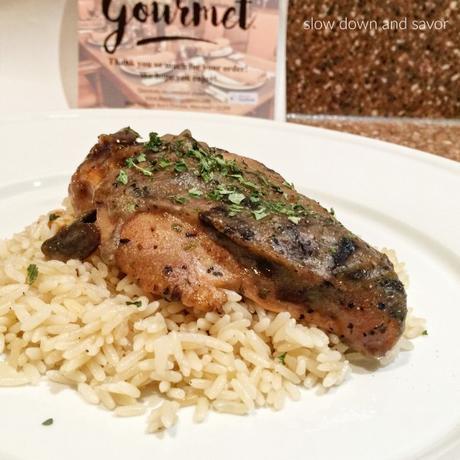 Well, it was delicious. It was worth it. And that night, I think that this was exactly what I needed: an easy, nutritious dinner that didn't require a whole lot of work on my end. And since it was just Major and me eating that night, I was left with 2 portions of chicken to save for another time.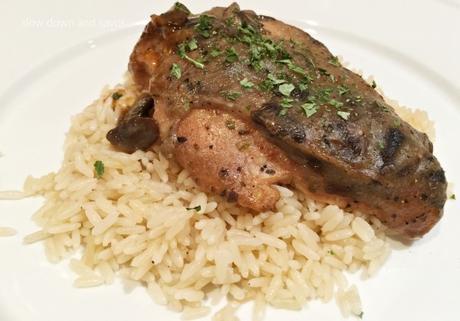 And that other time was 5 minutes ago for lunch. This time, my chicken spent 4 minutes in the microwave before landing on a plate with left over pasta and a quick salad. I just ate the quickest, most balanced lunch I've had in the longest time. Plus, it was tasty AND nutritious, good for my growing baby, that's for sure. I'm especially proud I didn't just resort to a bag of chips and call it lunch. Not like I've ever done that before... Nope. Never...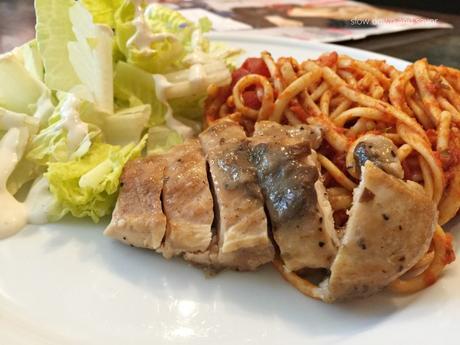 Anyway, the people at The Perfect Gourmet believe that every dinner should be an enjoyable end to your busy day, not another reason to stress. And I have to say, after night 1, I was looking forward to another perfectly gourmet dinner.
Our next adventure with The Perfect Gourmet was a week later, and it was the Beef Tagine. I chose to open the freezer this time after a particularly long and strenuous day where the mere idea alone of cooking anything more than something that took zero effort was a chore. So instead of ordering something, I went to the freezer and pulled out the beef.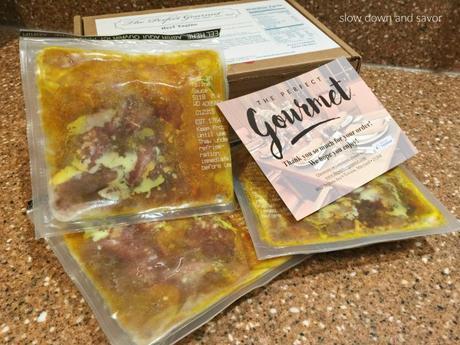 Instead of using the oven, I decided to use the stove-top. And after looking at each portion, I made the decision to go ahead and heat up all 4 in a skillet, rather than just 3. Michael and Major have pretty big appetites at the end of the day, and frankly, I was pretty hungry myself. Once again, Jack was going to be having something a little different from us, but this time I vowed to give him a little portion to test out.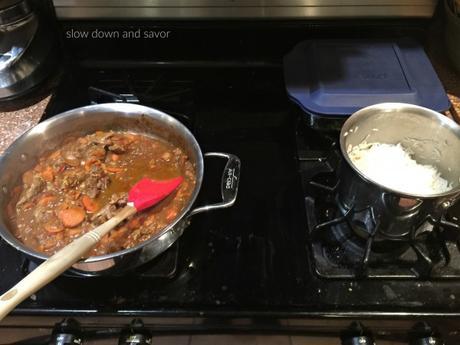 So as I got the beef ready to simmer along in the skillet, I got some rice cooking in a pot, and since the beef was starting to look a lot like a stew, chock full of all sorts of veggies, I decided to just leave it at that. Rice and Tagine.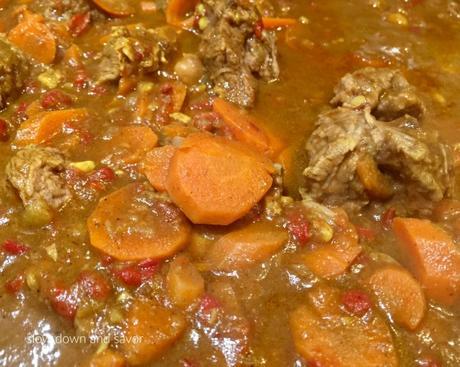 Now THIS dish was good. Holy cow. Each bite was a flavor explosion of sweet, sour and savory. Oh my word. After dinner, I took to Google and asked what exactly Tagine was and where it came from. I learned it's a traditional Moroccan dish that takes FOREVER to make.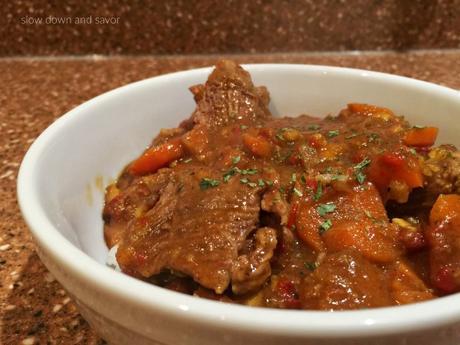 "Because this meal takes a long time to prepare, the woman of the house starts preparing the lunch tagine as soon as breakfast is over." ( Via) Clearly, this is a very special dish, and I'm really excited we were introduced to it, through The Perfect Gourmet. (Spoiler: The Beef Tagine was FOR SURE my favorite of the dishes we got from The Perfect Gourmet, hands down.)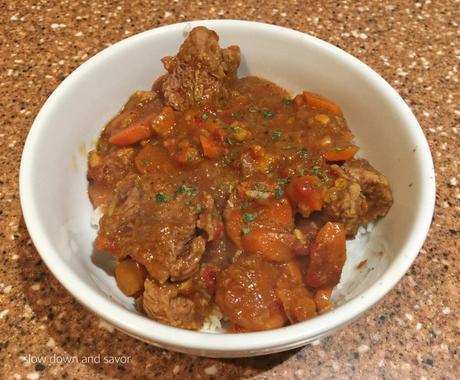 To round out our first grand experience with The Perfect Gourmet, I decided to head to the freezer again last night. We had a long day with doctors appointments for the baby, including our anatomy scan (Squee!!! More later!), other non-stop errands, Major's obligations and a of course, a rowdy toddler, plus preparing for Michael to leave for a business trip to TX, it turned into one of those days where dinner just wasn't going to happen from scratch.
Our final meal from The Perfect Gourmet was the Lemon Caper Colossal Shrimp.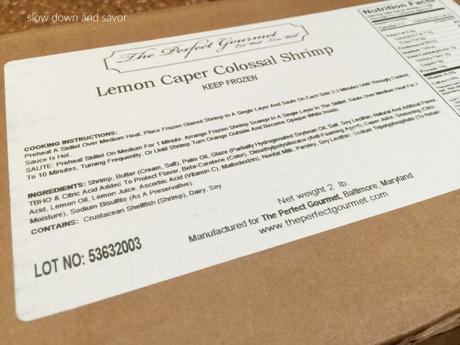 Unlike the previous 2 meals, this one didn't come in individually packaged portions, rather this one was in one big bag.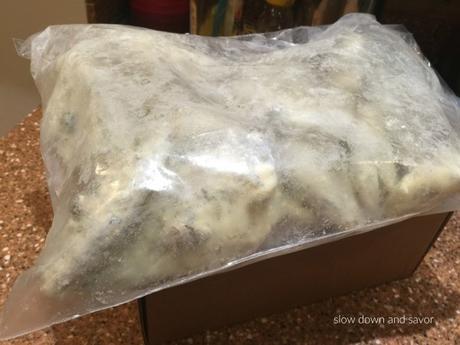 I decided to just make the whole thing, and for the side, I boiled some linguini and prepared a small side salad. Easy, peasy.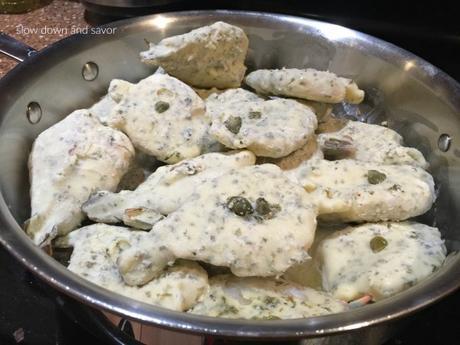 Once the shrimp was done in the skillet, I threw in the cooked pasta with a squeeze of fresh lemon, some salt and pepper and parmesan cheese.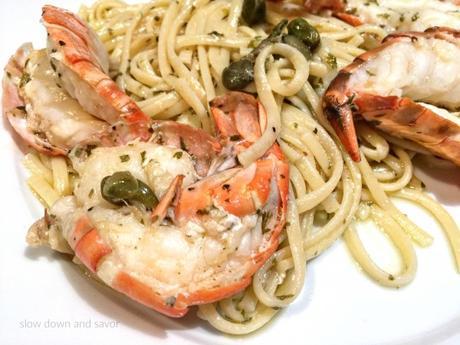 Simple, but delicious. The meal was perfect. We all loved the flavor, and I loved how good for you and easy it was. It filled us all up, and left us satisfied.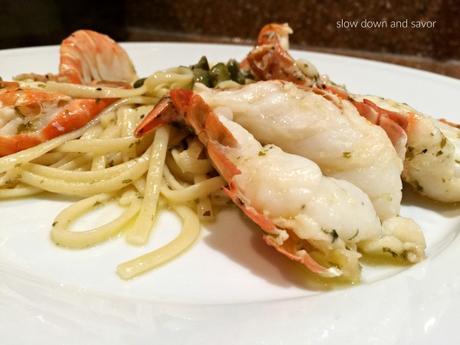 I'm really glad The Perfect Gourmet found me, and I'm glad I found them in return. It begins with inspiration, fresh ingredients, preserved nutrition, easy preparation, and minimal cleanup. With The Perfect Gourmet on your side, you can spend less time in the kitchen, and more time tending to the rest of your busy life.
Do you have a go-to meal delivery service? What's your favorite part about it? Have you checked out The Perfect Gourmet? Let me know in the comments!
FTC Disclaimer: Although I received food from The Perfect Gourmet free of charge for review purposes if I chose, I was not obligated to write a review. All opinions are 100% my own.