Happy Tuesday Ya'll
I've always been a huge fan of sweet stuff. I'm not sure where I got that from, considering my mom is not much of a 'baker', and my dad is all about just a full on good 'dinner' meal.
Pie has always been one of my favorites for my sweet tooth, so I was quite overly excited when I came across this 'Blueberry Pie' recipe from Inspired Taste.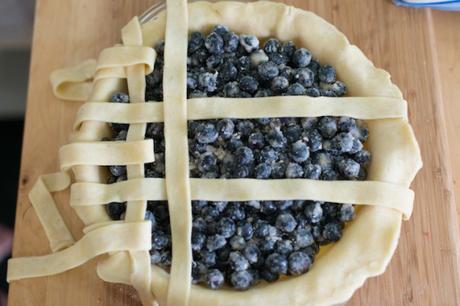 Ingredients:
Pie dough for top and bottom 9-inch (23 cm) pie, chilled
2/3 cup to 3/4 cup (130 g to 150 g) granulated sugar, adjusted according to sweetness of berries
1/4 cup (30 g) cornstarch ("corn flour")
2 teaspoons freshly grated lemon peel
1/8 teaspoon ground allspice
1/8 teaspoon ground cinnamon
1/8 teaspoon kosher salt
6 cups (900 g) fresh blueberries (about 2 pounds)
1 tablespoon (14 g) butter, cut into small squares
1 egg yolk
1 tablespoon heavy cream
1 tablespoon coarse sugar, for garnish
Directions:
Roll out half of the pie dough to fit an 8- or 9-inch (20 to 23 cm) pie dish. To prevent the dough from sticking and to ensure uniform thickness, roll from the center of the dough outwards and keep lifting up and turning the dough a quarter turn as you roll. Check for the correct size by inverting the pie dish over the dough. The dough should be about 2 inches (5 cm) larger than the dish.
Being careful not to stretch the dough, fit into pie dish then trim dough to within 3/4-inch (2 cm) of the edge of the dish. Refrigerate while you make the pie filling.
Stir sugar, cornstarch, lemon peel, allspice, cinnamon and salt in a large bowl. Add blueberries and gently toss to combine. Transfer blueberry filling to prepared pie crust. Refrigerate while you prepare the lattice crust.
Prepare Your Lattice Crust:
Roll out second half of dough to a similar size as before. Cut into 3/4-inch (2 cm) strips. Lay five strips over filled pie, parallel and equally spaced from one another. Carefully fold back the second and fourth strips then lay another strip of dough perpendicular to them. Unfold second and fourth strips over new strip.

Fold back the first, third and fifth strips then lay another strip of dough perpendicular to them. Unfold the first, third and fifth strips over the new strip. Repeat until pie has been covered with a lattice crust.
Trim dough strips to 3/4-inch (2 cm) of the edge of dish. Fold edges of strips and bottom dough underneath itself, creating a thicker border that rests on the lip of the dish. Crimp edges. Dot butter over the open areas of the lattice.
Make egg wash by whisking egg yolk and cream together then brush over pie dough. Sprinkle tablespoon of coarse sugar over crust. Refrigerate pie 20 minutes or freeze for 5 minutes before baking.
Baking Your Pie:
Heat oven to 400 degrees F (204C). Position an oven rack in the lower third of the oven then place a baking sheet on rack. (The baking sheet will catch any drips from the pie while baking).
Bake chilled pie on hot baking sheet for 20 minutes, reduce heat to 350 degrees F (177C) then continue to bake for 35 to 45 minutes, or until the crust is golden and juices in the filling are bubbling eagerly. (If, while baking, the crust begins to brown too much, cover with aluminum foil and continue to bake until done).
Cool 2 to 3 hours before cutting to allow filling to set.