Hello Sugar Plum Fairies! I hope you've all been doing well! I wanted to kick off my return with a blog about someone I adore so here goes...For the few of you who don't know, Nicky Paris (yes, like the Hilton sisters but not really) is a NYC based comedian. He's the full enchilada; young, captivating, witty, has great stage presence and the guy is a stone fox! Yep, he's gorgeous! I'm not a huge comedy buff but I've come to like who I like.  Dane Cook, Chris Rock, Mario Cantone, Kathy Griffin, D.L Hughley, the late, great Sam Kinison and Chris Farley are among my favorites but Nicky is unlike anyone I've ever seen before. The bottom line is I just love to giggle. So I usually find myself drawn to funny people.  When I was little my Mom would call me "Giggle Beak" because I was usually giggling with my friends, like little chirping birds! Hahaha!

I'm not sure who it is that I follow on twitter that was

ReTweeting his tweets but I owe them a HUGE THANK YOU! I started noticing his sense of humor was spot on. So much so that I found myself ReTweeting

his jokes & sending them to my sister because I knew she'd find them just as hilarious as I did, which of course she did, so we giggled together. :-)
I subscribed to his blog back in June, which is on his website: www.NickyParis.com & as a writer myself, I always pay attention to what the author is
really
saying. His blog is open, honest and intriguing. It reveals just enough of who he is mixed w/the perfect amount of comedy to keep it light. Before I even heard his voice I could hear "how" he was saying things. His delivery is so spellbinding that whether you're a man or a woman, preferably for Nicky's sake Zac Efron, you will fall in

love

with him! 
I was staying with my Mom during the summer and knew I wanted to go to one of his shows. He's performed at Caroline's Comedy Club, which is huge for comedians. I was so impressed by this, I mean he's only 19 but is so driven and focused, it's really very admirable. I sent him a tweet asking if he'd be performing any time in July and where could I get tickets. He wrote back right away saying he usually performs weekly and to let him know when I was thinking of coming. 
He then did something so sweet and unexpected... 
He realized somehow that I wasn't going to be around all summer and booked himself to perform just for ME! I might have actually done a little happy dance, no, I definitely did a happy dance. Lol! I called my Mom right away and told her we were going. She's a "Giggle Beak" too so I knew she'd

love

it! 
Nicky was adorable & sent me some emails to confirm and set everything up. He was performing at the Broadway Comedy Club on west 53rd street. It was an intimate setting, which was perfect because we sat right in front. I threw on my shiniest lip gloss and sipped my drink as we waited for the show to start. There were a handful of other comedians, some of which were funny, but none of them came close to Nicky! He jumped on stage full of energy and his routine was flawless. He didn't miss a beat! He winked at me and I felt like a 12 yr old girl at a Justin Bieber concert. Lol! My Mom too!! We were so enthralled by his performance. The man's a comedic genius, a true entertainer. He's smart and you see it right away because he's so quick you don't have time to think. He pulls you into the moment with him and before you know it, your face is hurting & your stomach is sore from laughing and you're tearing! It's intoxicating, so to speak. 
Right as he got off stage he came over to give me a quick hug and smooch on the cheek, I nearly died. Lol! Seriously though, I felt like the

Prom Queen!

:-)
After the show, he gave us big hugs and took some pics w/us. One of which he put on his Instagram, I was honored. I had to put this one up on mine too :-) I usually don't smile this big in pictures but I think my cheeks were frozen from laughing so hard! Lol!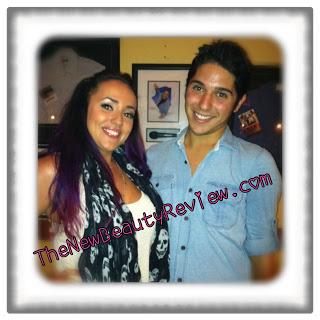 His energy is such that even though we didn't even know each other a few months before, it felt like we were old pals. He's very inviting and extremely humble yet really grounded but not about to take any sh*t...so technically we could be related :-)
He brought along his good friend, 

Tasha

who was just as cute as he was (Hi Tasha girl!!

XoXoXo

) We then all went to a nearby diner and talked for a few hours. I was trying to remain calm as I told the story of how this all came to be until my Mom put me on blast and said, "You didn't say it like that. You started jumping up and down saying he was doing a show just for you!"

Lol

! 
Thanks Mom! (Big Mouth) 
But she was right, I was thrilled to meet the person who had made me laugh for so many months at this point, it was all very exciting.
As the time went by, we told funny stories and nibbled on desserts. It was one of the highlights of my year, for sure. And for the record, as cute as he is in pictures, he's SO much cuter in person! Are you listening Zac Efron?! Or a Zac Efron impersonator...Lol! Me & My Mom were like wtf?! He's adorable. :-)
I feel so blessed to have had this experience and I really encourage all of you in the NYC area to go check him out. I promise you won't be disappointed. That's why I called this whole thing "The Nicky Paris Experience" because this whole encounter
, from start to finish was an unforgettable experience. He's not someone you forgot you met. To me and the now 66,000 people that follow him on twitter plus countless others, he's already a shining star but he will be world wide. You heard it here first! ;-)
Now go get your giggles on and follow him...NOW!
XO
Browse his Website, read his Blog & stay up to date on Appearances--->

http://www.nickyparis.com

/
Send him a tweet and follow him on Twitter to laugh out loud...in public, like I do and have random people stare at you like you're crazy--->
www.twitter.com/TheNickyparis
Subscribe to his YouTube, watch videos he's made & catch up with some of his routines--->
http://www.youtube.com/user/NickyParisComedy
Keep it Prettie! Or as Nicky would say...
"PEACE, LOVE AND CAMERA FLASHES"
*Stephanie*