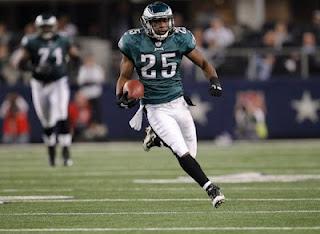 Photo: Getty Images
- Troy Ballard
With Adam doing a special piece on the top receiving duo's in the NFL (it can be found 
here
!), I felt compelled to show some love to running backs.
The kicker about doing a post on running backs, regardless of the angle, is that it always manages to create conflict. Whether it be that the player is totally overvalued, totally undervalued or that the selection is just flat-out ridiculous — running backs are the one position that cause guaranteed friction.
That being said, I open any and all revisions to my breakdown with a comment below. Speak your mind!
#5. Matt Forte — Chicago Bears
There's not much else to say about Matt Forte other than that the dude is a rushing monster. His numbers over the past four seasons have exploded, as every year he has either cracked or been within 70-yards of hitting the century mark.
Forte has big-play ability with his powerful running and excellent field vision, combined with his Pro-Bowl caliber receiving and blocking. His impact on Chicago's offense is earth-shattering, and he can be pinned as the reason the team was so successful before his injury.
With a new deal in hand and a healthy knee, Forte is going to be firing on all cylinders, and I think, he has a shot to be even better than before.
#
4. Ray Rice — Baltimore Ravens
Ray-Ray is a killer. There are few running backs left in the NFL that can match the kind of performance that Rice is putting out every week. His runs are effective and deadly, his receiving is on par with that of receiver and his blocking is tough and reliable. He's the engine that keeps the Ravens moving on offense.
This season, despite the repeated reports of faith in Joe Flacco from coaches, it would seem likely that Rice will take an even larger role in the offense. Baltimore will hand the ball off early and often and allow the team's best offensive weapon to do his job.
Rice has been one of the fastest developing running backs in the NFL, and the best part is that he hasn't even hit his ceiling yet.
#3. LeSean McCoy — Philadelphia Eagles
This was a sure-fire selection. LeSean McCoy has gone from 
that kid from Pitt
 to 
Shady McCoy might be the best in the NFL
. Much like Forte in Chicago, McCoy has a strikingly similar impact on Philadelphia's offense.
Last season he cracked the Eagles' franchise record for consecutive games scoring a rushing touchdown (the record holder before him was Steve Van Buren). That's only one nugget in a season filled with them. The kid was arguably the most effective runner in the entire league in only his second season as a starter.
Despite the loss of Jason Peters on the offensive line, McCoy should still explode in 2012 and add to his rapidly growing resume. Whether it's the nasty cut-backs or break-away speed, Shady has proven to be one of the best in the game today.
Did I forget to mention that he's only 24?
#2. Adrian Peterson — Minnesota Vikings
This is a big faith selection for Adrian Peterson — given the fact that he just got out of a bar brawl with police (maybe some exaggeration) and he may not even play for half of this upcoming season due to a knee injury.
However, I still have the utmost faith in AP.
Those who don't, are simply insane. Peterson is what every NFL franchise (even those listed above), want and fantasy about when speaking of running backs. He's a utility man that can literally carry the team on his back, regardless of the opponent.
But as stated above, Peterson is in deep water with possibly suspension-warranting trouble, and that disconcerting knee. Even in the event that he comes back at half-health, he'd still deserve a nod on this list. He's that good.
Whatever his contribution can be next season in Minnesota, it's almost a guarantee that it will that of top-tier talent.
#1. Maurice Jones-Drew — Jacksonville Jaguars
Don't hold your breath, Jacksonville. The Jags' are in the midst of a holdout with the best running back in the NFL today, Maurice Jones-Drew. We're speaking of the same one that shatters records, leads the league in almost every relevant statistic, and Jacksonville seemingly has no interest in giving him more dough.
But that debate is for another time.
The deal is that if MJD plays at all in this upcoming season, he will be the best running back in the league. Hands down. Even if he only plays in one game or all sixteen, Jones-Drew is the entire Jaguars team and more.
Any game that his team won last year, was strictly because of him. His performance and dedication to the game are incomparable, and it's a promise that he is only aiming to improve his near flawless game.
MJD can run like a gazelle, catch like a Venus fly trap and block like a tackle.
Jones-Drew is unanimous as #1 in my humble opinion, and I doubt many would disagree.
Be Sure to follow Beard and Stache on Twitter @BeardAndStache, and also Troy @TroyBallards, like our Facebook page HERE!