Amid the phone hacking scandal which has captured the news channels attention in Britain, the newspaper at the center of the allegations is to be closed down. The News of the World which has 4 million readers each Sunday is to close this weekend and all profits from the sales of the last edition are to be donated to charity. This will be a huge blow to the reputation of the News International group, headed by media mogul Rupert Murdoch.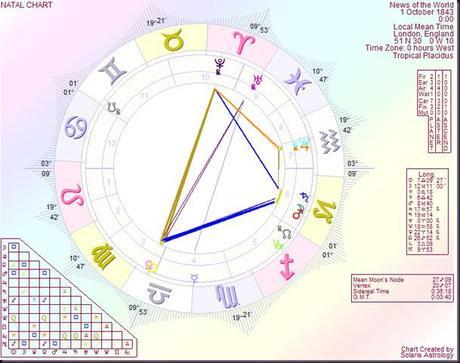 The News of the World was first published on 1st October 1843, 168 years ago. The natal chart has a Sun Venus conjunction in fair minded Libra quindecile to Pluto in Aries which suggests going out to dig out the truth. Aries is a very proactive placement for Pluto. This quindecile squares onto a Saturn Mars and Moon conjunction in administrative Capricorn. A lot of effort, work and emotion will go in to make sure that the paper was a success. Uranus makes a wide opposition to the Sun/Venus providing an individual yet humanitarian voice to the publication, and Mercury is peregrine just into Scorpio highlighting this chart is all about communication and information as well as big business. There is also a far reaching very creative Neptune/Jupiter conjunction sextile to Pluto. This is potentially the fly in the ointment for the News of the World as it encourages rather underhand and deceptive ways (Neptune) to get the stories. Jupiter will exacerbate the problem leading to a rather complacent attitude, thinking that using any means is "ok". This time, in allegedly hacking into murder victim Milly Dowler's mobile phone, as well as allegations of tapping into the mobiles of the families of British soldiers killed in action whilst the NOTW full supported the British armed forces in newspaper campaigns, the reported actions of the NOTW have enraged the British public, as well as politicians of all parties and persuasions.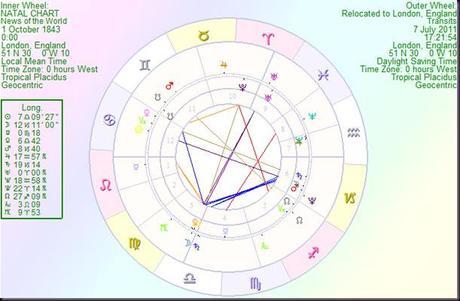 The decision to pull the plug on the NOTW comes as the natal chart is under huge pressure.  Transiting Saturn is still conjunct to the NOTW Sun and Venus (and has been for the last few months) as the phone hacking allegations began to take hold. This started with a court case involving Sienna Miller which she won in May 2011 in the high court, receiving £100,000 in compensation from the Sunday newspaper for hacking into her mobile phone. Transiting Uranus is also opposite the Sun/Venus, providing shocking new allegations and most damagingly transiting Pluto is square the Sun/Venus conjunction dredging up these alleged previously hidden vile acts to get the stories ahead of the competition. Transiting Neptune is trine to the singleton Mercury highlighting the possibility of deceptive action including mobile phones (ruled by Mercury). With the natal Sun under such a bombardment from the outer planets, it is no surprise to me that the newspaper is being wound up.