Sherborne Adjustable Beds
Sherborne Upholstery's leap into the Adjustable Bed market 3 years ago has been hugely successful, perhaps unsurprising giving Sherborne's leading position in Recliner Chairs. Nevertheless, the premium Sherborne Dorchester Adjsutable Bed has gained rave reviews from customers and medical professionals alike with it's superb operation, finish and durability. The only negative perhaps was the price for what admittedly was an outstanding piece of craftsmanship.
Realising this and responding to feedback from successful retailers of the Dorchester such as ourselves Sherborne has launched a price competitive alternative that shares all the key features of the original. Meet the Sherborne Hampton Adjustable Bed!
The New Sherborne Hampton
As with the Dorchester the Hampton Adjustable Bed is available in both a 'Head and Foot' and 'Head Only' format with a magnificent choice of 8 Mattress Options (Classic, Supreme, Deluxe and Victoria Collections). Naturally, all Hampton Adjustable Beds come complete with the added reassurance of a full 5 Year Warranty and 25 Stone Lift Capacity.
In addition the Hampton Adjustable Bed is available in a choice of sumptuous fabrics, headboards and sizes to suit (2'6″, 3′, 4′, 4'6, 5′ and 6′).
The main points of distinction between the two models are as follows:
The Hampton unlike the Dorchester 'is' suitable for use with a winch or other mobility aids (ground clearance 9.5cm)
The Hampton has full remote control operation, the two memory functions and back-lighting available on the Dorchester have been omitted
The fully upholstered non slatted base contains marginally less filling
The storage drawer found on the Dorchester is omitted
The mattress retainer on the Hampton is not upholstered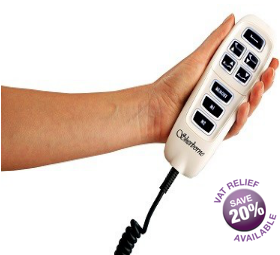 Medical VAT Relief – Save 20%
As with all our Adjustable Beds and Powered Recliners at Dalzells the Hampton is available with Medical VAT Relief for those with a disability or illness and for whom such a mobility product would provide an improved standard of comfort and or care.
To avail of this excellent saving of 20%, simply request a letter from your GP or referred Doctor, they'll know exactly what you're asking for and will be more than happy to oblige in this small matter.
A Top Deal: Free Delivery, Free Pillows & Free Old Bed Recycling
As a family business with nigh on 60 years of bedding expertise we absolutely appreciate your custom, as such you're assured a great deal on your new Adjustable Bed. Whether you shop online, over the phone or in-store you'll receive Free Delivery (across Northern Ireland and Counties Monaghan, Louth & Dublin – rest of Ireland just £29.99), a Free Pillow Set to get you under way and the added convenience of Free Collection & Disposal of your old bed or mattress. We Want Happy Customers! 
Want to learn a little more about Sherborne Adjustable Beds? Check out our excellent video below, better still Call, Email or Visit Us in-store for expert advice and to see these fantastic beds for yourself.
We Appreciate Your Business!