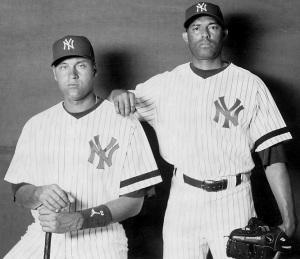 Future Hall of Famers Derek Jeter and Mariano Rivera, Yankees throughout their careers…quite a rarity these days.
Gehrig. Feller. Williams. Musial. Banks. Stargell. Yastrzemski. Bench. Yount. Ripken. The list goes on and on. Many of baseball's all-time greats never changed uniforms in their lengthy big league careers. Of course that's a rarity now, which makes present-day Yankees greats Mariano Rivera and Derek Jeter all the more unusual.
I grew up in an era when baseball was changing dramatically. In the 1970s, as the DH rule and free agency hit baseball, longtime stars suddenly started moving from team to team. I remember thinking how strange it was to see Catfish Hunter become a Yankee, but superstars changing uniforms quickly became the norm.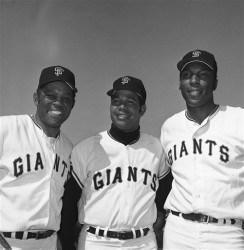 Willie Mays, Juan Marichal, and Willie McCovey…these legendary Giants Hall of Famers each wore another team's jersey late in their careers.
It was still rather striking to see Brian Wilson in a Dodgers uniform this season after all his success with the Giants earlier in his career. But he's no Hall of Famer at this point, and we almost expect players to change teams these days anyway.
However, it's not just in the free agent era that players so closely associated with one team have ended their careers elsewhere. The DH rule led to many fading sluggers grinding it out in unfamiliar surroundings late in their careers, and even before that legends like Ty Cobb and Babe Ruth switched teams.
Here's a look back at some Hall of Famers who are so well-known for one team that it's pretty odd seeing them in another uniform…especially when it's the jersey of their old arch-rivals.
Ty Cobb is certainly associated with the Detroit Tigers, with whom he played 22 seasons, but he ended his career with two seasons as a Philadelphia Athletic.
Though he started out with the Red Sox, Babe Ruth is forever remembered as a Yankee. Lou Gehrig and Ruth were perhaps the most famous slugging duo of all-time, but Ruth ended his career as a Boston Brave in 1935.
It's hard to imagine now, but Dodgers great Duke Snider was once a San Francisco Giant…for 91 games in 1964, after also playing with the woeful New York Mets in 1963.
The greatest Giant of them all, Willie Mays, famously ended his career back in New York as a Met, long past his prime.
Mirroring Duke Snider, Giants legend Juan Marichal actually ended his career as a Dodger after a short stint with the Red Sox.
After 21 years with the Washington Senators/Minnesota Twins franchise, slugger Harmon Killebrew played out the string as a DH and pinch-hitter with the Kansas City Royals in 1975.
Willie McCovey finished his career where he started, with the San Francisco Giants…but he spent 1974-76 with the Padres, and finished the '76 season with Oakland.
Billy Williams set the National League consecutive games played record as an All-Star outfielder for the Chicago Cubs, but he never reached the post-season until a 1975 trade sent him to the Oakland A's.
Hank Aaron was back in Milwaukee to end his illustrious career…as a designated hitter with the then-American League Brewers.