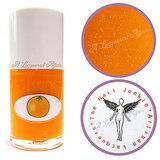 | är-inj |
" - a citrus fruit that is round and that has an orange skin
- a color between red and yellow that is like the color of fire and carrots" - Merriam-Webster
Hi, lovelies!
How is it already March?
I'm pretty stoked to share this indie nail polish Mei Mei's Signatures has provided for review. Ironically, I would usually shy away from oranges (the colour) and neons. It's jarring against my skin tone, I find. My opinion was changed in a snap the moment I put this one on.
The brand - The Nail Junkie. As the name suggests, Aleta, the maker, is a nail polish enthusiast herself, initially blogging about nail polishes. She sells her artisan hand-blended, 3-free nail polishes through Etsy and international e-tailers like Mei Mei's Signatures.
First Impressions
With a plethora of indie nail polish brands on the market now, I look for unique traits that etch a distinct impression on my mind. This could be their packaging, names, finishes, style, inspirations etc. For The Nail Junkie, it's the literal names, or the portrayal of, on the labels.
I looked all over the bottle for the name before realising she uses a pictogram.
Orange is described by The Nail Junkie as "a citrus colored neon jelly polish. It's loaded with holographic shimmer and can be worn as a build-able squishy jelly or you can layer it over glitters for a colorful "jelly sandwich"".
Here's one coat of Orange over Nail Tek Foundation III as basecoat:
It is quite pigmented for a jelly, but the best part is the squishy (or should I say juicy?) formula that glides on effortlessly and evenly.
I couldn't quite determine if the orange was neon, but it was sure bright; as bright and intense as a Sunquick Orange Squash! The shimmer, though looked silvery than holographic, added a thirst-quenching feel to the polish, like fizz in an ice-cold orange squash gleaming under the rays of a tropical sun.
Being a jelly, it took 3 coats to get somewhere close to opacity, more if one is really OCD about those visible nail lines.
It dries to a waxy finish without topcoat.
And with a topcoat (I used Glisten and Glow HK Girl Top Coat):
The juiciness got close to real, and I was tempted to slurp up my nails!
A closer shot:
I'm so pleased that the shimmer is as noticeable on the nails as it is in the bottle.
To jazz up this mani, I took The Nail Junkie's suggestion to do a jelly sandwich. Here's a dab of Estessimo TiNS 033 The Spicy Pinwheel and China Glaze Solar Flare over 3 coats of Orange:
And after sandwiching them over 1 coat of Orange...
I was going for the pulpy look, could you tell? To think of it, I should have worn this during Chinese New Year - Mandarin oranges, gold fortune coins.
Final Thoughts
Never write off a polish just because the shade is not up your alley. It may not have been my cup of tea initially, but I'm in love with the formula and finish.
The Nail Junkie retails on Etsy, and with pretty good flat shipping rates. Mei Mei's Signatures also retails The Nail Junkie and ships internationally. The polishes come in a 15ml bottle size. Follow them for more good stuff:
Mei Mei's Signatures online store: www.meimeisignatures.com
Facebook: www,facebook.com/meimeisignatures
Twitter; @meimeisi
Instagram: @meimeisignatures
The Nail Junkie: www.etsy.com/shop/thenailjunkie
Facebook: www.facebook.com/TheNailJunkie
Blog: http://the-nail-junkie.blogspot.com/
Twitter: @AletaColucci
On a separate note, don't mind the odd photo placements. I'm trying to save time and data space by loading Instagram-ready images on the blog. Still undetermined if I like it enough to continue with future posts.
Till the next post, stay juiced and polished!
♥ ♥ ♥ ♥ ♥
To Leave a Comment: I've noted that OnSugar's Comment feature has caused a few readers frustration by not accepting their input. While OnSugar works on rectifying it, I did a trial and error and found that comments don't get red-taped if you enter your information in the "Name" field without any space, ie. "ALacqueredAffair" instead of "A Lacquered Affair". I hope this works. As much as I want to, OnSugar doesn't allow the disabling of Captcha.
Disclaimer: The Nail Junkie Orange was sent for review. However, all opinions expressed are my own, and will always be.