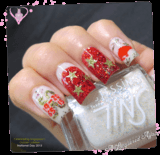 Greetings lovelies!
It's the 9th of August and for us here in Singapore, it's a celebration of our independence. We experience the biggest ever celebration this year, being our golden jubilee. We have a 4-day long National Day weekend (woohoo)! It has been a year of incredible highs and some lows for our 50 year-old country, and we're only in the month of August. In fact, we've been overwhelmed with a slew of #SG50 commemorations and perks since the start of 2015. 
Almost every year, my nails are decked out in national pride. Looking back, here are the past National Day manicures: 2012 & 2013.
This is what I'm dawning today for our golden jubilee:
I went super sparkly this year!
1965 was the year Singapore was declared independent, and 2015 marks the golden 50th year of independence. The numbers were freehanded with red acrylic paint.
The Ruffian manicure on the middle finger is perfect in representing the crescent moon on our flag. The five stars are typically white on our flag, but I went with gold glitter nail stickers this year, to drive through the 'golden jubilee' theme.
The red blob using red acrylic paint on the pinky is my feeble attempt at silhouetting our little red dot, our island, stippled with fireworks in the background.
Polishes used:
♥ Estessimo TiNS 079 Notes From Heaven (white crelly with holographic micro glitter and iridescent flecks)
♥ Darling Diva Polish Little Red Corvette (red crelly with red and holographic glitter)
♥ Glam Polish Life Is A Story (opaque gold holographic glitter with purple flakies)
♥ Glam Polish Comet Storm (purple-green-blue shifting flakies)

Here's a parting shot:
Now, I'm off to make the most out of the rest of the weekend break and perhaps get re-acquainted with my polishes.
Cheers to another 50 years, Singapore!
♥ ♥ ♥ ♥ ♥
To Leave a Comment
I've noted that OnSugar's Comment feature has caused a few readers frustration by not accepting their input. While OnSugar works on rectifying it, I did a trial and error and found that comments don't get red-taped if you enter your information in the "Name" field without any space, ie. "ALacqueredAffair" instead of "A Lacquered Affair". I hope this works. As much as I want to, OnSugar doesn't allow the disabling of Captcha.
Disclaimer: I am not sponsored/ endorsed by any of the above-mentioned companies. All opinions expressed are my own, and will always be. All products, with the exception of Glam Polish Comet Storm, were purchased on my own.