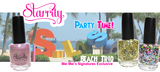 | sea-lo-soh |
"The word Siloso is derived from a Malayan word meaning rock (Sanskrit root: Sila). There was a huge rock at the mouth of Singapore's harbor which was very dangerous to shipping." - Wikipedia
"Home to the hottest volleyball action along with the coolest bars and restaurants, Siloso, Singapore's hippest beach, is the beach to head to for fun-loving people – day and night." - Sentosa
Hey there lovelies!
It's been too long, but I'm back. Many things have been plaguing me since the start of 2015. I'm thankful for this long Labour Day weekend, where I can sit back and enjoy nail-painting again.
In this post, I'd like to share a collection of which its theme is pretty significant to my day job at present. 'Party Time! Siloso Beach Trio' collection by Starrily is a Mei Mei's Signatures exclusive.
The Inspiration

'Party Time! Siloso Beach Trio' collection is inspired by one of the few islands that is part of Singapore - Sentosa, a resort island. I could share many things about Sentosa, having worked there for several projects for my day job, but it is best to be experienced.
Sentosa means "peace and tranquility" in Malay. The island was previously a British military base and fortress during colonial and WWII. Now, Sentosa houses several attractions (Asia's top theme park, Universal Studios Singapore, being one of them), and the most happening beach in Singapore - Siloso. More information and photos of Sentosa here.
This collection reflects the spirit of some of the key spots in Sentosa.
First Impressions
The collection strikes me as fun, with a little feminine flirty spark with the soft pink holo. Indie brand Starrily, by Mawi from Brooklyn, New York, packages polishes in a standard 15ml/ 0.5 fl.oz bottle with the logo in front, and polish name on the bottom.
First up...
Pink Flip Flops
"(also called thongs, jandals, pluggers, go-aheads, slaps, slides, step-ins, chankla or a variety of other names throughout the world) are a type of open-toed sandals typically worn in casual situations. They consist of a flat sole held loosely on the foot by a Y-shaped strap that passes between the first and second toes and around either side of the foot." - Wikipedia
Flip flops are a relatively common sight in Sentosa as the island oozes a laid back vibe. Well, also for practical purposes. Flip flops are also commonly worn in Singapore in general. The hot, and sometimes wet, tropical climate can be unforgiving to the outdoorsy feet.
Described as a baby pink jelly holo, this polish is exactly that! The linear holo is very evident in the bottle.
On the nails in 1 coat over base coat:
The jelly formula is pretty sheer, but the consistency is smooth and buttery.
By the 3rd coat, it's pretty opaque:
This demure shade would definitely bask in it its holo goodness on a sunny beach.
Close-up:
Merlion's Dream
| murh-lī-ən |
"The Merlion is a traditional creature in western heraldry that depicts a creature with a lion head and a body of a fish. In Singapore, it has become a marketing icon used as a mascot and national personification of Singapore. Merlions do not feature in any local folklore or myths of Singapore, and was only used in Singapore initially as the logo for the tourism board." - Wikipedia
The Inspiration
Sentosa is home to one of the 5 official merlion statues in Singapore, with this being the largest at 37 metres tall. The viewing decks at its mouth and head overlooks Sentosa island and parts of Singapore.
During special occasions, the merlion serves as a backdrop to 3D projection mapping shows like the one by Hexogon Solution below:
Merlion's Dream is described as a "Glitterbomb topper of gold glitters in various shapes and sizes in clear holo base."
It is filled with star, crescent, diamond, hexagon, round, square and micro glitter pieces, capturing the texture and aspirations the merlion represents in a bottle.
Here's one coat of Merlion's Dream on bare nails:
and a close-up:
The polish is generously filled with micro holographic glitter that enhances the larger shaped glitter. The base is slightly thick due to the intense amount of glitter but you get ample amount of smaller glitter over nail in a coat. Glitter fishing and placement (with a woodstick) is necessary for the larger glitter pieces.
Here's how it compares in (from top) 1, 2, 3 and 4 coats:
As more coats are added, the finish gets uneven and bumpy.
For the full-on glitter addicts, this is 4 coats of Merlion's Dream on all nails, with topcoat:
To state this polish is topcoat-hungry is an understatement.
As a topper, here are some combinations:
(Above) As a glitter gradient over Pink Flip Flops.
(Above) 1 coat of Merlion's Dream over (from left):
♥ OPI Mermaid's Tears
♥ OPI Can't Find My Czechbook
♥ OPI Yoga-ta Get This Blue
♥ OPI Viking in a Vinter Vonderland
with topcoat.
Songs of the Sea
"Songs of the Sea was a multimedia show located at Siloso Beach on Sentosa Island, Singapore. Designed by ECA2 founder, Yves Pépin, Songs of the Sea started its operations on 26 March 2007, a day after the Sentosa Musical Fountain ceased operations. The fountain is a $30 million investment by Sentosa to enhance its entertainment product offerings and to attract more tourists. It was the world's only permanent show set in the sea - with spectacular pyrotechnics displays, water jets that could shoot up to 40 meters, laser show, flame bursts, a live 7-person cast, and an open-air viewing gallery which can comfortably accommodate 3,000 visitors. Songs of the Sea had its final show on 4 May 2014, and was closed to make way for a brand new multi-sensory production titled Wings of Time, which was launched on 17 June 2014." - Wikipedia
The Inspiration
Words and photos cannot sufficiently portray the visual spectacle of the Songs of the Sea show, which I, unfortunately, was not able to witness in person before the run ended. YouTube video by ECA2Paris:
I have, however, experienced the new Wings of Time show that replaced it, and it is just as spectacular.
And back to the polish...
Songs Of The Sea contains the widest assortment of glitter pieces I've ever seen in a bottle. It has matte stars, flowers, dots, hearts and donuts in an assortment colours (neons, brights, pastels), all suspended in a clear base.
One coat over bare nails:
This glitter polish definitely requires a lot of fishing...and patience! After 1 swipe with the brush, additional pieces are carefully positioned using an orange woodstick. The most difficult pieces to fish are the hearts and flowers, being larger and heavier.
The next shots are Songs Of The Sea paired with a couple of base shades; as a glitter topper and jelly sandwich:
Top & bottom nails:
♥ 2 coats OPI Bubble Bath
♥ 1 coat glitter placement Starrily Songs Of The Sea
♥ 1 coat OPI Bubble Bath
topped with 1 coat Glisten & Glow HK Girl Top Coat
Middle & ring fingernails:
♥ 2 coats OPI Yoga-ta Get This Blue
♥ 1 coat glitter placement Starrily Songs Of The Sea
topped with 1 coat Glisten & Glow HK Girl Top Coat
Close-up:
Songs Of The Sea is simply a jam-packed bottle of fun.
Final Thoughts
This collection screams summer fun and party, pretty apt for a beach scene. While the best formula among the 3 is Pink Flip Flops, I like the creative possibilities of Songs Of The Sea, despite the tediousness of fishing for glitter and positioning them.
These parting shots feature all 3 polishes in a mani, over a-england Camelot, to try and capture the feel of Songs Of The Sea and 3D mapping show on the merlion:
♥ 1st coat - a-england Camelot
♥ 2nd coat - Starrily Pink Flip Flops (after applying striping tape)
♥ 3rd coat - Starrily Merlion's Dream glitter gradient at the tips
♥ 4th coat - Starrily Songs Of The Sea glitter placement
topped with Glisten & Glow HK Girl Topcoat
This trio is available individually, exclusively at
Mei Mei's Signatures
, along with other Starrily polishes, with international shipping available.
[Update 2 May, 2015: Mei Mei's Signatures' site is temporarily on vacation until 2nd week of May, 2015]
Meanwhile, check out more updates from Starrily and Mei Mei's Signatures via the following platforms:
Starrily
5-free handmade vegan nail polish from Brooklyn, New York, USA
♥ Store: starrily.com
♥ Facebook: www.facebook.com/starrilynailpolish
♥ Twitter: @starrilypolish
♥ Instagram: @starrilynails
Mei Mei's Signatures
Singapore-based online store for the widest range of nail polishes and related products. Ships internationally.
♥ Store: meimeisignatures.com
♥ Facebook: www,facebook.com/meimeisignatures
♥ Twitter; @meimeisi
♥ Instagram: @meimeisignatures
Enjoy the weekend, cheerios!
To Leave a Comment: I've noted that OnSugar's Comment feature has caused a few readers frustration by not accepting their input. While OnSugar works on rectifying it, I did a trial and error and found that comments don't get red-taped if you enter your information in the "Name" field without any space, ie. "ALacqueredAffair" instead of "A Lacquered Affair". I hope this works. As much as I want to, OnSugar doesn't allow the disabling of Captcha.
Disclaimer: Products were sent for review. However, all opinions expressed are my own, and will always be.