I don't know if it's just me but sometimes I find that when trying to buy something, there is just too much choice. I'm one of those people that likes to do their research, I like to have a great product, but also one that's value for money. So when I stepped into the weaning minefield I was instantly a bit overwhelmed. There are just so many brands and products out there. So when Tommee Tippee and Bibetta, brands we know and trust  offered to send us a weaning bundle to try out I was rather relieved!
Firstly we tried this really vibrant place mat from Bibetta.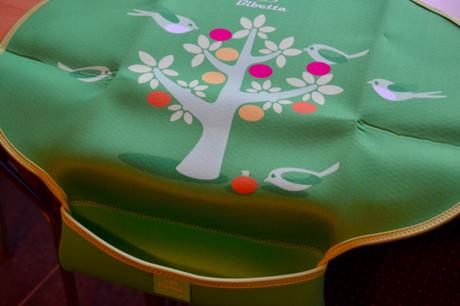 The pictures of this don't really do the product justice – its really quite large so great for covering a good area on the table, and is made of a soft neoprene material that feels quite padded which is great. The mat has a built in pocket to catch any food too.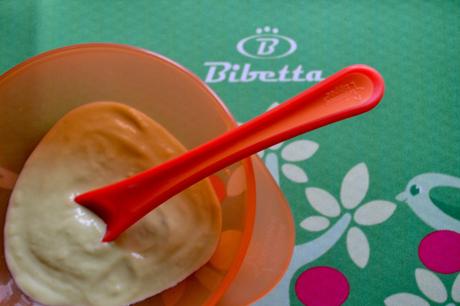 The mat is non slip, so although it doesn't stick or fasten to the table in any way it doesn't slip about either. Possibly the best feature of the mat for me though, is that it folds in on itself and tucks into the pocket, so if dirty, it can be tranposrted home neatly without having to put it in another bag. I think this mat would be perfect for slightly older babies or toddlers that are sitting at the table – Imogen has not yet stopped picking everything up and throwing it around so not as good for her jus yet! It retails at £14.99 and even won a Gold award from The DAD Network in 2016 so is definitely worth it!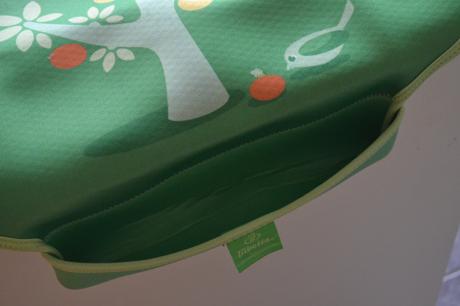 As well as place mats there are so many other things to think about too – spoons, bibs, bowls etc. The list goes on and on and the options are endless; non stick, suction cups, disposable, wipe clean…..! Tommee Tippee do a wide range of weaning products and these are just some we've tried. Firstly, disposable paper bibs. These are made of quite tough paper and have a pocket at the bottom to catch stuff. They are fab for out and about – we found them pretty absorbent but not quite enough for a whole cup of water being flung at yourself – but then not much would withstand that! They come in packs of 20 and fit nicely into a changing  bag.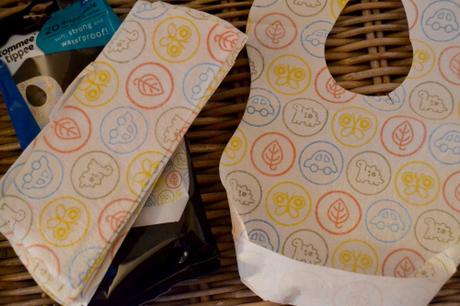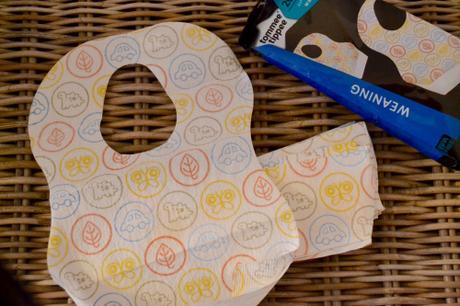 Next up we recieved some Easy Scoop Explora Bowls. These come in packs of 4 in a range of bright colours. They have a unique triangular base, said to make it easier to scoop up the food, which I would totally agree with. They have a decent capacity and also attach well to the Tommee Tippee Magic Mats. We bought one of these and it works pretty well – using a suction device to hold the bowl in place – it might not work for stronger toddlers though!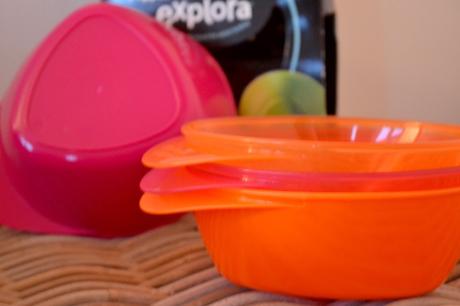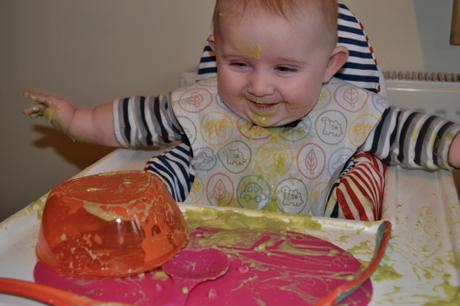 I really laughed when I saw the next products. For ages when I've thought about weaning Imogen I pictured myself trying to get food in her mouth by pretending to fly in aeroplanes or trains, but didn't imagine that a company would actually make a spoon in aeroplane form! These Aeroplane Spoons are very cute and sold in packs of 2, although at 7 months I'm not sure Imogen really appreciates them yet!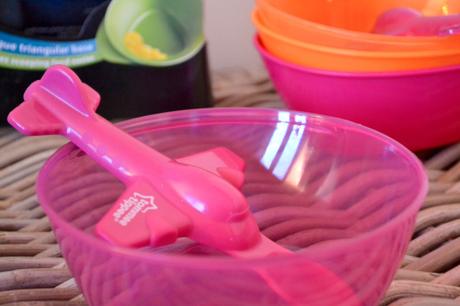 We found the next product fantastic – heat sensing soft tip spoons. These come in three packs, again in various colours. The handles are pretty long which can be useful for getting into jars, and the tips are soft which is kind to the gums – Imogen loves to chew on them. They are BPA free and also are heat sensing – so the soft tip of the spoon goes white if the food is too hot. Much better than constantly sticking your finger in the food to check!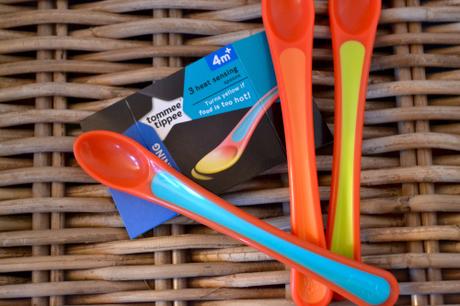 These essential storage pots are great for storing food int he fridge or freezer, and again feature the triangular base. Not pictured we have also used the Pop up freezer pots – the lids of these stay attached, so they are really easy to open when cold from the freezer.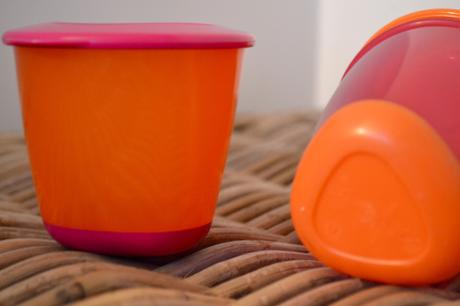 Lastly was the Free Flow Cup. Now if weaning is a minefield, then choosing a cup is even worse – there are so many on the market, how on earth do you make a discoid or know whats best for your little one. The essentials free flow cup is said to be the best for transitioning your baby from sucking to sipping, and this cup comes with a flip down spout meaning it won't spill when you're out and about. It;s taken Imogen a few weeks, but she is now really getting used to drinking from this cup, and finds it easy to hold too.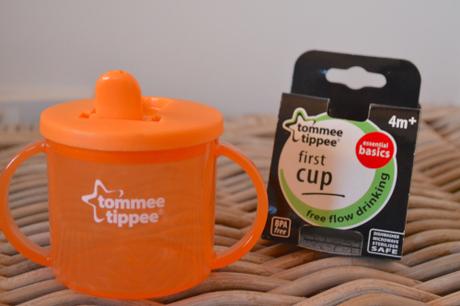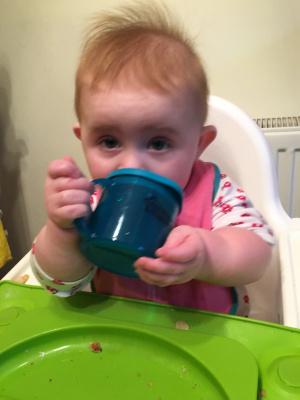 Like all Tommee Tippee products, it comes in loads of colours too. We liked this cup so much we have bought another couple since! Since trying out all these products, Bibetta and Tommee Tippee have reinforced themselves as trusted brands in my eyes, and hopefully, I now have a handle on the weaning minefield!
Disclosure: Thanks to Bibetta and Tommee Tippee for sending us some of the above products to try, no further compensation was received and all opinions are our own.