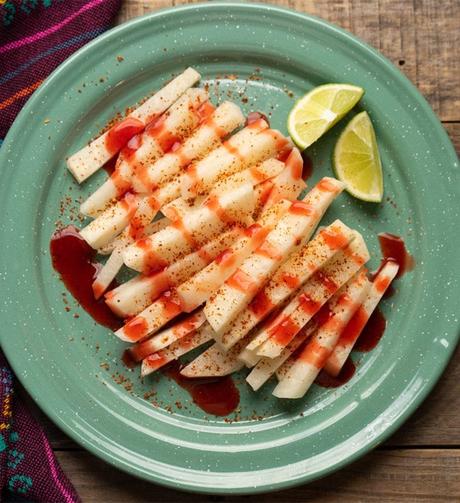 The incredible and distinct flavor of chamoy, a sauce made from chilis and pickled fruits, cannot be described in one word. It is intense, flavorful, sweet, salty, spicy, tangy, and more - this Mexican sauce is simply everything but plain!
Chamoy sauce does an excellent job of elevating the taste and quality of simple dishes. Whether combined with a savory salad or a cold dessert like mango sorbet, the resulting treat is truly one-of-a-kind, like the many recipes in this article!
Tired of the same old, plain chicken salad? Bring some novelty to your salad bowls with this chamoy chicken salad. It stands out from any other salad because the chicken is marinated in the sauce to let the spicy flavors seep into the meat. Then, more sauce is drizzled upon serving - the delicious sweet and acidic heat is hard to miss!
This dish is a feast for the eyes, featuring grilled chicken resting on a colorful bed of grains and vegetables. But the flavors are even more complex and vibrant than this dish's aesthetic. You'll be marinating the chicken filet in homemade chamoy sauce before grilling. As the recipe serving size is good for two, it's perfect for a date - unique yet delicious!
Buffalo wings are a classic, but you can bet that these chamoy wings will give them a run for their money. These air-fried wings are tossed in chamoy mixed with hot sauce and lime juice. It results in an unmatched flavor profile - the chamoy, hot sauce, and lime trio create a different level of spice, tang, and savoriness.
There's hardly a better accompaniment to a hot and savory Mexican sauce than the quintessential Mexican treat - tacos! This recipe marinates the pork filling in chamoy, infusing it with delicious and spicy flavors. Such a taste compliments the rest of the dish, and when you serve these tacos with fruit salsa, more chamoy, and lime wedges, you're promised an overload of flavor.
When you think of salmon, you're unlikely to see it with flavors like chamoy, which has a complex taste profile consisting of nearly everything, from spicy to savory. But once you've had this chamoy-glazed salmon, your world will be turned around. The incredible Mexican sauce does an excellent job of elevating this delicate fish, and you can serve it with various options, like corn, rice, or salad.
Tortilla chips from the bag can be boring, but you can spice it up with a medley of vegetables, fruits, peanuts, candies, seasonings, and sauces. This tostilocos recipe will turn every chip into a party in your mouth, especially when you use chamoy. It's easy to prepare; there's no cooking, baking, or any other complex kitchen procedure - just bring everything together on a plate.
What if you could have a cup full of fresh fruits with an intense savory kick? These Mexican fruit cups are precisely that - they're packed with seasonal fruits and vegetables, like jicama, cucumber, mango, papaya, and more. These fresh delights are flavored with chamoy sauce and tajin, a unique seasoning consisting of chili, salt, and lime. It may seem similar to a fruit salad, and yet it is nothing like it!
These pepinos locos look and taste as crazy as their name. You'd hardly think of making cups out of cucumbers, much less stuffing them with peanuts and gummy worms, but that's exactly what this recipe calls for. You'll also rim the cucumber cups with tajin and chamoy, so every inch of this treat will be a tantalizing surprise of flavors and textures.
Plain watermelon can get boring. How about serving it in the most loca way possible? This recipe will teach you how. Sandia loca is a fun, fresh, and flavorful salad made with watermelon chunks, gummy worms, peanuts, vegetables, and other toppings of your choice. This food party is served in the hollowed-out watermelon shell and then topped with chamoy, lime, chili, or spicy Mexican candies.
Ever had a sorbet or slushy with some chili? If you haven't, you should give mangonada a chance - it's mango blended with chamoy sauce, tajin, and ice cubes. You can play around with the flavors by adding lime, mango juice, sugar, nectar, or chamoy. This mixture of sweet, tart, salty, and spicy flavors is a unique way to beat the heat.
How do you elevate the spicy, chilled mangonada even more? By combining it with a refreshing margarita! This mangonadas margaritas recipe is just like the one above, but with an alcoholic punch from the tequila blanco and triple sec liqueur. It's a refreshingly fruity and spicy twist on margaritas. Give it a chance; you won't be disappointed!
If you're more of a beer person than a tequila fan, this beverage would be right up your alley. Michelada is a Mexican concoction made from beer, lime, sauces, and spices. If you combine that with chamoy, chile lime, clamato (or tomato juice), soy sauce, salt, pepper, and lime, you get a Mexican rendition of bloody mary - although there's no vodka, just beer.
You might've tasted many popsicles, but none like this one. Paletas are fresh fruit ice pops, and this one, in particular, is mango-flavored. But it doesn't stop at that; it also incorporates the floral tones of rosewater and the complex flavors of chamoy. At first taste, the contrasting flavors jump out but give it a few moments, and you'll realize that they all work out surprisingly well.
Change how you eat your gummies, skittles, and sour patch kids by turning them into dulces enchiladas or chamoy candy. With this recipe, you can transform your sweet treats into sweet, spicy, and sour delicacies that are nothing like the ones sold at conventional sweets stores. And if the current spice level isn't enough for you, you can amp it up by using more chile or cayenne.