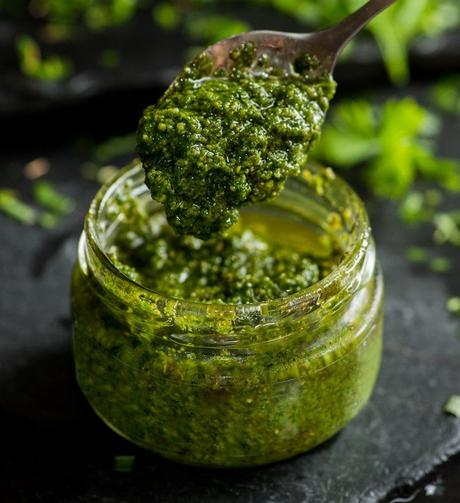 Carrot leaves, also known as carrot greens, grow on top of a carrot - on its taproot, to be precise. They are edible leafy greens that taste slightly sweet and earthy, almost like a cross between parsley and carrots.
While carrot leaf is often used to replace parsley and other herbs, you can also use them to make some wholesome dishes. Carrot leaves are the perfect balance of hearty and healthy. So, they'll be as good for your immune system and overall health as they are for your taste buds. Explore a fine collection of the best carrot leaf recipes here!
Try this recipe once, and you'll never throw your carrot greens away again! Cold pasta salads are great for warm summer lunches, and this nutrient-rich recipe kicks it up a notch with the delicious carrot green pesto. Just toss the pasta with the pesto, and you have a creamy, easy-to-make weeknight dish to enjoy. You can also use the pesto on pizzas and sweet potatoes for a flavorful meal.
Learn how to make the perfect carrot green pesto in a few simple steps. This tasty recipe calls for blanching carrot leaves, which makes them less bitter. Then, you can combine it with garlic, olive oil, parmesan, pine nuts, and seasonings in a food blender and blend to your desired texture. This pesto also freezes well, so make a big batch and enjoy it in different dishes throughout the week.
This savory condiment comes together in 10 minutes and is lovely with a variety of meals. In it, the slightly bitter carrot greens get a hint of spice from garlic, lots of herby notes from dried oregano, and a tangy flavor from vinegar. Combined with olive oil, you get delicious chimichurri with an extraordinary depth of flavor!
Here's a delicious way to use something you typically throw away! This savory cornbread is made with carrot leaves, agave nectar, cornmeal, fresh rosemary, gluten-free flour, green onion, and ground flaxseed. Bake it until the edges are brown, and serve it with chili for a complete meal!
With a bright, fresh flavor, this carrot top pesto tastes like spring! You can make this flavor enhancer with just a couple of ingredients and use it the same way as classic pesto - on crostinis, sandwiches, and roasted veggies. And since this delicious pesto has olive oil and nuts that make it deliciously creamy, you can skip the cheese!
Combine the flavor of pesto with creamy hummus to create this fantastic dip! It tastes heavenly alongside whipped feta, or you can serve it with pita chips or roasted carrots to enjoy an exquisite flavor explosion in every bite. You can make it in a food processor in just 10 minutes - the perfect last-minute snacking idea!
This sweet and savory salad combines the goodness of carrots, chickpeas, raisins, pumpkin seeds, and shallots with a zesty dressing made with carrot greens! The salad has layers of flavors, a pop of color, a wicked crunch punch, and some beautiful textures - it'll take your dinner spread to the next level!
This salsa verde is perfect for minimizing food waste, and you can freeze extras for later. Carrot leaves are combined with anchovy paste, garlic, Italian parsley, lemon juice, red pepper flakes, salt, and white wine vinegar. It produces a dish with layers of wonderful flavors, which pair exceptionally well with grilled meat, fish, or veggies.
This bright, fresh, and flavorful soup will be the rising star of your cookbook. It's loaded with good-for-you veggies and features Herbes de Provence and Tellicherry peppercorns. Needless to say, it will be a healthy option for many diets without compromising on flavor. Serve it with some sourdough bread or crackers for dipping, and enjoy a satisfying meal!
Taking inspiration from the traditional Lebanese tabbouleh, this herby and lemony dish features veggies, bulgur, and fresh mint - all tossed with a lemon-garlic dressing that imparts exquisite flavors in every mouthful. It pairs well with falafel, grilled salmon, chicken shawarma, and pita chips. Remember to let it rest in the fridge for an hour before serving to allow the flavors to meld together.
This homemade vegetable broth is a waste not, want not dish with top-tier health benefits. You just need four ingredients - water, carrot tops, salt, and bay leaves - to make this broth. Combine all ingredients in water and bring it to a boil. Then, pour the broth through a colander into a large bowl. Discard the solids and save the liquid in the bowl below to use as a base for your favorite dishes!
This recipe is a creative twist on the classic white bean dip and will elevate your dip game! It uses earthy and bold carrot leaves and aromatic herbs to complement the fiber and protein-rich white beans. The resulting dish is perfect as an appetizer alongside crackers and chips!
Made with simple and nutritious ingredients like carrots with leaves, onions, celery, garlic, and seasonings, this soup makes for an easy weeknight meal. It also features white beans that make it substantial enough to enjoy as a lunch or dinner on its own. Prepare it on the stovetop, in a pressure cooker, or Instant Pot, and enjoy hearty, delicious soup every single time!
Sautéed carrot greens deliver a simple but incredibly delicious green side dish that everyone will enjoy! To make it, you just need to sauté carrot greens with minced garlic, salt, pepper, and red pepper flakes in olive oil. This will produce a dish that will tantalize your taste buds while helping you easily meet your daily nutrient needs.