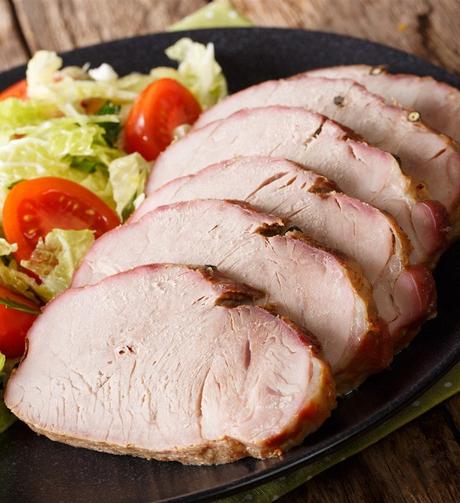 Pork tenderloin, also called pork fillet or pork steak, is a long, narrow, boneless cut of pork. It is sourced from the loin muscle - a muscle that runs along the pig's backbone, from the shoulder to the rear. The lean, delicately flavored meat is cooked after its tough silver skin is trimmed off, and when cooked right, it can be incredibly tender and juicy.
If you want to level up your pork cooking game, try these pork tenderloin recipes and watch how quickly everyone becomes a fan of your cooking!
This recipe combines tender, juicy pork tenderloin with crisp apples to produce a top-tier texture and flavor contrast. When fragrant spices and sweet and tart cider are added to the equation, the tenderloin takes on a heavenly flavor. You can also make extras and serve the leftovers in sandwiches and salads for lunch the next day.
Pulled pork is delicious, but it can take time to cook, something we can't afford on hectic weeknights. Enter barbecue pork tenderloin sliders! It combines tender pork with a tangy and vinegary sauce and crunchy coleslaw in a slider to produce the perfect meal. You can reheat it in the microwave to enjoy whenever you're craving a bite.
This grilled pork tenderloin is truly 'chef's kiss'! It calls for marinating the pork for 30 minutes, then grilling it until it's moist and cooked on all sides. What gives it that tantalizing flavor is the combination of delicious ingredients used in the marinade - expect to use lots of garlic, honey, lemon juice, mustard, oil, and spices to make this crowd-pleaser!
This recipe will be an asset to your cooking repertoire. The tender, juicy pork is marinated with brown sugar and Dijon mustard to infuse it with the most exquisite flavors. It's then paired with sautéed cabbage, smoky bacon, and chunks of apples to produce the ultimate treat for your taste buds. Garnish it with parsley for an extra kick.
This restaurant-level stir-fry is the perfect way to make stir-fried pork. It combines tender pork with healthy broccoli to produce a wholesome dish. The star of this recipe is the marinade, which can be adjusted to be as spicy as you like. You can enjoy it as-is, but it's especially divine when served on a bed of rice.
Get a taste of an amazing combination of contrasting and complementary textures and flavors. This recipe calls for marinating pork with garlic, lime juice, olive oil, orange juice, and spices to infuse it with rich tastes. Once cooked, you can serve it with black beans, brown rice, or roasted sweet potatoes to put a hearty, healthy meal on the table.
This orange-glazed pork tenderloin comes together quickly and is perfect for hectic weeknights. It uses orange marmalade, pineapple juice, soy sauce, and apple cider vinegar to flavor and tenderize the pork, which can then be grilled in an oven or grill. Base it with marmalade and pair it with a side of rice pilaf to round up your meal.
This recipe has three components - crisp and refreshing quinoa salad, flavor-packed honey habanero dressing, and juicy pork tenderloin. All three elements combine to create a colorful dish with exquisite flavors. Serve this meal with extra cilantro and lime wedges for garnish.
In this recipe, pork tenderloin is seasoned with black pepper, garlic powder, paprika, and salt before being seared to golden perfection. The spices give it a robust punch of flavor as well as a nice crust. It's then covered with a garlic-infused savory-sweet sauce and oven-baked until it's tender on the inside and sticky on the outside. Serve it with a couscous salad for a balanced meal.
Savory, sweet, and spicy, this roasted pork tenderloin recipe is a game-changer! And this amazing flavor profile develops in just 30 minutes! The strawberry jalapeno salsa creates a delightfully sweet and spicy flavor that perfectly complements the moist tenderloin. And if you have any salsa left over, serve it with tortilla chips for a quick and delicious snack.
This marinated pork tenderloin recipe is brimming with scrumptious flavors from lemon juice, garlic, dried oregano, and various seasonings. When it's grilled, the pork pairs exceptionally well with homemade tzatziki. However, you can also serve it with a feta cherry tomato salad or lemon-roasted potatoes for a filling meal.
This pork tenderloin features an exquisite taste. The juicy meat is loaded with mushrooms, bacon, garlic, herbs, and seasonings to pack a powerful flavor punch while also elevating the recipe's nutritional profile. You can glaze the tenderloin with caramelized pan drippings to give it even more flavor and a golden crust that will have you coming back for more!
Pair hearty, tender, and juicy pork tenderloin with a lip-smackingly good seasoning prepared with aromatic garlic, rich butter, and herbs. The result is an ultimate treat for your senses! You only need 40 minutes to put this incredible meal together. It's also make-ahead friendly, so you can keep it in the fridge for up to 3 days, making it the ideal dinner for hectic weeknights.
In this recipe, pork tenderloin is smothered in a mouthwatering gravy prepared with chicken broth, cornstarch, lemon juice, and salt. It produces tender, moist pork that is so delicious you won't be able to stop eating it! You can serve it with mashed potatoes or on sandwiches for a satisfying meal.