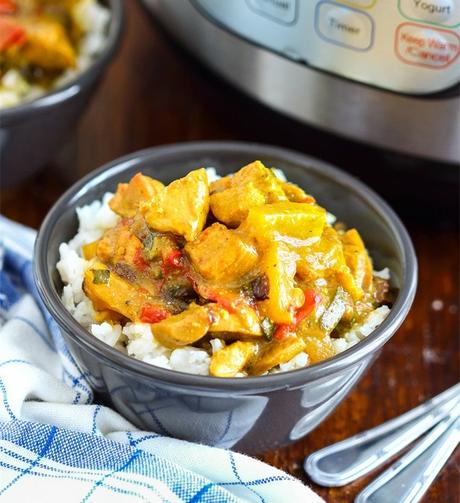 Instant pots make cooking effortless - they're quick, easy, and convenient since you only need one pot to get everything done! As you can expect, they found their spot among kitchen essentials, and you're probably itching to use yours right now!
Well, you don't have to wait any longer - this article features the quickest and tastiest chicken dishes you can make with your instant pot. You can save time with these recipes, but don't worry - there's no skimping on the flavor!
One of the most filling, hearty, and satisfying meals is a plate of warm rice topped with chicken drenched in honey garlic sauce, sesame seeds, and green onions. It's the perfect blend of savory and sweet, which you get from honey, garlic, and other ingredients like soy sauce, ketchup, and spices. With your trusty instant pot, this dish takes only around 20 minutes to make!
The combination of lemon and garlic makes an unexpectedly aromatic and flavorful chicken dish. The citrus taste is impossible to miss as the chicken and sauce are flavored with lemon juice and zest, then garnished with more lemon slices. Every bite bursts with fresh and savory flavors, with hints of creaminess from the delicious sauce. Serve warm over rice or mashed potatoes!
A taste of Singapore isn't far off when you have an instant pot, chicken, and a generous amount of spices and ingredients. Hainanese chicken may be a bit tedious because of the many elements - chicken, soup, sauces, and rice - but this recipe is relatively easier and much quicker than the real deal. It may not be Michelin-star quality, but it is the perfect comfort food!
This quick and tasty chicken adobo recipe takes your taste buds to their next destination, the Philippines. This Filipino pride has chicken cooked in a savory and well-balanced marinade of soy sauce, vinegar, pepper, bay leaves, and garlic. And cooking them in an instant pot is not just convenient, but it also makes the meat even more tender and aromatic!
Your flavorful trek around Asia with your instant pot isn't done yet; we have yet another Oriental-inspired dish - orange chicken. This 30-minute recipe makes a delightfully sweet and tangy dish perfect for family dinners. You can get creative with it, too, by adding chili or bbq sauce! The classic pair is rice, but you can swap that with vegetables or noodles.
Put away your usual Chinese takeout menu and give this homemade sesame chicken a try. It's much tastier, authentic, and as quick as takeout - only 20 minutes in your instant pot! Ingredients are readily available, and the flavors are incredible, especially because of that perfect union of honey sweetness and soy sauce saltiness. The recipe is also effortless - dump your ingredients, then start the pot!
Pasta dishes often take a lot of effort and a lot of pans to prepare - cooking the pasta, making the sauce, and then bringing those all together. But this instant pot chicken alfredo recipe makes an elegant and effortless dish. The pasta's cooked perfectly, the sauce is amazingly creamy, and when paired with a glass of your favorite wine, it all feels like a luxurious date night!
Got a party coming over? This chicken burrito recipe will help you easily and quickly make 17 burritos with just one instant pot! The prep and cooking time for the filling takes only 30 minutes, and it's absolutely delicious, loaded with all the good stuff and spices. The wrapping is time-consuming, but you can swap that for bowls for less hassle.
The classic Indian butter chicken is the perfect blend of creaminess, spiciness, and complex flavors. Its intense profile and bold colors may intimidate home cooks, but this recipe will help you replicate this dish perfectly and quickly with an instant pot. Not only is it as authentic as it can get, but this recipe is also keto-friendly, which is excellent for those on a diet or who have specific food restrictions.
Any time you come across a "mother's recipe," it's bound to be every bit as delicious as you can imagine. In this recipe, every spoonful of this chicken curry dish tastes like a warm hug. So, if you're missing your mom a little bit more today and would like a delicious dish to cheer you up, this one fits the bill. It's authentic and flavorful; plus, it takes only 30 minutes to make!
Ward off the winter cold with a bowl of quick and tasty chicken noodle soup. It is full of tender chicken, chopped vegetables, flavorful spices, tasty egg noodles, and hot broth. As a no-fuss recipe, preparation is straightforward - slice, dump, then wait until you have a steaming hot comfort soup!
Chicken wings might be the last thing you'd think of to cook in an instant pot because, well, typically, they're fried. But this effortless instant pot recipe takes all the hassle out of frying wings! You can dump your wings, whether fresh or frozen, in the pot. Once they're cooked, all that's left to do is to broil the cooked wings and pair them with a mouthwatering honey garlic sauce.
As crazy as it sounds, you can cook a whole rotisserie chicken using an instant pot. It's unexpectedly delicious, tender, and juicy, plus the drippings make an amazingly savory gravy. There is an extra step of broiling the chicken to get that gorgeous brown color. But overall, this recipe serves as a no-fuss hack for an easy yet delicious feast.
Cooking chicken breast can be tricky because it has a lot of meat, and it can easily turn dry if you don't do it right. However, this recipe offers little risk as you are assured of tender and juicy meat. It's also a very forgiving recipe, as you can dump the chicken breasts in the pot even if they're still frozen!