The military look is one that I absolutely love. I love all those button up tops, military inspired boots, and sage green just happens to be one of my favorite colours; however, if this style is too masculine for you, then a military style inspired eye is just for you.  Dior has come out with this amazing palette that brings the femininity into this masculine style.
And to answer your question, No, I didn't win the lotto and basically have a total high-end makeup splurge lol. My awesome Dior SA gave me a mini of the Royal Khaki, because she had pity on me for being poor this month lol. No, seriously though, she is always so great with giving me these extras on the side as I do tend to spend out of my budget with her. So I have Royal Khaki to swatch for you all thanks to Rachel!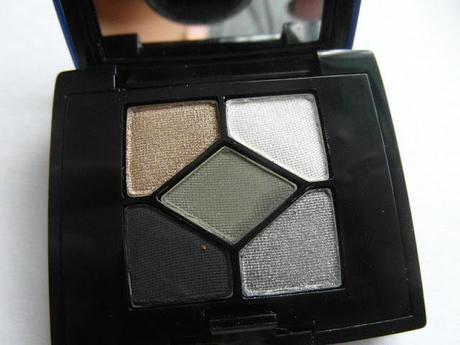 Now, I must apologize first, because I can not seem to get a decent thick swatch out of this tiny palette, so the color that appears in my photos is a light application.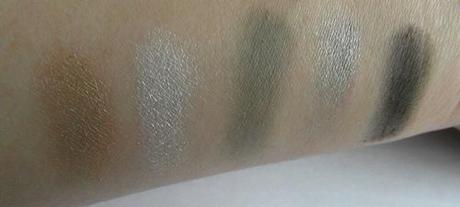 My eye is a bit irritated from my allergies, so I don't have a snapshot of my makeup, but I went with the beige blended into the green and I used the black along my waterline, and of course I used the white as a brow highlighter. The silver will have to wait another day :)
I won't lie, I find Dior eye shadows to be quite pricey, but this is a luxury palette that will make any girl feel pampered. I will also say that from the sample, I find that the texture of the middle green color to be a little too matte for my liking. I really love the white, beige and silver shimmer and wish they would have done the same for the middle green as that is really the selling point of this palette.
What is your favorite eyeshadow look this fall season?