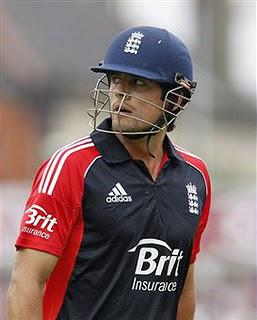 Kennington Oval, London: At the time I'm writing this, England are 35/1. I was sleeping until 13:00 GMT. So, when I switched the TV on, it was raining. However, that isn't what I focused on. I saw the scoreboard and after seeing Alastair Cook in the team, I wondered if this is some old match. Then I saw Ian Bell and I was more doubtful about some old game's scoreboard. The, Bresnan and I was almost certain it's an old match. Then, I saw Dernbach and I realised this is today's match. Oh yeah, I had forgotten Alastair Cook has been made captain. I was just figuring how many changes they have made to the team which Stuart Broad captained on Saturday. And I was thinking they have over taken Pakistan in amusing us.
This does raise questions about my memory, but more than that, it asks us, would Alastair Cook be in the team had he not been captain? Well, he hasn't played a one-day game in a year and the last one came in Bangladesh, where he captained. Prior to that, he hadn't played in a year either. So, I'm guessing no, Alastair Cook only plays in shorter formats when England want to try him as captain or when they don't want anyone else as captain. Like, he did in South Africa in late '09. If he would have been gifted a place in the side in the Word Cup for being unstoppable in the Ashes down under, that would have made sense, but this doesn't.
Let's go back to the game on Saturday andthe blonde one. England had some hope until Kevin Pietersen and Eoin Morgan were batting, after that they played for formality. This isn't the first Twenty20 International in which they didn't have victory in mind, so it wasn't a surprise. Paul Collingwood, who retired from Tests, has been left to the sidelines. Stuart Broad was chosen as captain, ahead of the one who captained England to their first ICC tournament victory. Perhaps they are thinking too much about the future rather than the present. He wasn't included in the one-day squad either, so ECB must have put an end to his career. The Englishmen usually depart from the team like this, with no farewell, facing the ECB's brashness.
Here are the changes England made to their Twenty20 side (comparing to the side which starred against Australia in January: Bell, Davies, Bresnan, Yardy and Shahzad dropped for Lumb, Bopara, Patel, Broad, Dernbach. Of course England hadn't dropped Broad in January, they just can't do that, he was injured. In my opinion, Bell and Davies were doing their job fine so they shouldn't have been dropped. And then, Bell has been in a sublime form lately. Bopara hasn't been among the runs for a while and Patel failed to impress me on Saturday. His run out was an embarrassment and his bowling had nothing special. I was excited to see Dernbach in, who turned out to be England's most inexperienced, yet best bowler in this game.
The only Twenty20 International on this tour, was played after a Test series, in which England dominated expectedly, but one which failed to generate much interest, due to being spoiled by rain. There were six changes made to the Test XI to make the side more "suitable" to the Twenty20 game. But, as emails to the Sky commentary team suggested, the Test would have done a lot better than this side so playing the same team wouldn't have caused any harm. One big positive a lot of people and the media is deriving from the game is the comeback of Kevin Pietersen into form. However, in my post The Preview: Sri Lanka hopes for turnaround; England aim to continue domination, I had stated that he is already in form and there is nothing to worry about. The difference is that, he announced himself on the stage in this Twenty20 so ruthlessly that he made everyone against him know that there is no point in questioning the man, who is as talented as anyone can hope to be. The truth is far from him being in the team for his past record.
So, much to talk about and so little time! Anyways, post your views in the form below or on twitter (@jimmymycrushie). Hopefully, we'll see some cricket today. For now, take care. Cheers.