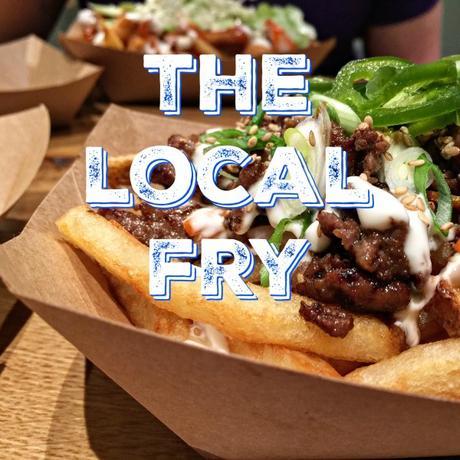 If you told me there's a restaurant out there that specialized in all things french fries, then you'd be hard pressed to keep me away. I'm an avid french fry lover, and I'd even go so far as to consider myself somewhat of a connoisseur.
So when I DID find that there was ACTUALLY a restaurant just down the street, about a 5 minute walk away from our home, that DOES specialize in all things fries; Player, are you kidding me? No, I'm not. It's called The Local Fry, and it's a BYOB spot at 21 E. Cross St. right here in Federal Hill, Baltimore.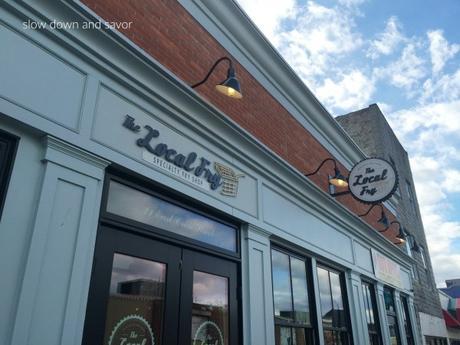 We tried going a few times, but somehow, we kept missing out on their hours. One time the place was closed and another time, it was shut down for holiday hours. So disappointing. But one day after a fun afternoon at the park, we decided to try again.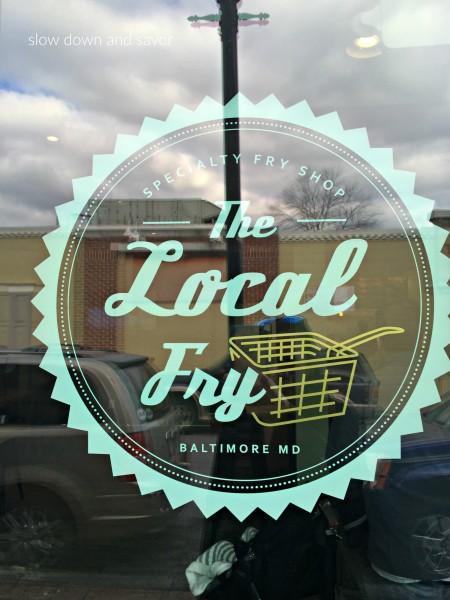 Our persistence paid off, and we ended up getting there when they were open! Hooray.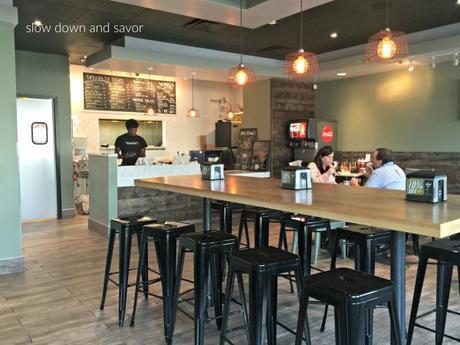 But once we were up at the counter prompted with the menu, featuring nearly 20 varieties of specialty fries, I became a bit flustered.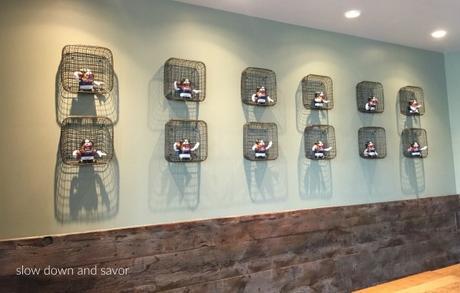 What in the world would I get? Braised short rib fries? Korean BBQ Bulgogi fries? Greek fries? Cheesesteak fries? Talk about the hardest decision I've had to make in a long, long time.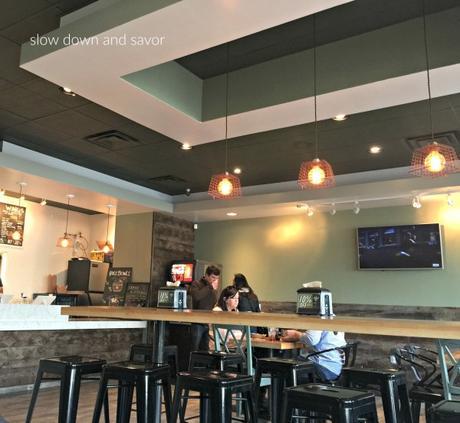 So what do I do? I get wings... Because... That makes sense... And so did Michael. And Major got chicken strips. Yes, we did order fries. Major's kid's meal CAME with fries, and Michael got an order of garlic and parmesan fries for the two of us to split, but the whole point was to get FRIES at the FRY place.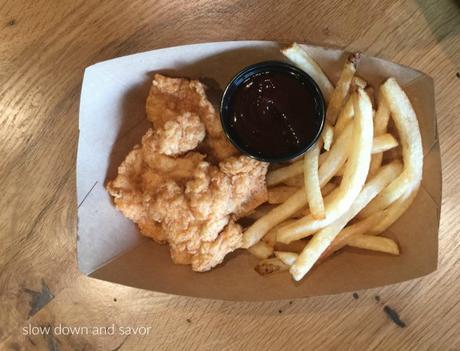 But the wings were sensational. They were the traditional style wings and drumettes. There's several dry rubs to choose from, but Michael and I both went with the wet style sauced wings. I went for the Gochujang (Korean BBQ), and Michael went for Buffalo. Both were great.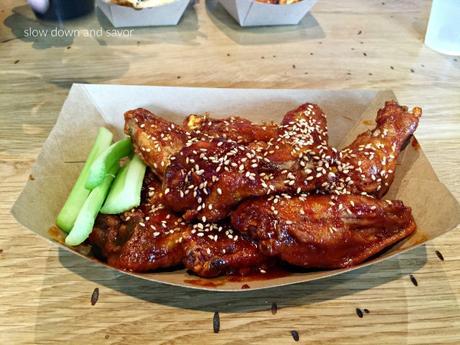 Both were super, in fact, but both were not fries. And the fries we DID get were stupendous. They were perfectly crunchy on the outside, fluffy on the inside, and salted in the best way. I mean, YUM.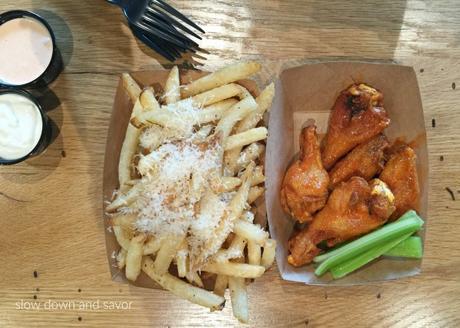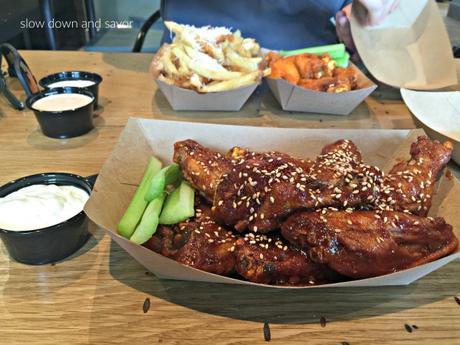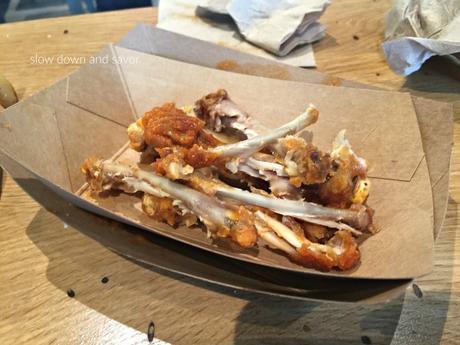 Clearly we had to go back.
So go back, we did. And this time, we VOWED to get fries. Major still wanted his chicken strips with fries meal, since in his words, "It's sooooooooooooooooooooooo good!"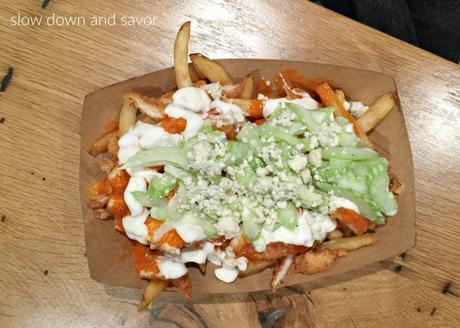 Michael decided to get Buffalo Chicken Fries: fresh cut fries topped with crispy chicken, buffalo sauce, blue cheese dressing, crumbled blue cheese and celery slaw.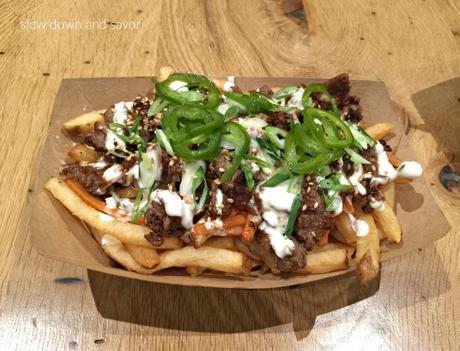 I decided to go with the Korean BBQ Ribeye Bulgogi Fries: fresh cut fries topped with Korean marinated beef ribeye, sautéed carrots and onions, cream, scallions and toasted sesame seeds.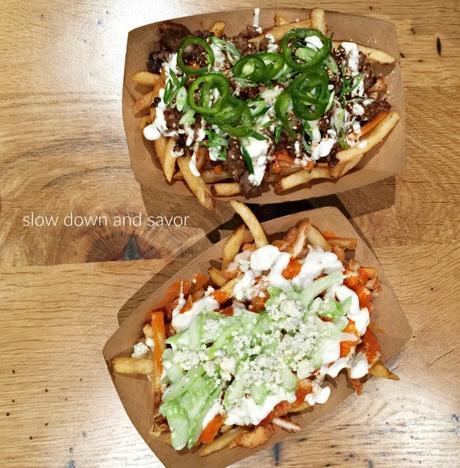 Wait... So the first time, Michael got buffalo wings and I got Korean wings. This second time, Michael got buffalo wing fries, and I got Korean BBQ fries? Oh my... I sense a pattern that I didn't sense before. Interesting...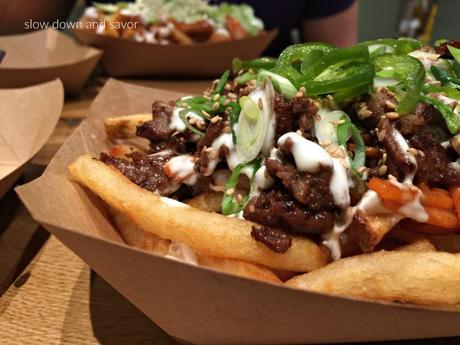 Anyway, the fries arrived and boom. I was so impressed. It wasn't just a lot of fries with some toppings. There was a seriously generous amount of meat and accoutrements. Like... A TON.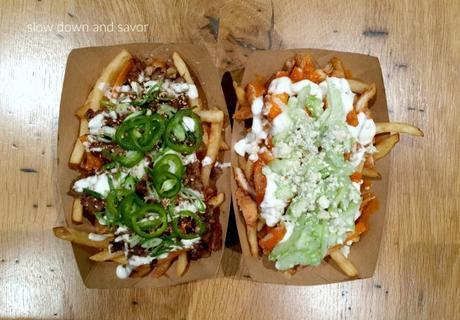 So how were they? Excellent. The fries were so golden and crispy and simply put, awesome. The toppings were packed with flavor. Seriously packed over the top full of mouthwateringly sensational flavor.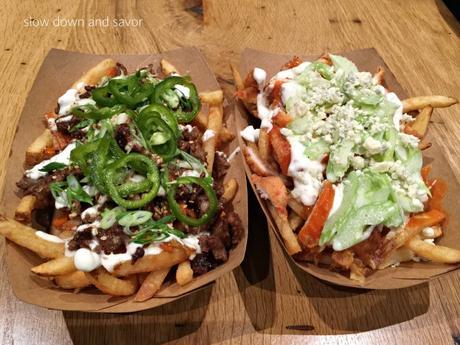 LOVED. I savored each bite of the perfectly balanced dish. The meat was so tender, and there was so MUCH of it! The whole thing went together perfectly, and was a super satisfying meal.
Michael really loved his buffalo chicken fries, and was also super impressed with the sheer amount of toppings that they gave. It was unexpected, and it was perfect.
Can I be honest real quick? I was apprehensive about going to get fries for dinner. I mean, how unhealthy and... I just didn't feel good about it in my mind. But when it's all said and done, I didn't feel bad about our decision. I felt really quite good about it, actually. Why? Because it wasn't just a plate of fries. It was much more than that. It was really, REALLY good, and really balanced.
Plus, this place is open late. I'm willing to bet you a billion smackers that the fries here would make for some AH-MAY-ZING late night soak up ya beer grub. Just sayin'.


Have you been to The Local Fry? What's your favorite fry dish? What would be your ideal specialty fry?