If you've been reading Slow Down and Savor for a while, then you'll know our little love affair with our small town's amazing little gem of a restaurant, The Leaning Pear. It's exceptional, really. The food is always super fresh, innovative, creative, exciting, bold, full of flavor and reliably delicious.
So after we dropped our little one off at his friend's house for a sleep over play date last evening,  Michael and I suddenly found ourselves kid-free. Naturally, we decided that we should have an impromptu date night, and naturally again, we wound up at The Leaning Pear.
Since it was such a gorgeous day out, the two of us agreed that eating on the outdoor deck (IN FEBRUARY) would be a must. We were quickly seated, given menus as if we actually needed one, and were left to settle in and relax a bit.
With drink orders placed, and specials recited to us, we made our decisions. We were to start with their appetizer beet-salad special, featuring red and golden beets, both roasted and pickled, with an herb salad tossed in a lemon-honey vinaigrette. Michael went with the chef-special entree of the day, a wild boar chile relleno over a sweet potato, black bean and corn succotash, while I went with the tried and true chicken and grits, featuring roasted airliner breast, green chile-bacon grits and cheese. I could already taste it.
And once our first course was placed between us, I knew I'd have to capture this meal with Instagram. (Follow me! @slowdownsavor)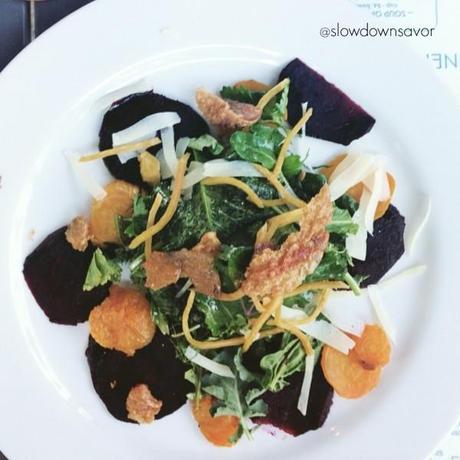 So, like I said, the salad came out, and I was a happy, happy girl. I love beets so much. They're probably one of my very favorite foods of all time. They're just so sweet and earthy and perfect. And these beets were divine. Especially when paired with the salad, crispy-fried fat of some kind, and salty Pecorino Romano cheese. Even Michael liked it. Win.
As we ate our salad, we saw some of our nearby neighbors receiving the chile relleno, and I instantly knew that Michael made the best choice of life. It looked AMAZING.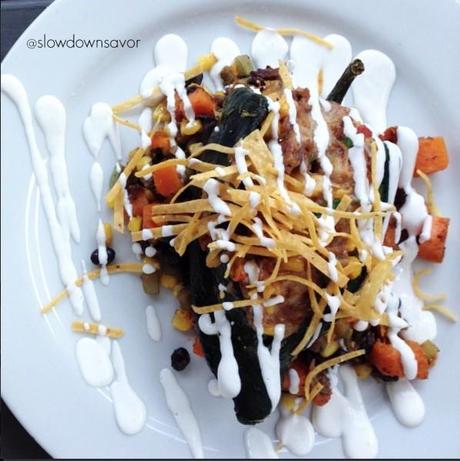 I mean, it was a serious thing of beauty. And it wasn't just looks. It was taste too. I snuck a couple of bites of this masterpiece, and just was in shock with how MUCH flavor and texture was packed into each bite. Incredible! I seriously tasted about a billion flavors before I even started chewing the super tender shredded boar and all the other goodies that went with it. Bravo, Chef.
And as for my chicken and grits…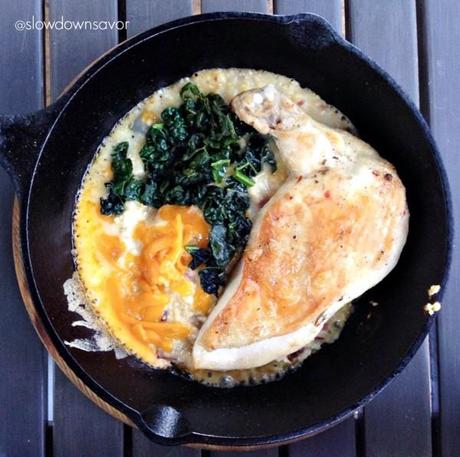 Stupendous. As usual. Due to my pregnancy, I hate chicken right now, and I ordered this because I knew it isn't just any run-of-the-mill chicken. It's special chicken. How many times can I say chicken? Chicken! Chicken!
Anyway, the grits were perfect, the kale was perfect, the chicken was perfect… Simply put, it's just a great meal.
When it came time for dessert decisions, we decided to just go for it, and we decided that the Meyer Lemon Panna Cotta with Blueberry Compote would be just the ticket.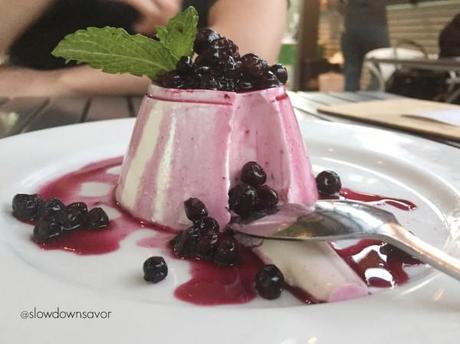 And it was. Michael was a bit disappointed that the Meyer Lemon flavor didn't stand out as a bright lemony beacon, and truth be told, so was I. I was really hoping for a super Meyerey taste, but honestly, that didn't stop us from enjoying each and every creamy bite of this bad boy.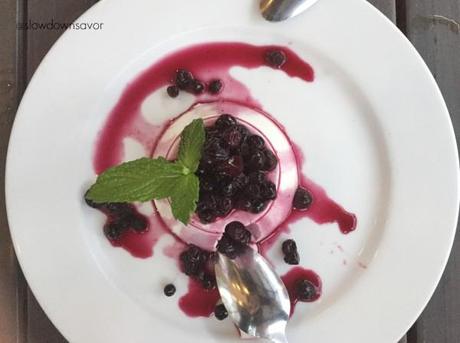 So thank you, again, to The Leaning Pear for an artfully crafted and inspired meal that served as a spectacular setting for our impromptu date night.
What's YOUR favorite go-to restaurant that you can rely on for amazing food?