Central Park, NYC. Photo: Fabiola Carletti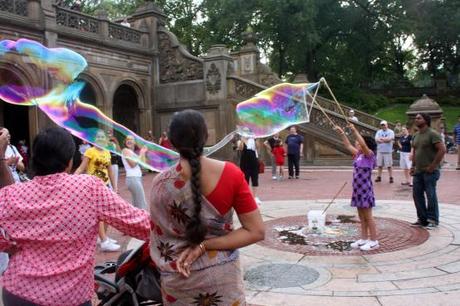 Central Park, NYC. Photo: Fabiola Carletti
Today I allowed myself to recover from a cold and shirk my responsibilities, if only for a short while. An event lured me in with the following description:
"Join second-year MFA in Creative Writing students Emily Davidson, Natalie Thompson, and Sigal Samuel, and first-year MFA Michelle Turner, in an evening of selected readings. Green College's resident writers will present a variety of original poetry and prose, and will discuss what goes into constructing a creative work inside the confines of an academic institution. This is your chance to see what writers get up to, and hear pieces from the outgoing Greenies' thesis manuscripts. Be there, or be a dangling modifier."
Four talented women, who I am lucky to call friends, shared their works with an engrossed audience. This sniffling journalist sat among the onlookers, pining for the multisyllabic words and creative license that writers of fiction enjoy.
At the risk of romanticizing a difficult craft, I must say I was amazed by how effortless it seemed. These writers carved beauty out of the blocks of everyday experience. It was rejuvenating and not the least bit pretentious.
The event was to last an hour — a block of time that I deemed reasonably brief — but of course it ran longer, and is still running inside me, even now, as I sit in my pajama pants at home.
My sinuses have cleared and I feel like my cold has finally subsided.
I do believe the aesthetic experience expedited my recovery.
These words, however clumsy, are a mild-mannered ode to writers with more colour on their palettes and more time before their deadlines.
Thank you Michelle, Natalie, Sigal, and Emily.