The faces of Gen X (CBC Archives)
While perusing the CBC archives recently, I came across some nifty items about my generation's older siblings: the supposedly cynical members of Gen X.
Here's how the archive keepers describe them:
Young people born from the early 1960s to late 1970s believed that the future was theirs. As baby boomers aged, employment and prosperity would be passed along.

Instead, "Generation Xers" complained that they were propelled into a changing, recession-driven workplace that offered little but "McJobs."

They became the first post-war generation to be worse off than their parents, left with reduced expectations and downsized hope for the future.
Like today's young adults, Gen Xers were variously described as overeducated, underemployed, and struggling to compete with the generation that came of age during the glory days of flower power.
Archival footage of anxious Gen Xers is oddly relatable, as young people growing up today face many of the same challenges and uncertainties.
Check out some of the great archival material we have on this like-us-but-not-quite generation.
   Generation X versus the Boomers

 (1993)

   

Douglas Coupland on Generation X

 (1991)

   

Gen X bites back: 'We're not all slackers'

 (1993)
Funky hairstyles aside, we seem to have a lot in common with those that grew up watching Beverly Hills 90210, making mix tapes and driving their parents insane with a well-timed 'whatever.'
NOTE: A version of this write up was published in Generation Why, a weekly multimedia magazine that I co-edit with Lauren O'Neil.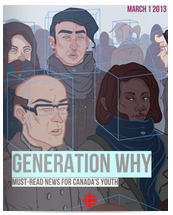 Gen Why: issue 1
The project is a collaboration between Canadians under the age of 30 and young CBC staffers.
The point is to surface the best of CBC News and current affairs programming in a conversational way, and from a youth perspective.
Please check out the first two issues, released on March 1 and March 8, and send feedback and ideas our way.
We publish every Friday, and if you're a young Canadian interested in contributing or illustrating the next cover, let us know!