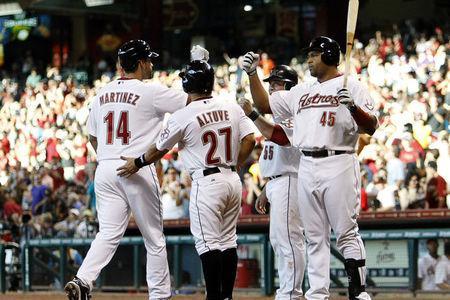 Photo: Getty Images - Bob Levey
- Adam Parker
The Houston Astros.
The team many consider to be the National League equivalent to the Baltimore Orioles aka the predominant doormat teams of baseball.
But the 2012 season is proving to a turnaround year for both clubs.
The only difference is, unlike the Astros, you're hearing about the Orioles. Their sizzling (insert up-to-date O's record here) start has taken them from being the perennial American League East punching bag to baseball's most surprising team.
To put it plainly, the Orioles are this year's feel-good Cinderella story. They're the talk of the Ball, or rather, they're the hot topic around water coolers everywhere.
But what about the Astros? Why is no one talking about them? Why is no one coming out to sing their praises?
Well, for one, outside of Houston, the team just isn't very relevant. Hell, even there they're constantly overshadowed by the NFL's Houston Texans and aren't even the best baseball team in their own state -- that honor belongs to the Texas Rangers.
That's not to say that we should be blowing up the news waves with 100 different proclamations of how the Astros have arrived, because realistically, they haven't.
But they are taking steps in the right direction.
The team currently sits at (14-17), which, incidentally, is a two-game improvement over this point last year. The Astros' improved play coming off a horrendous 106-loss season has given the players and fans hope that the light at the end of the tunnel might actually be closer than it first appeared.
Quite surprising considering Houston entered the season with the mindset of being in full-tilt rebuilding mode with the second-youngest roster in the Major Leagues. The Astros have played with more moxie and proven to be more competitive than they were at any point last season.
Even in their losses, there are moral victories to be found. 
Of Houston's 17 losses, 10 have been decided by two runs or fewer, including Wednesday's 5-3 loss to the Miami Marlins in 12 innings. Granted, they weren't able to get it done and at the end of the day a loss is still a loss.
But think about it, would the Astros of yesteryear been able to grind it out and force extra innings against a team like the Marlins, a team that went all-out to acquire big names like Jose Reyes and Mark Buehrle in free agency?
Not a chance.
So how did this sudden turnaround come about? 
A few things: more patience at the plate by working deeper into counts, better pitching and playing sound, fundamental baseball night after night.
The Astros are an enigma in today's era of baseball. They don't have a lineup flush with All-Star talent. Hell, I'd go so far as to say they don't have a single guy in their lineup that keeps opposing pitchers up at night. 
They're a group of misfits; a group of outcasts led in large part by center fielder Jordan Schafer, right fielder Travis Buck, shortstop Jed Lowrie and closer Brett Myers (who is 8-for-8 on save chances) -- four discarded players who are making the most of their change of scenery. 
How are they able defy logic and play with the big dogs on a daily basis? It's simple really -- together, this group of 'average joes' is greater than the sum of its parts.
Good things are on the horizon for the Astros. Are they going to win the World Series anytime soon? God no. But this is the first time in the post-Bagwell and Biggio era that Astros fans might actually have something good to look forward to, and it bodes well as the club migrates to the American League West in 2013.
Be sure to follow Beard And Stache on Twitter 
@BeardAndStache
, 
and also Adam 
@Adam_Parker43
, Like our Facebook page 
HERE
!