Back in the day when I used to work as a copywriter for a luxury travel agent, The House was top of my list of hotels I wanted to stay at. Six years on, and I still haven't made it there, unfortunately, but I was delighted when the lovely Rachael Amos from A Chi Chi Affair asked if she could write about her recent trip there. As she points out, this would make a fabulous honeymoon destination – and Rachael's wonderful review will have you instantly longing to book a trip there.
As we made our way through the acres of sugarcane ripe for picking, and past the rows of coloured houses and children playing, the relaxed Bajan vibe hit me, as did the heat and humidity. We were in Barbados for a romantic week of sunshine – a much needed break from the stresses and strains of work and the cold winter in England. Who knew such paradise lay only an eight hour flight from home?
After a forty minute cab ride we arrived at The House – our hotel for the week. Just off the main road into Holetown, it was an oasis of calm away from the relative hustle and bustle of the road. We arrived and were immediately greeted by one of the ambassadors to check us in (The House doesn't have a reception desk). A relaxed and stress free check-in if ever there was one, accompanied by the house special Rum Punch cocktail. I could definitely get used to this! As we were filling out the paperwork I gazed out to the front deck – we were right on the beach and could see the bright azure of the sea – stunning!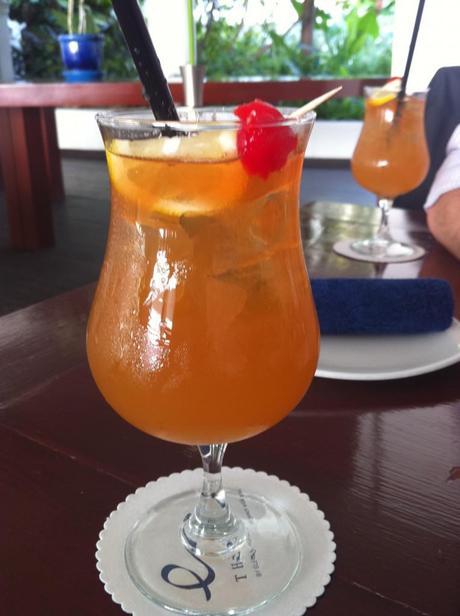 Our room was a luxurious one-bedroom suite with a huge bed, separate living area with two balconies, a coffee machine and two bathrooms. The crisp white linens and dark woods were colonial in taste and our room overlooked the front of the hotel with an amazing view of the sea and the pool area.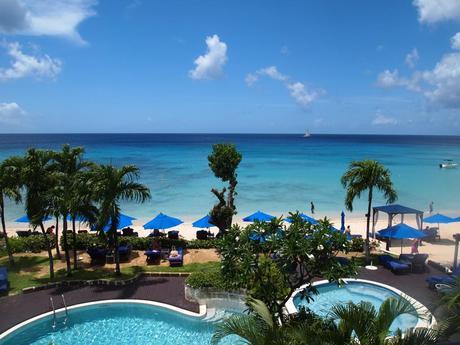 We chose to stay at The House due to the fabulous Trip Advisor reviews and we really did feel like we made the right choice. From the champagne breakfasts in the mornings and the free afternoon tea served in the afternoon, to the sweet treats with the turndown service, it felt very intimate and luxurious – and a world away from the larger chain hotels as it has only 34 suites. And, although it was expensive, we felt the service justified the price tag. This would definitely make a lovely honeymoon destination.
We were only in Barbados for a week so the idea was to mainly relax and do a whole lot of nothing. (And we did a lot of this, sipping cocktails on the deep blue comfy loungers on the beach.) However, we did want to see some of the island (which is actually only 166 sq metres in size) so the first trip we took was to Harrison's Cave, a crystallized limestone cavern that is said to be one of the wonders of the world. You explore the cave with a guide on a kind of long golf buggy and they explain all the features to you – very interesting and definitely worth a visit.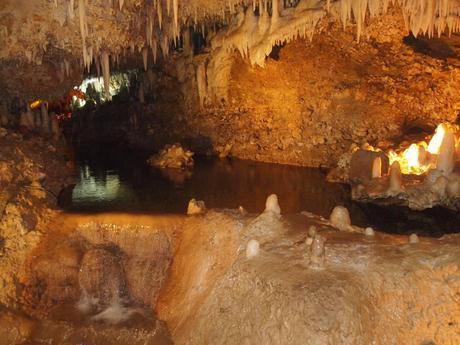 Another day we swam with the turtles and snorkelled of the shipwreck. The turtle swimming was definitely a highlight of the trip – they were so many of them and they were such majestic graceful swimmers, you could even touch them. In our opinion, this is a must do if you are going to Barbados.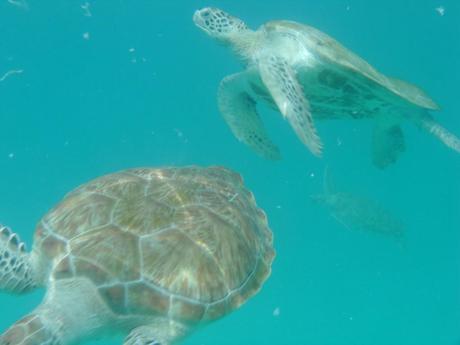 Another activity we made time for was some early morning horse riding in the Scotland District. We left the hotel at 7.30am and by 8.30am we were horse riding among the palm trees and along the beach. The scenery was truly breathtaking and it was great to see another part of the island, even though we were sweltering hot in our jeans!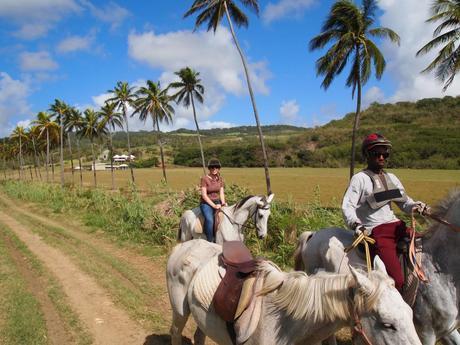 Shopping wise, Holetown is a very up-market town catering to a lot of Americans and though quite small in size it even has a Louis Vuitton store. I wouldn't say it was a shopper's paradise as it was very touristy and we didn't buy much. It did though give us an opportunity to ride the yellow buses with the locals with the reggae music blaring out at full force. Certainly an experience!
A large part of our holiday is always the food as we love eating out and we were not disappointed as Barbados has some amazing restaurants – we particularly enjoyed the food at Daphne's (sister to the restaurant of the same name in London and right on the beach) and at Scarlet's – a cocktail bar with some great tapas dishes with a Bajan flavour and very reasonable. However, definitely the standout restaurant of the trip was eating at world renowned The Cliff, which has flawless food and service and an utterly romantic location, being torch lit and right on the cliff edge. It's a place I won't forget in a hurry.
We left the island with heavy hearts but armed with some amazing memories. My boyfriend had proposed in Barbados and for me he couldn't have found a more perfect place to do it. The relaxed vibe and beautiful blue seas of Barbados will always hold a special place in my heart.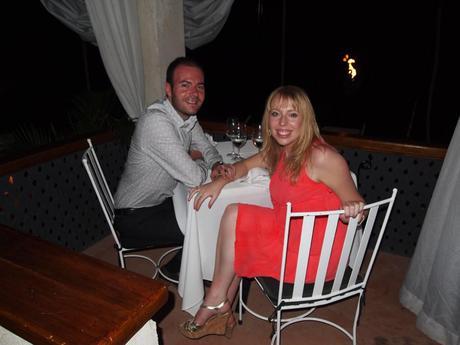 Huge congratulations, Rachie! What a wonderful way to spend a holiday – I'm now green with envy. Do head over and check out Rachael's fantastic blog, A Chi Chi Affair, which is full of wonderful ideas and inspiration for parties, interiors, and much more. And, Rachie, please come back and tell us all about your honeymoon plans…
All photos courtesy of Rachael Amos.