As promised, here is the second part of my Christmas gift guide – you can check out part 1 here.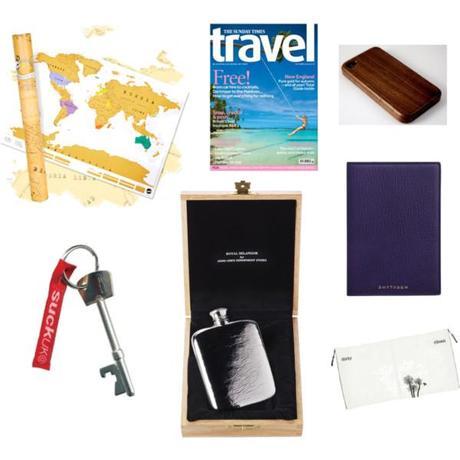 Clockwise from top left:
My Scratch Map from Firebox £14.99 – Perfect for anyone who loves travelling; scratch off the the countries you've already been to to reveal a new, more colourful map beneath. Bound to get those itchy feet even itchier.
12 month subscription to the Sunday Times Travel Magazine £32 – The best travel magazine out there at the moment (even if it is part of News International); a subscription will keep any wanderluster in travel daydreams throughout 2012.
Rose wood iPhone 4 cover from Amazon £14.99 – Wooden covers for iPhones are hands-down the nicest phone covers I've seen – this dark wood one will help protect your phone and keep it looking smart.
Violet passport cover from Smythson £115 – Yes, this is a complete splurge, but Smythson products are absolutely gorgeous, and worth splashing out on for something that's special and will last throughout your travels.
Double ended laundry bag from Cowshed £15 – I always end up stuffing our dirty laundry into a rather unglamorous plastic carrier bag when we're on holiday (that is, if I've remembered to bring a spare one), so this is a great solution – and also means you can easily keep your clean and dirty undies separate.
Pewter Royal Selangor hip flask from John Lewis £69 – This is undoubtedly the nicest hip flask I've ever seen, and the perfect size for slipping into a jacket or coat inside pocket. Ideal if you're looking for a special gift, and just right if you're planning a honeymoon with lots of walking involved.
Suck UK keyring bottle opener from Amazon £6.29 – A bottle opener is one of those things that you always need and rarely carry with you; this is a fantastic one that looks like a regular key, so can be added to a set of keys without looking conspicuous.