I can't believe it's already May. Wacky. So, way back in April, well, actually only a few days ago, I finally got the chance to visit the Hillside Farmacy Eatery & Grocery on E. 11th St. in Austin. Hooray!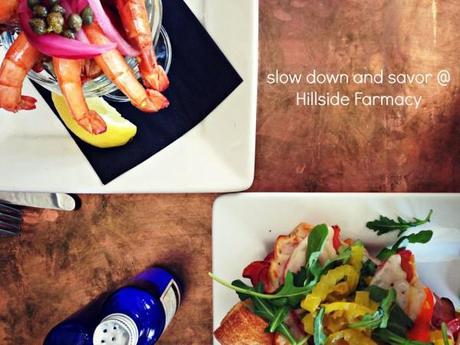 I've been wanting to visit this place ever since I first heard about it way back when, I can't remember, but I just haven't had occasion to. Well, not until this past Monday after a meeting in Austin. I figured, why not? It's right there… There's no reason NOT to go. I even invited my mom.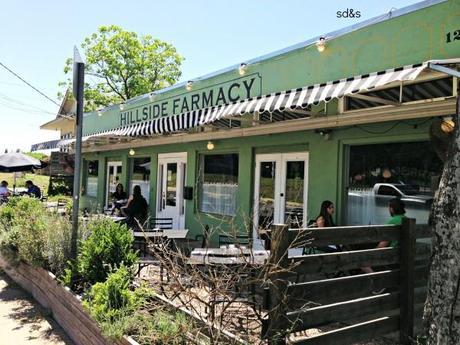 The building itself has some awesomely interesting history. Yay! It actually housed Austin's first black-owned pharmacy, and the antique wooden display cases, tin ceiling, and hex-tiled floor are all intact. Cool, right?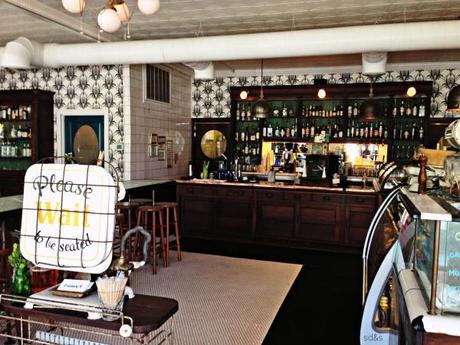 I fell in love with the place upon entering, and knew I'd made a dang good decision on this lunch destination.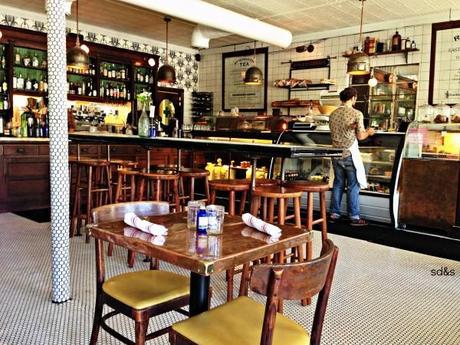 Unfortunately, I didn't have my camera with me, so all of these shots are taken with my iPhone, but I believe that they pretty much captured all of the outstanding aspects of this space: the wooden tables and chairs that have that old-school feel, and the family style table creating an interesting centerpiece. The best part though, I have to say, is how they took the pharmaceutical theme to new heights throughout the whole Farmacy experience. From the salt and pepper shakers and other accoutrements, to the display cases that hold locally made deliciousness, such as Sweetish Hill cookies, Zhi Teas, and Round Rock Honey. Even the bathrooms are playfully done, and I couldn't stop smiling.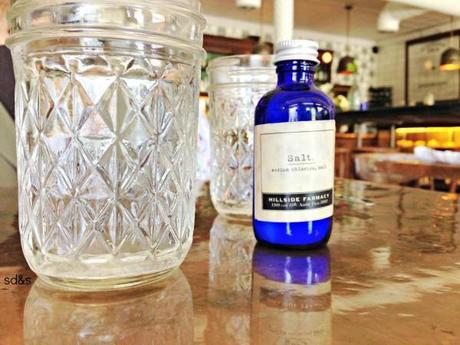 We were promptly seated in the full dining space, and were given menus to peruse.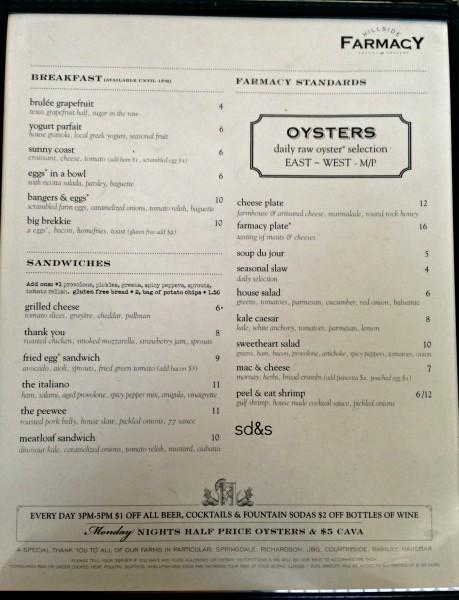 Oh my… I love oysters SO MUCH, and seeing them on the menu made my mouth water. The combo of the sweet briny oysters with the hot and flavorful horseradish and cocktail sauce literally makes me drool. Just thinking about it even now as I write, I'm drooling all over my keyboard.  Too bad mom isn't too keen on them, so I had to force myself to look away – just look away – from the oysters on the menu. But my eyes got re-trained on something else: peel and eat shrimp. Luckily, my mom IS a fan of those, so we ordered some of those for our starter.
My mom also ordered a hibiscus-mint iced tea, and for me, I went with their Country Doctor fountain soda with ginger, fresh apple, and cinnamon. I opted for the virgin version, but you can get boozy with all of their fountain sodas. The Country Doctor's liquor suggestions were whiskey or applejack, and I'll betcha that'd be stupendous, because the non-adult version of the soda was to die for. I LOVED IT. So light, and refreshing, and incredibly interesting. The hibiscus-mint tea was ultra flavorful, and truly delightful. Yum.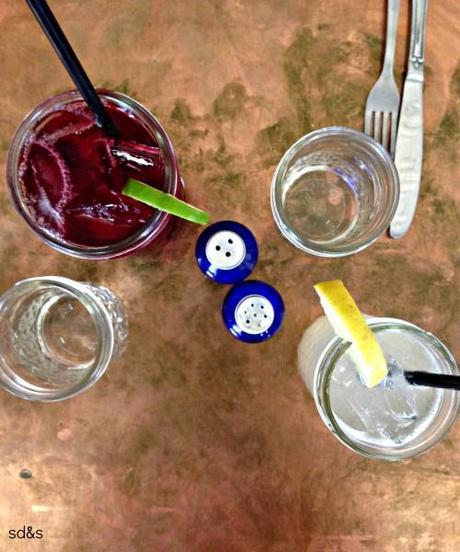 Our shrimp entered the scene soon after our delicious libations, and I was extremely happy with what I saw.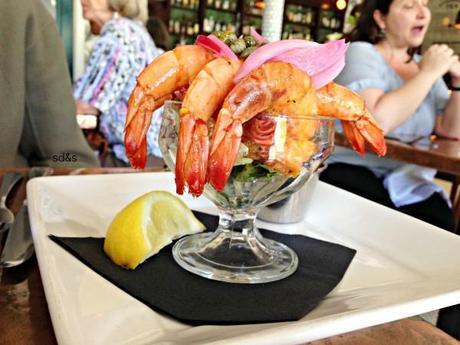 These shrimp were super plump, like HUGE plump, and smelled incredible. The water they were boiled in had some incredible spices that transferred perfectly to the shrimp, and each bite was tender, and jam-packed with flavor. They were slightly spicy, but mostly just beautifully savory. My word. I loved them. We couldn't stop talking about how awesome they were as we ate. This adventure at Hillside Farmacy started out VERY strong.
Four our lunch entrees, my mom ordered their Sweetheart Salad, heavy on the greens, with ham, bacon, provolone, artichoke, spicy peppers, tomatoes, and onion, and I went with something a little heartier: The Italiano sandwich with ham, salami, aged provolone, spicy pepper mix, arugula, and some vinaigrette.
Our meals arrived, and our jaws dropped. My sandwich was a work of art. So much color!!! So big!!! I was just in awe of the vibrancy of it, and couldn't wait to sink my teeth into the crispy baguette filled with all those yummies. Divine. This was a perfectly balanced and well crafted Italian hoagie brought to another level of awesome with their super fresh ingredients. Loved every single bite of this monster.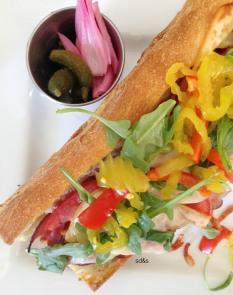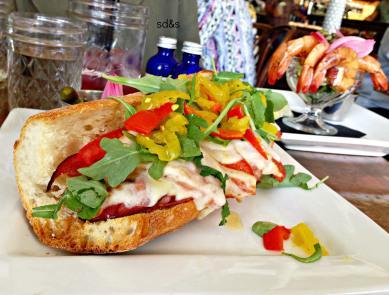 My mom's salad was also beautiful.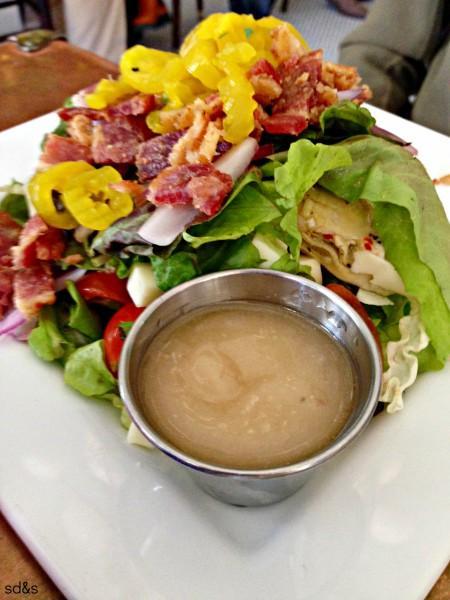 Unfortunately, my hands must have been shaking from joy or excitement, and all four of the pictures I took of this salad was majorly blurry, but the point still comes across: freshness is key. Everything on this salad was crisp, bright and perfect. The meats were exceptional, and it was solid all around. BuenĂ­simo.
Thank you to Hillside Farmacy for a delicious and satisfying meal. I can't wait to come back with my husband next time. I'm willing to bet it'd be a great place for a wonderful date night!