Family commitments are such that being available for a race on a Sunday is a rarity, so the opportunity to run in the Glasshouse 100 was out for me, but it was suggested that I run in the 50k with a sensible 6:30am Saturday start.  It was an odd feeling to "only" be running in the 50k, when so many friends would be heading out an hour earlier for the "real" Ultramarathon 100s.  Still it was great to catch up with so many familiar faces and wish them well as they took on the main events.
What it did create was the opportunity to see how my training was progressing, especially given that I have dropped off in volume of Kms run and increased the intensity.  The mainstay of my training has been a regular 21-22km run where I run fairly hard the entire way, never taking my foot off the gas. During these sessions my heart rate is around 150bpm, compared to my easy training rate of around 125-130bpm, and whilst I finish pretty well done after about 1hour 50min of this, I still feel able to continue.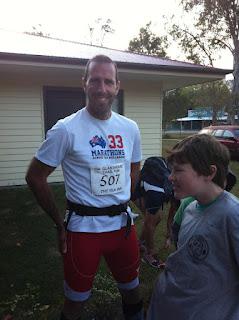 Ready to run
The Glasshouse 50 has plenty of checkpoints, so there was no need for a backpack, and I could get by with just a couple of drink bottles (one with water the other with sports drink). So with my familiar Linebreak red shorts and Hokas I toed the line and we were off.  Within about 400m I was running on the shoulder of the guy in the 3rd place and the front 2 were only a few metres up the trail. This is a situation I have not been in since school!  I was already thinking how good it would be to be in this position come the finish line, and whilst I felt good at the time, there was a long way to go.
My strength has always been hammering hard on the downhills and at the 7k mark I pushed on and into 3rd place, not sure if this was a smart move with so far still to go.   I was running like I was in a 10km race and not sure how long it would be before I started to run out of gas. I did rationalise at this point that it was forecast to be a warm day, and given my propensity for sweating, I was best off pushing on hard early and then to just hang on when it heated up.
Through the first check point and all was good, just topped up one of the bottles I had emptied to that point and kept on pushing. One of the guys in front was stopping at the checks the other just motored on through.  A couple of k's further along and there is an out and back section up one of the mountains, and this gave a good indication of how the runners behind were doing.  In short the 3 of us were a long way in front as we had almost completed this section before the 4th placed runner started the hill.  All good.
Another 10 kms down the trail and it's a reasonably technical section of single track. I hear a group of people coming back towards me and it's the 100 competitors. This isn't supposed to be an out and back section, we'd all gone the wrong way. About 1km extra on the total.
The two guys in front of me had also missed the turning, and by the time we'd backtracked and found the turn, the 3 of us were running together, not sure if the runners behind had passed by or not.  During this section of the race I found the frustration of the detour, and potential to have lost race position while exceeding my expectations, gave me an anger induced adrenalin rush. All three of us run far harder than we had been to that point, to make up for lost time.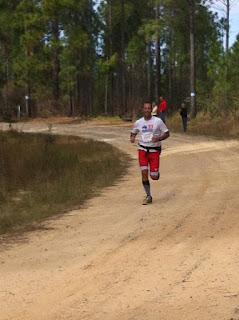 25kms down - Photo Tylana
This probably wasn't that smart as it was heating up by now.  The next checkpoint was a few kms down the trail, and my running buddy, Tylana, was there ready with a fresh bottle of sports drink. No pleasantries, just grabbed the drink, found out I was in third place, smiled and kept on going. I'd past the guy who was in second, and the one who was in 4th must have leapfrogged me while we were on our detour.
The second half of the race was done in my head.  It was getting hotter and the course is far harder.  I knew that I was in 3rd, but I also knew that I was hurting, and could not afford to ease off. I made a promise to myself that I would not look back, but instead try and focus on pulling in the guys in front. I was also wrestling with thoughts of "well you were 3rd for most of the way, and you did take a detour, so that's pretty good" as some sort of rationalisation that to put in the effort for two thirds of a race was good enough.  I also tempered these thoughts with the appreciation that it was also the same for everyone else and they would be hurting too.
I was checking my watch more and more frequently, as the kms seem to pass far too slowly. My heart rate was up around 155-160bpm as it had been for most of the way – which I took this as a good sign suggesting the body was still functioning normally even though I felt decidedly abnormal.
As I got into the last 10kms I was relating to where I would be 10kms from home in training, and then 8kms, and 5kms and reminding myself how easy those distances are.  I had caught up with the 30km racers at this point (they started an hour later) and they gave me mini targets to aim for to keep me pushing on. I had to walk some of the hills at this stage, but I was still moving forward at a reasonable pace.  I knew I could not afford to walk for long, as I had no idea how close behind the 4th place guy was.
With only about 1500m to go I felt sure I had secured my position, but didn't dare look back, I wasn't going to tempt fate at this point.  What I did was look down and just as well as I almost stepped on the biggest Eastern Brown snake I've ever seen about 3 inches from my right foot. I leapt about 3 feet in the air and was thankful that I was wearing my snake bite defending Hokas (fortunately they didn't get field tested for that on this occasion).  Nothing like a massive jolt of adrenalin to give you a boost all the way to the finish line.
Turning the corner to the finishing funnel I was amazed to find I had enough energy to do my skip and heel click over the line for a podium finish.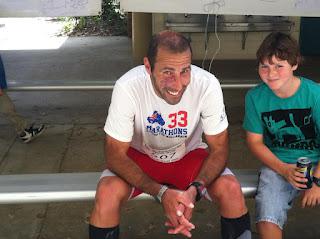 Looking a lot better than I felt - I couldn't stand at that point!
Before the race I had looked at previous results and thought that based on my training I could get a top ten finish. I would never have thought that 3rd was an option.  The thing is, if I hadn't gone out hard from the start I may never have found out. 
So the lesson for me has been to give it a go and find those limits, you may surprise yourself.  If you end up failing as a result of trying this you then know where to focus your training so that you can improve next time, even if it's your mental fortitude. You can achieve so much more than may think.
Huge congratulations go out to all of the competitors who raced hard under tough conditions, and yet so many came home with a PB.  Well done!
Run Happy
Andy
"Don't limit your challenges - challenge your limits"
www.ultramarathonrunning.com.au