The Fried Crawl was a (fantastic) idea my friends Marissa and Nicole had. Instead of the traditional Pub Crawl, a group of us visited four restaurants in Toronto that serve up delicious deep fried vegan goodness! People came and went (I only went to three of the four restaurants myself), but everyone ate yummy food and enjoyed the company of good friends.
#1- Greens Vegetarian Restaurant
Sadly, I didn't get any pictures of the food we ordered at Greens. I was too hungry to think of taking out my camera. I had eaten light all day in preparation, and had a long walk to the restaurant due to diverting streetcars. So, no food porn, but honestly the Deep Fried King Mushroom with Pepper Salt were probably my favorite dish of the whole night. The best fried mushrooms for sure! We also had the Cripsy Soya Fritters as well to start us off. There was five of us at the first stop.
#2 – Café 668
Second stop and we're joined by one more person, who saved us a table on the patio.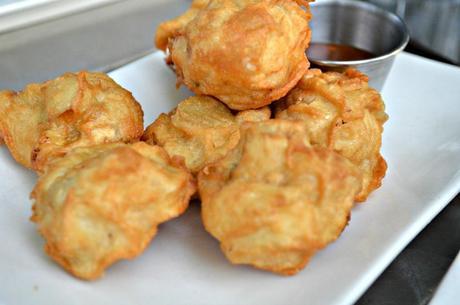 The Deep Fried Mushrooms weren't a hit with me, especially compared to the mushrooms at Greens.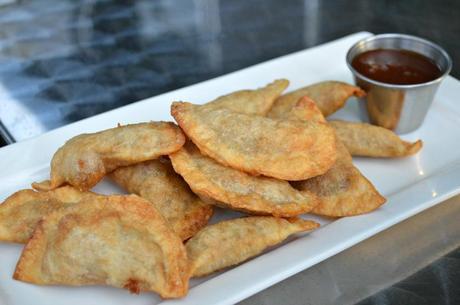 The Deep Fried Dumplings weren't bad, but I don't think I would order them again.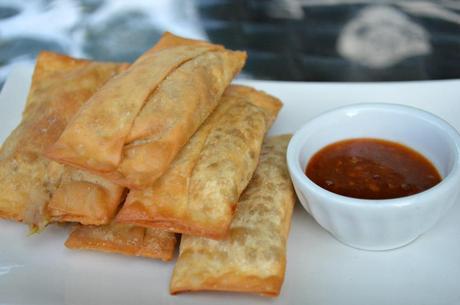 All in all, I wasn't impressed with Café 668′s fried food offerings. Even though I LOVE taro, the Mini Taro Wraps weren't a fav. Of course there were other fried foods we didn't try. Perhaps Café 668 will pop up on a future Fried Crawl (why should we stop at just one?) and I'll find something I really like there.
#3 – The Hogtown Vegan
Next up, Hogtown Vegan at their new location! (Too bad the sidewalk is all torn up.) We are again joined by another person, bumping out party up to 7 but we all squeeze into a booth anyways.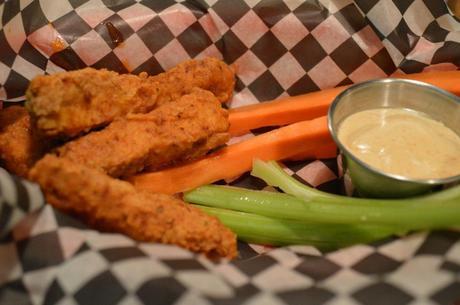 The Buffalo "Wings" with Chipotle Ranch dipping sauce was super yummy.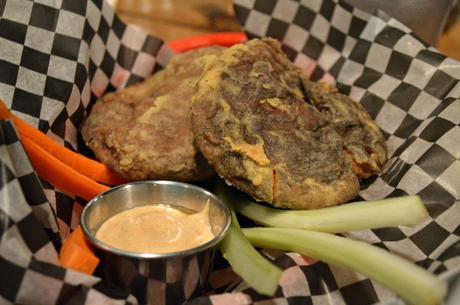 The Shiitake Fried "Clams" came in a solid second for my favorite deep dried mushrooms of the night, plus more Chipotle Ranch didn't hurt.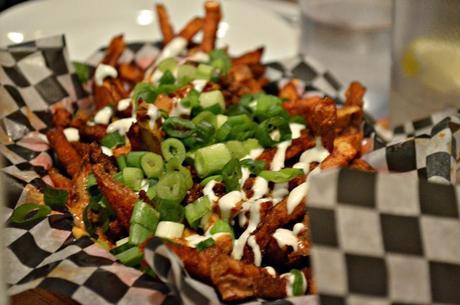 Can't forget Fries Supremacy! Fries topped with nacho "cheese", fakin' bits, sunflower sour cream and green onions. Yum!
I must say, after all of the fried food I'd eaten, I was really happy to have some of those carrot and celery sticks too. Alas, I didn't make it to the fourth stop on the crawl, Disgraceland, because I had to leave for Wiarton in the morning. I was pretty fried out as it was though. After a quick stop at a friend's to pick up my Portland purchase (2 packs of Earth Balance Mac and Cheese *drools*) I rolled on home.
~Laura