I usually love french manicures SO MUCH! 
Except for this one...
UGH! 
I had such high hopes for this cute mani and it just fell flat for me :( The idea was great but the execution... definitely needed more work. Well, OH WELL! I thought I'd show you guys anyways! YOLO right? ;) 
I started with a base of OPI Bubble Bath. Then I created the french tips using Stick It! Nail Vinyls Half Moon Vinyls and Mundo De Unas White. Then I stamped over the ring finger using Mundo De Unas Hot Pink, my Clear Jelly Stamper, and Bundle Monster Plate BM-H18. I sealed it all in with some Seche Vite and that was it!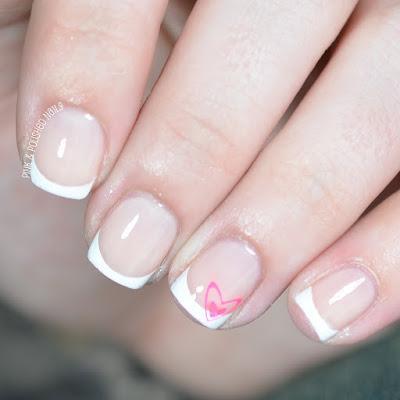 I will most defintely revisit this mani one day.... some day anyways ;) But I still think its kinda cute :) What do you guys think?
Thanks loves :)