Yes, we finally, finally have Crack/Shatter polish here in regular retail outlets, thanks to The FACE SHOP.  I would just like to say that this isn't the "prettiest" NOTD look I know, in fact it's flat out ugly and Zombading worthy, but I chose the colors to really just primarily show the crack effect in full.  As a bonus, the bottle is much classier to look at than OPI's usual bottles.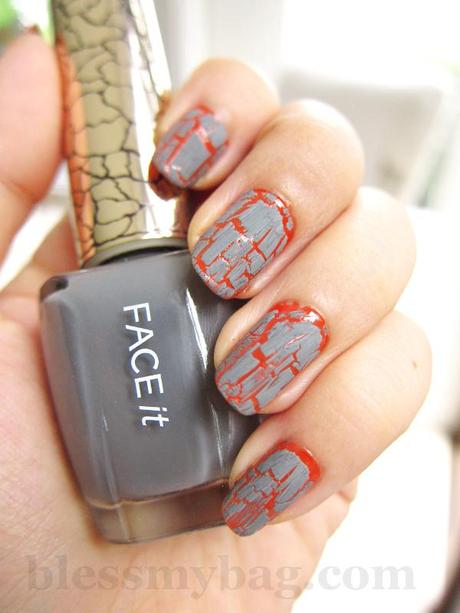 I didn't need another bottle of black crack polish, I already have my OPI Black shatter on hand and the black one at the High Street branch in Fort was out of stock anyway, so I picked this up in grey.  I was hoping to find white, but all they had left was this and brown.  Geez, reluctant to say it but these nails look set for Halloween and I don't like Halloween…I prefer to think of this as a representation of glowing cracked charcoal that's gone ashy but is still lit from within.  I can comfortably say that the quality is practically the same as OPI Shatter, except given the options if there had been white or some other shade I wouldn't have gotten grey.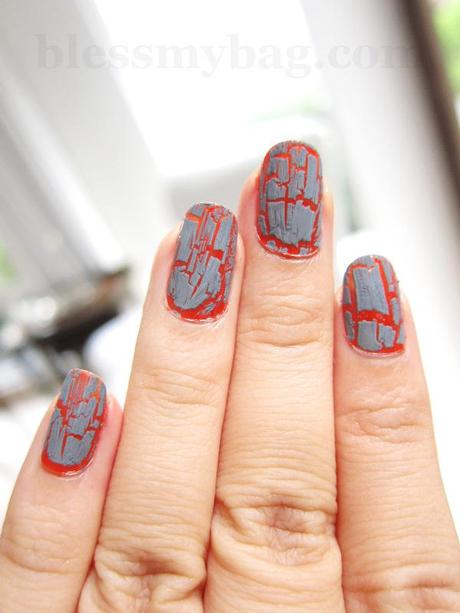 My base polish is a pretty mustard-y pumpkin orange (which looks red here, sorry…), that's 2 coats of Bobbie Premium Nail Creme in "Regular Salmon".  The crack polish dries matte on top, what you're seeing is without any top coat applied.  FACE SHOP Crack polish will cost you Php295.00 which is nearly half the price of a shatter polish by OPI.  I know a lot of you have been aching for these to arrive here and get local, so here they are

.  FACE Shop is practically everywhere, you'll find them in Ayala Malls, some SM Malls, they're even in Resort World Manila.