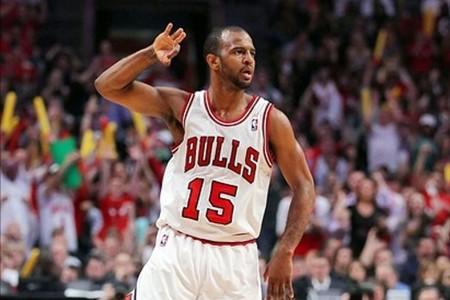 Photo: Dennis Wierzbicki/US Presswire
- Adam Parker
It would be easy to come up with excuses for the Chicago Bulls to not be playing up to snuff right now. After all, they're playing their fourth straight game with franchise face and reigning league MVP Derrick Rose who has been suffering from a groin injury.
At this point in this condensed 66-game season, the Bulls have a league-low 10 losses, and more than any other team has earned the right to throw in the towel on a few games during the toughest part of this season's schedule.
And yet, if their 85-59 obliteration of the Orlando Magic in Orlando's own building is any indication, Chicago is taking every opportunity to learn how not only to survive, but to thrive in the absence of their injured star.
The knock on Chicago -- at least in the past -- has been that they're a one-man show, a tenacious unit with a ferocious defense but little to distinguish them offensively among contenders outside of Rose's occasional 'Where Amazing Happens' moments.
Against Orlando, however, the Bulls proved they've outgrown that criticism with crisp cuts, good ball movement, and a helping hand from a few unlikely contributions. Sure, there were only three players that scored in double figures, but you're lying to yourself if you didn't get the sense from watching them take it to Dwight Howard and co. like a fluid machine, even without Rose.
If this recent stretch by the Bulls can outlast being called a fluke and prove it's longevity, it may very well have the other contending teams watching the playoffs from their couches.
I mentioned a bit earlier about the emergence of contributions from unlikely sources. Probably the biggest (and most welcome) surprise in Chicago this season has been the spectacular play of 29-year-old John Lucas III.
The undrafted pint-sized plugger out of Oklahoma State has played extremely well in Rose's stead, including scoring 24 points in a game earlier this season to carry the Rose-less Bulls past the high-octane Miami Heat. On Monday Lucas was asked to fill in for Rose yet again, and delivered to the tune of 20 points, including 4-for-7 shooting from beyond the 3-point arc.
While nobody is sure whether Lucas can consistently duplicate these performances, Chicago has identified clear candidate for the role of the relentless change-of-pace scorer for their postseason run.
If the Bulls can keep finding ways to keep their blistering pace as Rose recuperates, the benefits will extend far beyond the obvious seeding advantages. With the playoffs seemingly right around the corner, the Bulls are developing confidence that they're more than a few high pick-and-rolls, that they can succeed and put up W's even without the transcendent abilities of their ball-dominating phenom.
In short, Rose's injuries could prove to be a blessing in disguise. Because of being forced to learn to play without Rose, the other players have gained confidence in their own ability to win. The Bulls will no doubt be an even more dangerous squad once their 23-year-old stud rejoins them on the hardwood.
Be sure to follow Beard And Stache on Twitter 
@BeardAndStache
, 
and also Adam 
@Adam_Parker43
, Like our Facebook page 
HERE
!