Sadly all good things must come to an end. Sunday was hard because of daylight savings and I super slept in. I didn't get to the Con with as much time as I had hoped. However, within 5 minutes of getting there, I found my friend Kelly and her boyfriend, so that was a bit of good luck, especially since we had planned on meeting later for the Eliza Dushku Q&A. We wandered a bit and they browsed for comics they needed. Kelly and I headed up to get into line for the Q&A about 45 minutes before it was set to start. We got a good place in line and sat on the floor. A friend of hers soon joined us and at 3pm we were let in.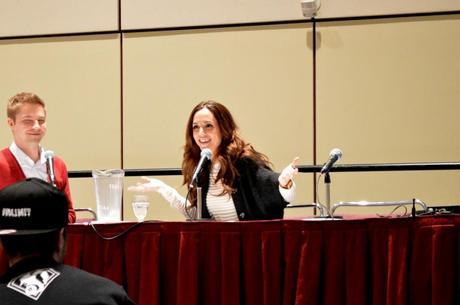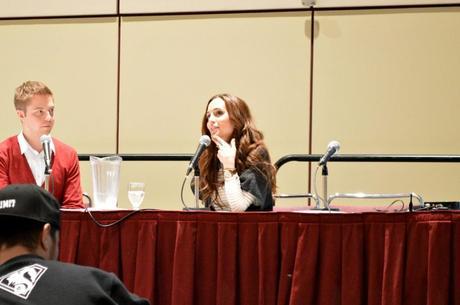 Can I just say that Eliza is adorable and so sweet and funny? Because she is. She even brought her mom to the Q&A and they talked about their charity work in Uganda.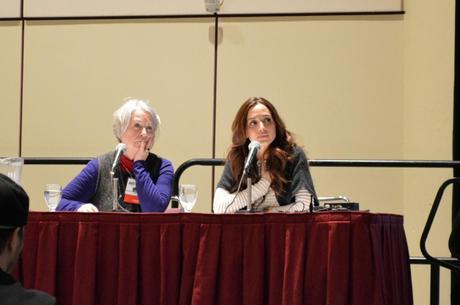 This photo was when a man was telling Eliza how much her character Faith helped him after he had been assaulted. I really liked how her mom, Judy, talked about how it's good to share these stories, but don't let it be your ONLY story. Don't let that one thing define you. Always add to the story what you did AFTER that terrible thing. Good advice.
One crappy thing was that after the Q&A, Kelly and I went down to see Eliza where she was signing autographs. We didn't want anything signed, just to say hi and let her know we're big fans. Unfortunately, a volunteer told us that we weren't allowed to do that. Very disappointing.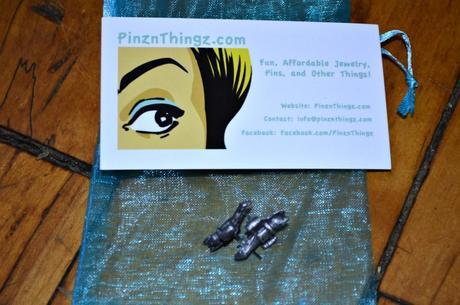 Since it was the last day, I finally spent some money on goodies. I love these Serenity stud earrings from Pinz'n'Thingz. I could have spent a LOT of money at that booth and everything was so affordable!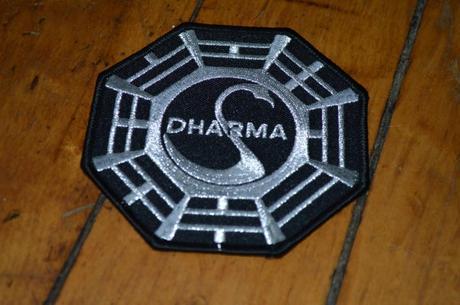 Being the good wife that I am, I got Chad this Lost patch to put on his backpack.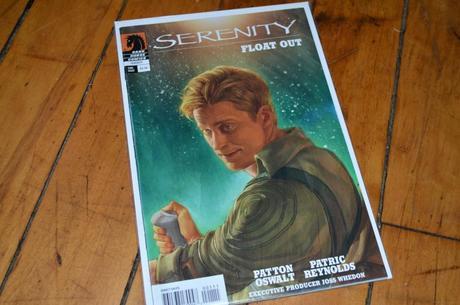 We'll make this a Reading Wednesday because I bought and read (finally) Patton Oswalt's one-off Serenity comic, Float Out. I have to say though, I wasn't too impressed with the story. Still, I'm happy to add it to my collection. Now I just need the 2012 Free Comic Book Day Serenity comic.
And with that, Toronto Comicon is over for another year. Next up, FanExpo, which I'll be volunteering for. There is another con, Superfan Comic Con, in May, but I'm not really interested in any of the guests. Looks like it's geared towards an older crowd. I'll keep an eye on it though.
~Laura