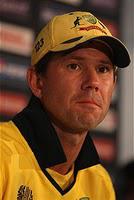 This is the season of captains bidding adieu. On March 23rd, we heard Cricket Australia denied any chances of the controversial Aussie captain Ricky Ponting's retirement. On 29th, he resigned. The Sydney Morning Herald reported yesterday that Ponting, 36, was likely to face stiff opposition at boardroom level to retain his job for next month's tour of Bangladesh. Australian Cricketers' Association chief Paul Marsh said it was "gutless" and "irresponsible" for a Cricket Australia official to forecast the axing of the Australian captain so close to the team's World Cup clash with India. What does that tell us? Are CA and Ponting not on good terms? The resignation has come when Ponting has failed to hit an International century for 13 months. Ponting has had major highs and lows.
Ponting's  last words as captain:
It's funny how we talk about losing the Ashes series three times.
Playing on three World Cup winning teams doesn't come up very often, winning 16 consecutive Test matches doesn't come up very much, winning 30-odd consecutive World Cup matches doesn't come up very often.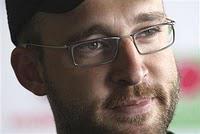 So right. He has experienced extremes, from losing to Bangladesh in the summer of '05 to winning World Cups. The one dream which will remain a dream is winning the Ashes in England, something Ponting himself referred to, as a dream. After losing the Ashes '09, he said he'd like to come back here in 2013 and accomplish his goal. Captains like him are rare. I personally hold a lot against him, he's annoying, too quarreling, extremely arrogant. He wants to win, by hook or by crook. But it's all for Australia. Not many are as patriotic and win hungry as this guy. Following him, Sri Lanka's Sangakkara has resigned as one-day and Twenty20 captain. Daniel Vettori has retired from Twenty20 cricket and resigned from one-day captaincy. He said he's almost sure that he won't captain NZ in Tests either. However, Tests are a big part of why he plays the game so he'll continue to do so. He has had to bear many disappoints as a captain. The most prominent being the whitewash by Bangladesh.
Rumours of England captain Andrew Strauss stepping down have been doing rounds ever since England went home from the World Cup. There is also word from the coach that his future as the one-day captain is being discussed. There are 2 and a half months to go for England's first ODI against Sri Lanka so Straussy has a lot of time of think.