Here, before you, lie the products I've consumed or almost consumed to the end.  It seemed only fitting to present them to you at the end of January.  Nothing else ultimately proves that you truly, truly like a product that works for you than when you've  hit pan or nearly squeezed out the last drop.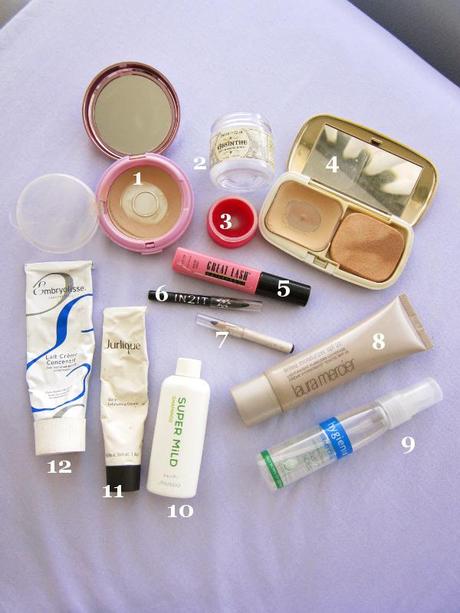 Itemized by number, reviewed items in bold, descriptions below:

(1) Canmake 5 Effects Foundation refillable (2) Haus of Gloi Absinthe Bubbling Scrub (3) The Body Shop Born Lippy Strawberry Lip balm (4) Majolica Majorca Skin Remaker Pore Cover 2-way Foundation (refillable) (5)Great Lash Waterproof Mascara (6) IN2IT Waterproof Gel Eyeliner (7) E.L.F. Brightening Eyeliner in Coffee (8) Laura Mercier Tinted Moisturizer in Bisque (9) Hygienix Hand Spray, Splash corp. (10) Shiseido Super Mild Shampoo Floral Green (11) Jurlique Daily Exfoliating Cream with nut pulp (12) Embryolisse Lait Creme moisturizer
1. This Japanese cake foundation helped make me more photogenic and natural plus the cream base finish was soft and touchable, W-I-N, with compact about SG$29 (Watsons, SG).
2. A bright lemon citrus and sugary mix blended into the enticing scent of Absinthe, I like using this scrub on my feet, cost US$3.50

3. Found it in the side pocket of my bag from 1.5 yrs ago, tightly sealed but still okay, it was almost gone na rin, bout Php275.
4. This 2-way foundation compact provides great quick full coverage for everyday and oily skin, a refill costs Php800 at Watsons.
5. Got this off ebay for bout US $6.  People have mixed feelings bout this mascara but Regine Velasquez (saw a photo of her applying it on her wedding day), MUA Cherry Pacheco (saw it in her kit), and I like it very much.  I'm not fond of the wand, but this waterproof variant holds a curl really well and doesn't give me spidery lashes.  I think it's the non-waterproof formula (green&pink) that sucks.
6. It's our local equivalent of the super longwearing Avon Supershockgel eye pencil.  It's a true black that makes tight-lining eyes easy and is not painful to use on the lower waterline Php300 each, around Php450 for a set of 2.
7. I used this brown ELF eyeliner a lot not for my eyes but for my brows, it's a great ashy brown that isn't warm.  Kind of like MAC Lingering or Brunette but for only about Php60.00.
8. I won't be without this unless I don't have the budget to top up (like right now).  It's the no makeup makeup base I brought around with me a lot and it looks PERFECT on me when at the beach or at an outdoor activity.
9. Hands down, my favorite hand spray because it doesn't spritz, it sounds like this "FFFFFFFFFT!" and shoots a super fine mist, by Splash Corp.  I don't like the feel of alcogel and I like it when makeup clients can obviously see and SMELL that I'm disinfecting my hands, an alcohol spray that smells better than regular alcohol.  Php30.00 for Php55ml and theres a smaller one for Php25 at almost all leading drugstores.
10. Made in Japan, I got my travel size one with conditioner from a convenience store in Singapore.  I love Shiseido shampoos, mom got their Moist hydrating one in dark blue.  This one I used out of town and when my hair needed a mild shampoo to reset.  Floral Green is such a pretty scent, my best friend Alma used some of it when we were at the beach and she told me it smelled so wonderful in the shower.
11.  I received sad news about this miracle exfoliating cream of mine…a friend said they were going to phase this out

  Sigh, some good things must come to an end, I hope Jurlique replaces it with an equally good product.
12. I scored a really good deal off Ebay on this Embryolisse Lait Creme, I got this and it came in a duo pack with a travel size one that I gave away last year.  At first I didn't like it, I thought it was too rich for my skin in a humid climate like ours, but then I changed how I used it.  I applied it at night then went to bed and woke up with the most amazing supple and soft skin.  It takes awhile to absorb and obviously works amazingly well as a night cream.  It also appeals to me because it gently smells of Jasmine and light milk.
Next up coming later.  My daily favorites for the month of January 2012