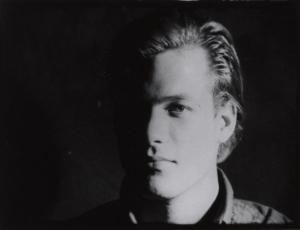 An image from Paul America's screen test, circa 1965.
I've done a lot of research on distant cousins up and down my family tree over the years, uncovering some fascinating stories and learning a lot about ancestors dating back centuries. I've written about a few of those stories here on this blog (see links at end of this post), and I'm sure there are many more to find. However, it was pretty striking to learn about a much more recent story, involving a much closer connection.
The story of my late cousin Paul Johnson, aka "Paul America," is straight out of the movies, both figuratively and literally, and involves none other than '60s icon Andy Warhol and other characters from the wild decade in which I was born. I had only heard bits and pieces over the years, tales of a wayward teen with matinee-idol looks who spiraled downward in a haze of drug addiction and, ultimately, an untimely death at too young an age.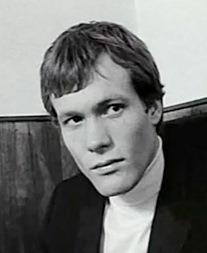 Paul America as he appeared in his last film, 'Ciao Manhattan!'
Little did I know that there was much more to the story…and a pretty striking story it was. A cousin of mine called me one evening recently to tell me about a series of videos he found on YouTube, including an interview with our great uncle Bob Johnson. They had been posted by a cousin, Ryan Hill, who we didn't know, but who clearly shared our interest in knowing our roots.
I'd met great uncle Bob a couple of times in my youth, and in fact he was the resident genealogist in the family when I got my first family tree assignment in elementary school. I remember going through his hand-written sheets of names and dates and places back in the late 1970s, getting my first glimpse of a family tree that stretched decades and even centuries beyond anything I knew. He lived in Florida and I grew up in California, so sadly I never got spend a lot of time with him, but I still have his family history sheets from the '70s to this day.
Now, thanks to YouTube and Ryan's efforts, I could see and hear Bob, many years later, talking about his own son Paul, a cousin I never met who had died in the early 1980s. But the story was about so much more. There was Edie Sedgwick, a black sheep of the New England Sedgwick clan that also produced actress Kyra Sedgwick and novelist John Sedgwick, as well as generations of blue-blooded Massachusetts Yankees. There were assorted other characters with bizarre names and talents, like Ultra Violet and Baby Jane. And there was Andy Warhol, the ringmaster of a drug-fueled circus of mid-'60s debauchery posing as art.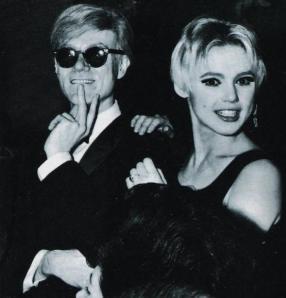 Andy Warhol and Edie Sedgwick
Warhol was on hiatus from his painting at the time, and trying his hand at filmmaking. He recruited an array of pretty young people to join him in his commune/studio in New York, a place called "The Factory" that doubled as a screening site for his short films. The very first of these was My Hustler, starring Paul America.
However, Paul America never appeared in another Warhol film, reputedly exiled after falling in love with Sedgwick. Johnson's big break – appearing in a Warhol film – also proved his undoing.
Were it not for the lifelong curiosity of that cousin of mine, Ryan Hill, I would likely never have known the full extent of Paul Johnson's story, or the extent of Warhol's puppeteering of impressionable young minds in the era. Ryan interviewed his grandfather Bob (my great uncle) before his passing, and Paul's brother Ted as well, as the stories they tell of Paul's life add a human side to the glitz and glamor that is so often thought to be the Warhol experience of the '60s.
Hill was interviewed for a lengthy article on Paul America not too long ago, an interview that appeared in an issue of the very avante garde Fantastics Magazine. It's a compelling read; an eye-opening exposé on not only Paul Johnson's life and times, but also the bitter unraveling of Warhol's collected menagerie of wayward youth, torn apart by drugs, sex, and Warhol's capricious and sometimes vindictive nature. While a precious few who drifted in and out of the Warhol scene (like Lou Reed and Dennis Hopper) went on to stardom, too many others were used up and cast away. Edie Sedgwick, perhaps the most well-known of Warhol's collection, was dead at age 28 of a drug overdose.
In the end, Paul America, like Sedgwick, became just a minor footnote in cinematic and pop culture history. He was a would-be matinee idol who instead fell into the clutches of addiction, was tossed aside when Warhol was finished with him, and drifted through the 1970s. He was killed on the side of a highway in a hit and run accident in the early 1980s. Though he died at just 38 years old, he outlived Sedgwick by a decade.
Ryan Hill, Johnson's nephew, is a cousin I've never met (yet), but we evidently share a passion for family history. He's spent the past few years piecing together the true story of Paul Johnson, the boy who became Paul America and died almost anonymously. He plans to make a documentary film, and I'll be among the first in line to see it. Paul America will finally get his due on screen, even if it comes a generation after his death.
Related Posts:
Another Lanning hits the big leagues
A legacy of philanthropy: The Lannings of Hastings, Nebraska
Family history: The search continues
The Brooklyn Theater Fire of 1876
History, baseball, life: Connecting with the Baseball Lannings