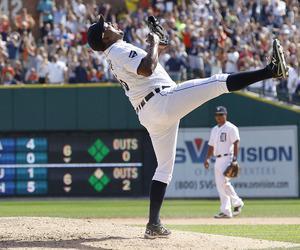 Photo: Getty Images - Leon Halip
- Adam Parker
Ah, the closers. The group of athletes cut from a different cloth; horses of a different color, if you will. No player in the clubhouse faces more scrutiny or is under more pressure on a nightly basis; no players are more outlandish and just down right odd.
I mean, just imagine it. You come in -- cold off the pine and game on the line (though you likely just threw warm-up tosses in the bullpen beforehand) and there's only three outs standing between your team and victory.
Three outs. Three batters. Nine Strikes.
No big deal, right?
If only that were true.
The life of a Major League Baseball closer is not for the faint of heart. No matter whether you're in front of your home crowd or on the road, playing the role of closer for a MLB team (or any level, really) means you're always in the pressure cooker. You've got to have skin as tough as a dragon's scales and an even shorter memory.
Sure, it's only three outs, but for whatever reason, they always feel like the hardest outs to get in the entire contest. Two opposing forces are locked in battle for one final time with the team ahead, your team, looking to you to put the final three nails in the opposing team's coffin while the trailing squad is trying to muster up that last ounce of moxie to retake the lead and have the whole thing blow up in your face.
No pressure.
I used to find it odd that there was so much hype around the closer's role in the entirety of a game. After all, what's three out of 27 outs in the grand scheme of things? But then it hit me. Blowing a save means you basically single-handedly lost the game for your team. Your teammates who worked their tails off through the first eight innings count on you to close the door and seal the deal so everyone can go home happy before returning to battle the next day.
If you're able to put the cherry on top, then great. But if you give up the big fly that ends up costing your club the win and leaves your teammates with the feeling of being kicked in the gonads...
Needless to say, you don't ever want to be
that guy.
That's why closers these days are so wild and crazy. It takes a special kind of player to be a closer. Not all of them are fortunate enough to be like the greatest closer of all-time in Mariano Rivera. The longtime New York Yankees' closer has an almost unsettling calmness to his demeanor on the mound. Oh, and we can't forget to mention that Hall of Fame cutter of his...nasty stuff. I can't say for sure, but I imagine the hitters are more nervous than Mo' is about their inevitable matchup. That's why they call him the Sandman -- because he puts the opposing team to bed.
But Rivera is an anomaly, an enigma, in comparison to the rest of today's top closers. Yes, I'm speaking of guy like the Giants' Brian Wilson whose beard is bordering on becoming a separate entity. The black foliage on his chin only adds fuel to his relentless rage. He's one of the most outspoken, in-your-face personalities that the game will likely ever see.
Then you have Detroit's Jose Valverde, who believes the best closers in the biz
"have to be a little crazy"
in order to get the job done and with the success he's enjoyed, it's hard to doubt his reasoning. Guys like Cleveland's Chris Perez, whose unkempt beard and 'wild man' locks only add to his fiery persona and the Brewers' John Axford who boasts a mustache the likes of which can only be found on the set of a patented John Wayne Western.
It takes a special kind of player to be a closer. No one volunteers for the job and rightfully so. I mean, what kind of person in their right mind would walk willingly into the gaping maw of the beast? The answer is simple -- closers. Guys who simply aren't cut from the same mold as you or I.
You know the old adage.Men are from Mars. Women are from Venus.
MLB closers? Well, they're from a planet yet to be discovered...
Wild facial hair and unpredictable personalities. Outside of a select few, those are the traits of the top closers, both past and present (shout out to Rollie Fingers, Goose Gossage and Dennis Eckersley). In other societies, many of the men we know as closers would undoubtedly find themselves being fitted for straight jackets and being unceremoniously tossed in the loony bin, never to be seen or heard from again. But in the game of baseball, that 'controlled chaos' is what makes these men so great at what they do.
The architect of demise; baseball's undertaker -- that is a closer.
Be sure to follow Beard And Stache on Twitter 
@BeardAndStache
, 
and also Adam 
@Adam_Parker43
, Like our Facebook page 
HERE
!