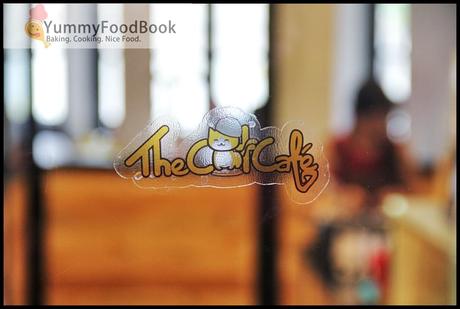 Meow meow meow. The Cat Cafe opens its doors and welcome customers with their paws last Sunday on the 22nd June 2014. We have been keeping a close watch on the events happening to The Cat Cafe ever since it announced its opening. Holding to some simple expectations, we have to say it didn't disappoint us at all. Here are 7 reasons why:
7 Reasons Why You Should Visit The Cat Cafe
1. Convenient Location
Located in the heart of Bugis in Bugis Village, we find the cafe is easily accessible for everyone. whether by public transport or driving. Location in general is easy but a little small problem is its micro-location. There is no sign on the outside indicating where exactly the cafe is located. Fear not, before heading down do check out the following link giving you pictorial directions to the cafe. Go up the stairs and is above some hair salon (we are saying this because the stairs gets a bit empty like there is no more shops above). Just keep going.
2. Damn Friendly Staffs
The staffs at the cafe are very friendly and it gives us the heartlander kind of feel which we think it's comfortable and less intimidating. As usual like the other cat cafe, there was a quick briefing on the ground rules of the cafe. This is of course to be respected when mingling around with cats. There's this bespectacled guy at the counter who takes food-drink orders and we feel he is funny. Hey man, we are ordering your Americano as Kopi-o the next time we visit your cafe okay? Haha! The other lady who attended to us has her sense of humour too and they speak Chinese and not getting all potato!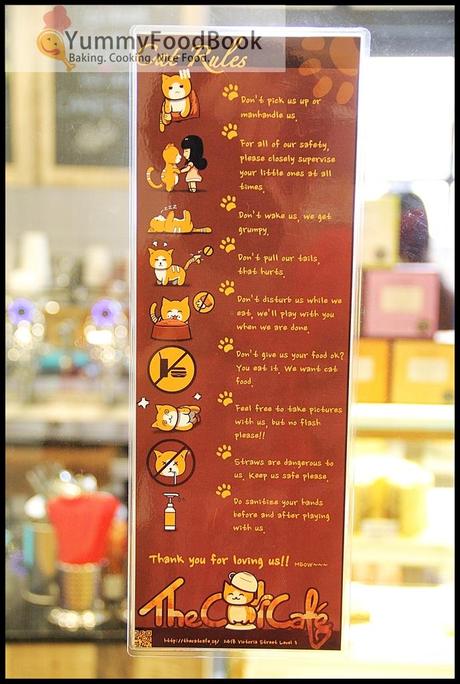 Cat rules you need to follow.
3. Another Damn Friendly Staff – Their Cat-Keeper
One of the very important characters we take serious note of is the Cat-keeper or strictly putting, the staff policing the cat grounds for any rules violation. The other cat cafe enforced this character strictly and we mean very very strictly. We remembered getting that disgusting "hey-you-watch-out-for-my-cats" look by their Cat-keeper just because we opened the door (to order our beverage) and one of their his cats almost dashed out like it's our fault. Hello, it's our first time there yo.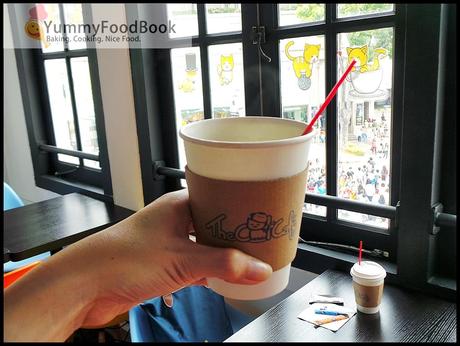 Sip sip sip!
The Cat Cafe's Cat-keeper is very friendly and apart from his policing job, he's more flexible and that means attending to customers such as bringing the food and drinks to their tables. As long you follow the rules, he's fine with you. Unlike the other cat cafe, you get marked for it because you can feel eyes watching your every move. Another key point, he doesn't play with the cats like the other cat cafe Cat-keeper does. This means the cats are less sticky, more sociable and will interact more with us the customers. Thankfully, we encountered the same scenario where Tuxedo came from behind almost out of the cat grounds. The Cat-keeper did not blame us. Nuff' said.
4. Spacious And Relaxing
The Cat Cafe's cat ground is really spacious. Instead of dividing the cafe into two like The Berlin Wall, you are allowed to eat, drink and at same time, play with the cats. Talk about maximum interaction! It's bright and high ceilings makes the place not "claustrophobic". There are also floor seats to lounge and sometimes a curious cat may walk pass or wants to play with you. Cat toys are available for you to play with them. Compared to the other cat cafe, we don't feel stressed at all. This is really therapeutic.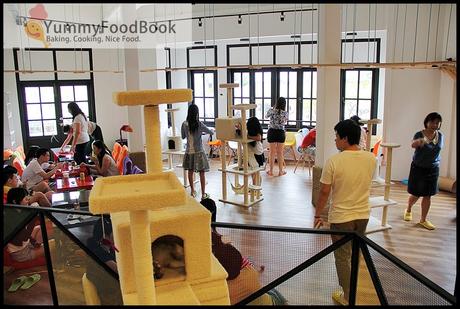 Spacious and bright cafe.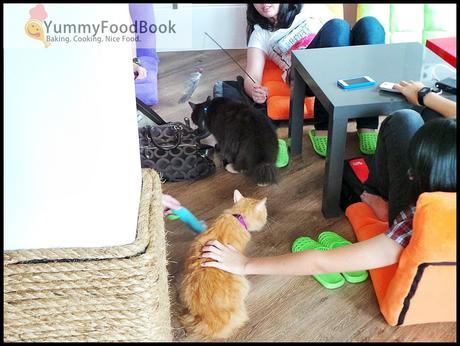 Can we join you?
The cafe's layout is more easy to understand and straight forward; we know where to order and how we get our orders.
5. Reasonably Priced Cakes and Coffee
Their cakes and coffee we feel are pretty reasonable. We tried their Sea Salt Caramel Chocolate Chiffon and Americano. The chiffon cake tastes good and moist, with the caramel flavour and the occasion saltiness of the sea salt sprinkled on the top. It does not get heavy on our stomachs. The Americano is aromatic, taste and has a light body.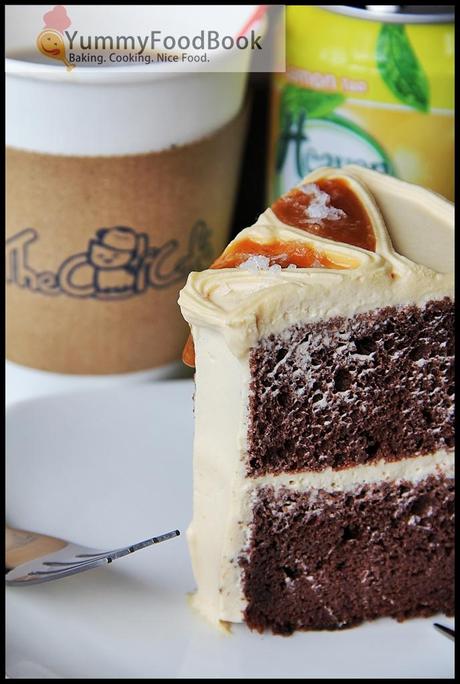 Sea salt caramel chocolate chiffon and Americano.
Best of all, it is quite a big cup! There are other foods to order if you are hungry such as the croissant, muffins and waffles. Not in the mood for hot drinks, just top another 50 cents more to convert into an iced version of any hot drinks of your choice. Food prices start from $3 and drinks starts from $2.
FIRST SOFT DRINKS ARE COMPLEMENTARY! (*other drinks require top-ups)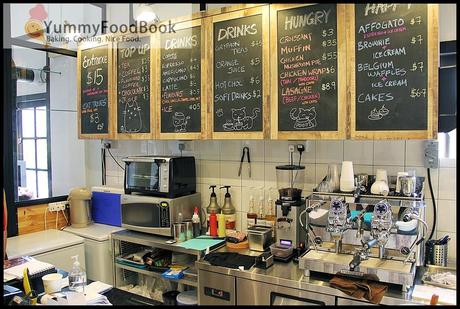 Good food and drinks with the cats.
6. Approachable, Adorable Cats
Oh my, the cats at The Cat Cafe are very approachable and adorable. There is the playful Elly, the cat with infinite energy. Elly does not seem to get tired after long play times. We've seen customers playing with her for quite a long time and she just keeps hopping around with the eyes so big and curious. She almost got herself into our camera bag! Very active cat.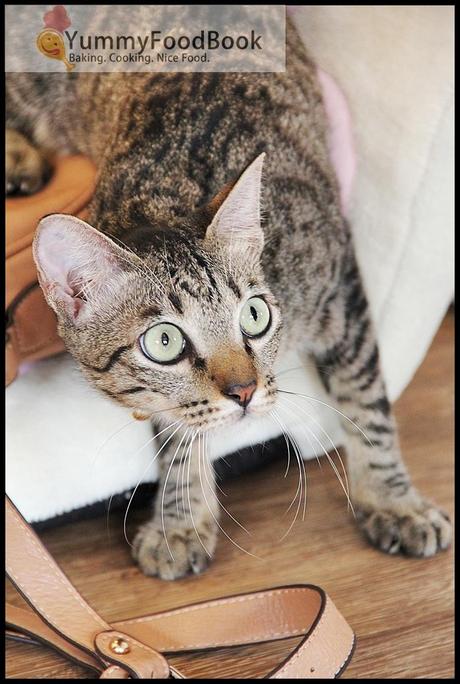 Elly.
Jimmy, the brown furry ginger who seems to be proud of how handsome he looks (okay, Jimmy is indeed good looking). Based on the recent Facebook update by The Cat Cafe, he seems to like this particular mint-infused toy very much (one of his favourites) that it drives him crazy. See here Excited Jimmy. We saw him go crazy with our own eyes. Excited cat.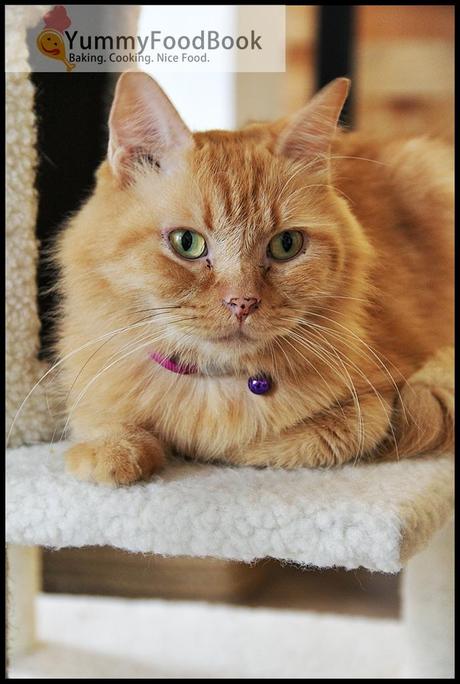 Jimmy.
Tuxedo is named after the colour of his fur. The colours are such that it makes him look like he is wearing a Tux and hence the name. He is very very furry and his paws are so cute. We find that he is quite a cool cat that paces coolly around the cat ground. Oh, he's also very chubby. Hamburger!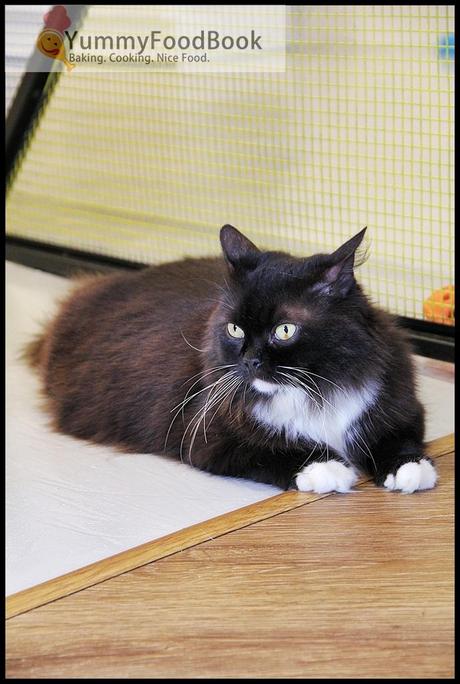 Tuxedo.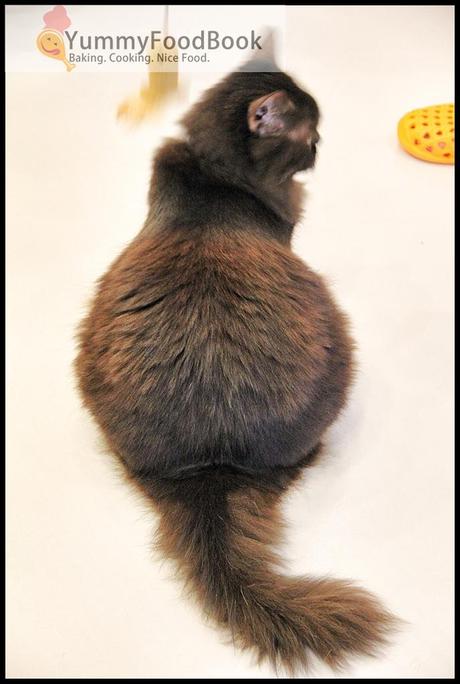 Aiyooooooooo!!!
There are cat treats you can actually buy for $3 to feed and get closer with them. Nom nom nom. There are also many cat toys within your reach to play with them. Tickle, tickle!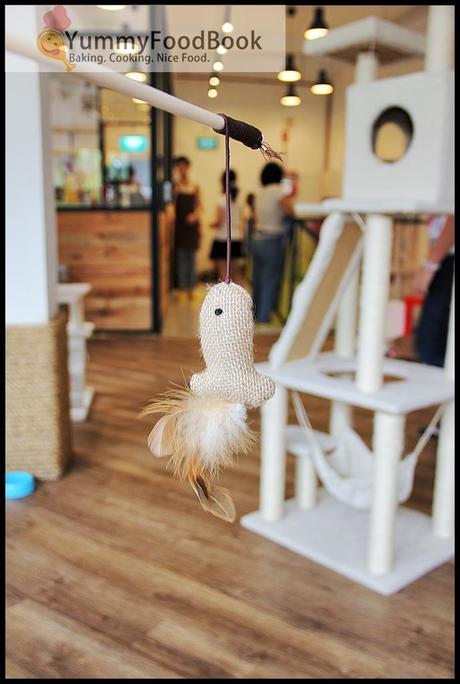 There are many other cats too but we just name some of them. Check out the shots of the other cats!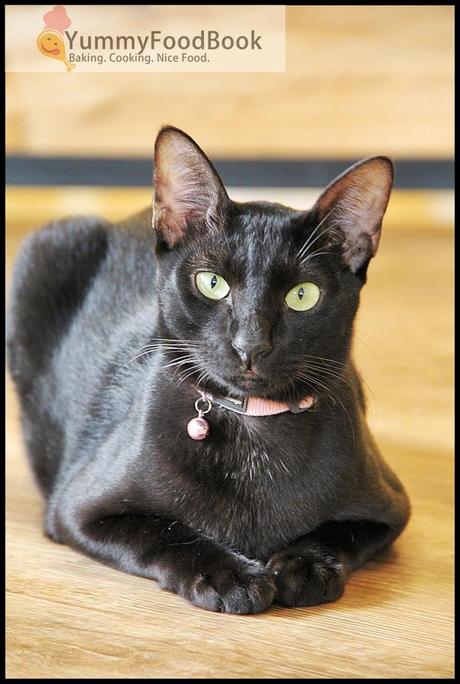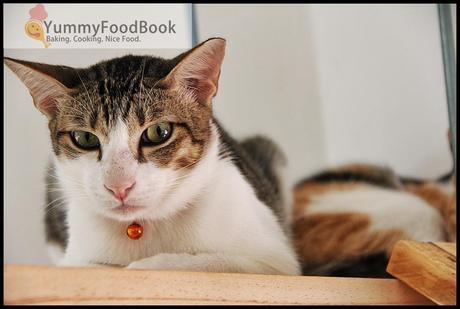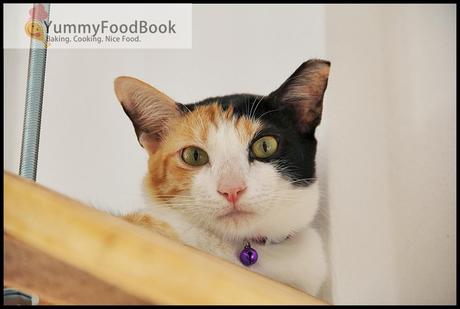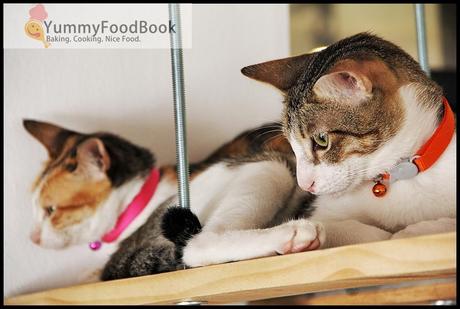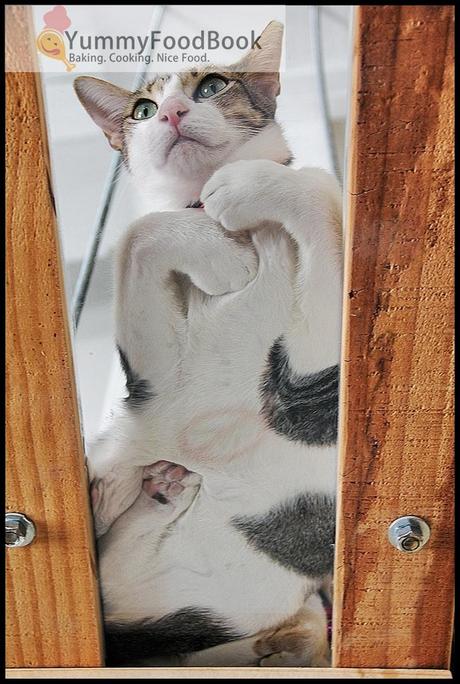 Though they are interactive but as cats, they need sleep. There are times such as the afternoon where they will need sleep. This is their nature. So don't get disappointed if most of them are sleeping soundly. In fact, they look equally cute too as compared to when they are awake. Just check out some shots we took! Zzzz…..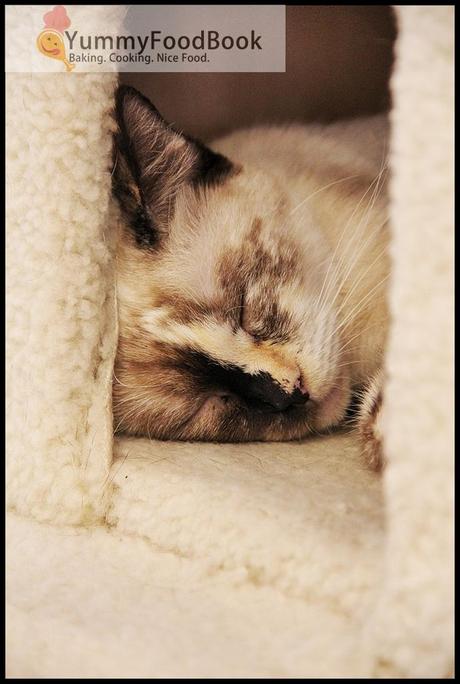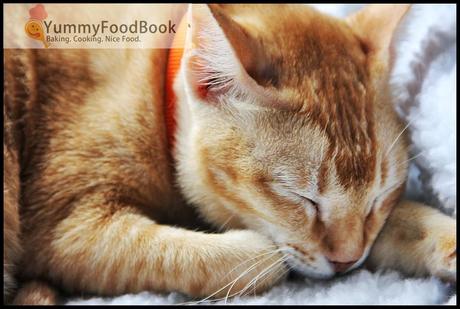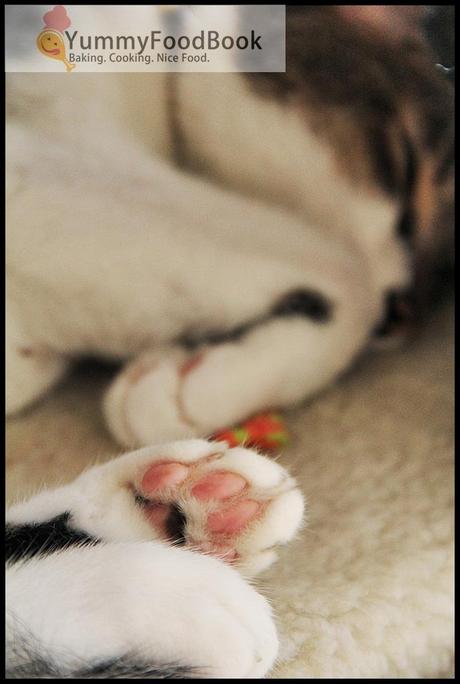 7. Reasonable Entrance Fee
The Cat Cafe charges customers an entry fee of $15. You can stay as long as you like to be with the cats - unlimited minutes, unlimited purring and stroking of cats (but please be considerate, buy something and don't just stay there "empty-handed" over-maximizing your $15). In our opinion, comparing to the exorbitant fee of first hour @ $12 and subsequent half hour @ $5, the $15-per-entry is definitely the price for the people. The pricing at the other cat cafe suddenly reminds me of carpark rates and we wonder if……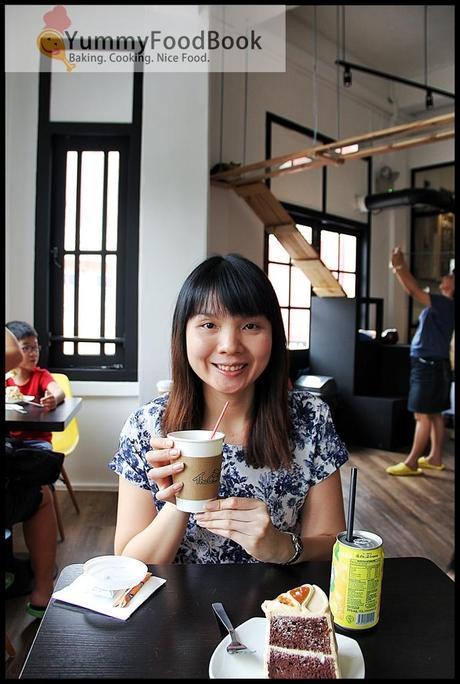 Happy.
In conclusion, we think that The Cat Cafe is a cafe that we wished for since our visit to the other one and this cafe didn't disappoint us at all. The cafe is really spacious and bright and armed with many toys you can select to play with the many approachable cats there. Best of all it allows us to eat and drink and play time is within reach. Staffs are very friendly (keep it up guys!), helpful and heartland-ish. Most importantly are their prices, kept reasonable so that many people can afford to come, especially bringing their kids (only children above the age of 6 would be allow into the cafe and children under 12 years old require adult supervision), to the cafe. Food and drinks aspect we don't have much to complain about because they are good and first drinks are complementary.
We recommend The Cat Cafe. We had a meowing good time.
The Cat Cafe

241B Victoria Street Level 3
Singapore 188030
Operating Hours:
Monday: 3pm to 10pm
Tuesday – Sunday: 10am to 10pm.
Tel: 63386815
Reservation:
We do not allow reservation as TheCatCafe works on a per entry model – would be a little hard for us to manage the supply and demand.
Reservation is only available for our Indiegogo funders that bought the various perks.
More from YummyFoodBook
XU JUN SHENG TO CLOSE DOWN ON 14 APRIL 2014

WHITE TANGERINE CAFE – PAYA LEBAR KOVAN CC

POTION CAFE AND BAR – NOSTALGIA HOTEL

THE SOCIETY CAFE @ PLAZA SINGAPURA

TO-GATHER CAFE (BEDOK) REVIEW