I'll be jetsetting tomorrow and I'm just starting to get my gear together and charge everything like crazy. I can barely remember what it was like to move stealthily sometimes from vehicle to vehicle on the campaign trail and document behind the scenes during the peak of summer. I remember being armed with miniDV tapes and a camcorder. I recall running alongside pickup vehicles to catch up, sometimes having to run and climb into the back before the whole convoy left me behind. We're not exactly Katniss this year, but we'll have to step up. You're looking at my beauty picks for Kiko Pangilinan's upcoming campaign sortie. From what I know, it's going to be hot, hot, hot!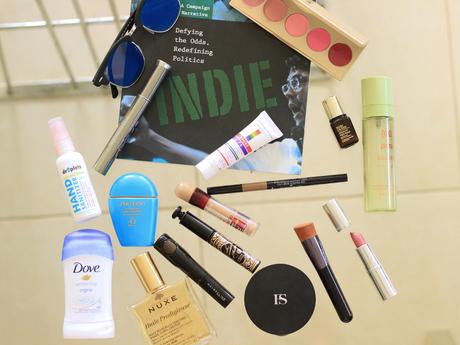 The book is about Kiko Pangilinan's 2007 campaign when he decided to run as an independent candidate and won. It was just nice to throw in a throwback. This year he is running on the slate of the Liberal Party. In 2007 I was just barely developing an interest in makeup and beauty so I have no recollection of what I brought that time. Read on for a closer look at this edit and the full list.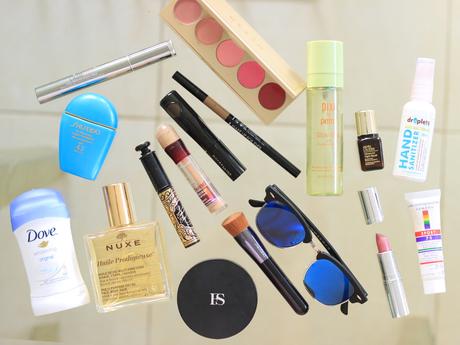 Sunnies shades (this particular pair I was sent I really like because the frames bend and the inner lens is reflective, providing some sort of side mirror action on my peripheral vision. I don't know how it does that but it's like I can look to either corner of either eye to see what's coming up behind me on both sides, useful when you're shooting from the back of a pickup in a convoy).
The Stila Sunrise Splendor Convertible Color Lip & Cheek Palette (dual purpose hues that matter in one place)
LashEm All Eyes on You Lash & Brow Enhancing serum (currently testing)
Droplets Hand Sanitizer
Shiseido UV Protective Liquid foundation in SPF 45
Dove Whitening Original Solid Deodorant
NUXE Huile Prodigieuse Oil (to get the sunscreen and makeup off, will be used as a cleanser/remover)
Maybelline Fashion Brow Mascara
Majolica Majorca Edge Meister Waterproof mascara
Maybelline Age Rewind the Eraser treatment concealer
VMV Armada Sport SPF70 Sunscreen (protects without the stickiness or white cast)
MUFE ProSculpt Brow Pencil
Pixi Glow Mist (to keep things fresh throughout the day)
Estee Lauder Advanced Night Repair serum (as a healing after-sun treat for the face at the end of the day)
FS Powder Foundation in Mocha (in case there's the need for more coverage)
Shiseido Perfect Foundation brush (for powder)
and a new favorite VMV Hypoallergenics lipstick in the shade "Chorus Line" (a standout rose hue that's more Ellie Goulding pink than a muted rose, not too bright not too muted. It's unique because it's somewhat sheer but with a satin to matte finish that you can practically never over-apply, it will have a review of its own)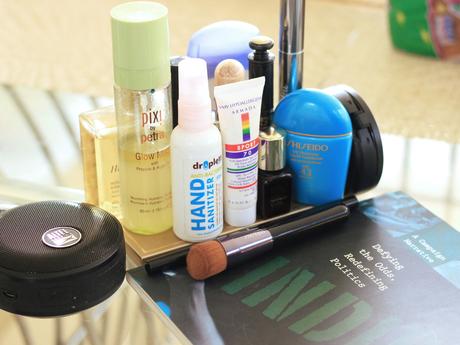 It's not the most minimal edit but I did make sure that size-wise these wouldn't burden me on the trip. Knowing me, at the last moment there are bound to be a couple of stowaways by the time I finish packing. This time we have a kit, yes, I didn't pretentiously pare it down. Because I knew the trip would be somewhat stressful I purposely selected several comforting cosmetic items that I wanted with me in easy to pack sizes. More on that later, have to grab my clothes now!