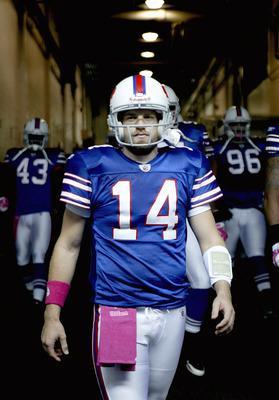 Photo: Getty Images/Rick Stewart
- Adam Parker
After executing one of the biggest offseason coup d'etats in recent memory with the acquisition of former Houston Texans All-Pro defensive end/outside linebacker Mario Williams, the Buffalo Bills have plunged their names into the conversation of playoff relevancy.
'Super' Mario, along with fellow free agent signee Mark Anderson, should team with a healthy Kyle Williams and former first-round pick Marcell Dareus to create arguably the best defensive line in football.
The Bills also took steps to upgrade their dismal secondary, adding the second-best cornerback in the draft to the mix in former South Carolina Gamecock Stephon Gilmore.
Besides that, incumbent Buffalo stars -- running back Fred Jackson and wide receiver Stevie Johnson -- also received long-term contract extensions.
That's right folks.
For the first time since 1999, the Bills have compiled a roster that has many pro personnel and fans alike believing that the 2012 season might finally be the year the Bills end their 12-year playoff drought.
The stage is set for the Bills to circle the playoff wagons once again. Now, it all comes down to the play of quarterback Ryan Fitzpatrick.
After signing a six-year, $59 million contract extension in late October, Fitzpatrick was locked in as the Bills' No. 1 going forward.
The "Harvard Man, From Harvard" was rolling in the dough and the Bills looked poised to make that next step towards playing playoff pigskin.
The only problem? Fitzpatrick was apparently bitten by the 'I'm going to let my play take a nosedive now that I've gotten paid' bug that seems to have become commonplace for NFL players who elevate their play in a contract year only to fall miserably back down to Earth once the ink begins to dry on their new deal. Need any proof? See DeSean Jackson.
After signing on the dotted line, Fitzpatrick's completion percentage dipped from 66 percent to 59 percent. Not only that, he finished 2011 with an uninspired quarterback rating of 79.1. Not exactly the numbers you were looking for when you paid Mr. Harvard the big bucks, was it, Buffalo?
2012 will have to be different for Fitzpatrick. Not only from a team success standpoint, but also for Fitzpatrick's own job security. The Bills brought in Vince Young on a one-year deal to light a fire under Fitzpatrick and give themselves a contingency plan to fall back on should it appear that Fitzpatrick's play is what's keeping the teams from reaching its postseason goals.
Now, am I expecting the Bills to bench Fitzpatrick for Young if he struggles? Probably not, but it will all come down to how the record looks about three-quarters of the way through the season. If the Bills are fighting for a playoff spot whether it be a wild card or, by some crazy stroke of luck, contending with New England for the division title, then Fitzpatrick will likely remain the starter and Young will be content to hold a clipboard and collect a paycheck.
But should the Bills struggle, Bills' faithful better be ready for a VY sighting. It's only fair, after all. The NFL is a quarterback-driven league, and the quarterback position is always the most-scrutinized and it's always been about 'what have you done for me lately'. Not to mention, the way Fitzpatrick's future contract years are set up, the Bills could get out from under him fairly easily if they need to. After looking over Buffalo's roster, the Bills seem to have everything in place on paper.
Only one question remains.
Is Fitzpatrick the guy to lead Buffalo out of the darkness and back to the promise land of the playoffs?
We'll have to wait and see.
Be sure to follow Beard And Stache on Twitter 
@BeardAndStache
, 
and also Adam 
@Adam_Parker43
, Like our Facebook page 
HERE
!