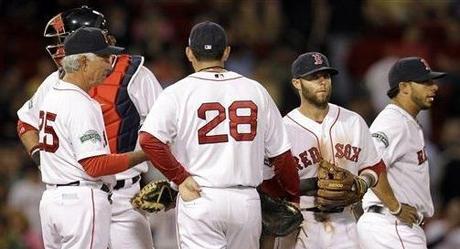 Photo: boston.com
- Adam Parker
The season is still very young, with teams having barely completed ten percent of their grueling 162-game schedule, but one thing stands out amongst the rest -- the Boston Red Sox are in serious trouble.
Yankees fans such as myself are jumping up and down with excitement over Boston's early struggles.
But realistically, did any of us expect anything different?
I mean, look at what the Red Sox have had to deal with over the offseason -- beginning with pitchers feasting on buckets of chicken and drowning their sorrows in alcohol in the locker room on their off-days.
Terry Francona and Bobby Valentine swapped jobs, with Tito taking over for Bobby at his ESPN gig, all while Valentine tries to clean up the mess that has become the Boston Red Sox.
Needless to say, with a (5-10) mark thus far, Boston isn't exactly off to the start they had hoped for.
The Red Sox undoubtedly needed a taskmaster type manager like Bobby V. to kick their lazy bums into 'fighting shape' for the 2012 season. Sadly, Valentine's words seem to have fallen on deaf ears, his efforts wasted.
So what's the issue?
To be honest, I think Boston has a number of them. There are almost too many to list.
The only thing the BoSox really have going for them right now is their offense. Granted, the offense has been better in years past, but the bats have still been quite hot thus far. As of this moment, Boston is sixth in the Majors in runs scored and trails only the always loaded Texas Rangers and New York Yankees in team batting average and slugging percentage.
As for the main reason Boston finds themselves in the American League East division cellar? Well, it all comes back to pitching. The top three starters in Josh Beckett (5.03 ERA), Jon Lester (6.00 ERA) and Clay Buchholz (9.00 ERA) are all struggling mightily. My guess is they're probably still trying to work off the beer guts they developed last season and wash off all that chicken grease.
A word of advice for all the young pitchers out there -- don't eat chicken or get drunk during the season. Stuffing your gaping maws with all that greasy goodness may be fun initially, but it will hurt you in the long run. Greasy hands leads to looser grips on the ball and more errant pitches, and we all know what typically happens with errant pitches -- the ball leaves the yard or worse, you hit the batter.
And then comes the alcohol. All that booze may give you a buzz, but it's also going to eat away at your stamina like it did with Boston's starting rotation. So far, Beckett is the only starter whose pitched into the sixth inning. Less innings from the starters means more stress on the bullpen -- something that the Red Sox' bullpen simply just isn't equipped to handle.
Not only that, but if they're lucky enough to get to the ninth inning with a lead, they no longer have Jonathan Papelbon to come in and close the door as he jumped ship when the Phillies made him a $100 million man.
It seems that swapping out Tito for Bobby V. hasn't solved a thing. He may have the support of the management, but the players clearly don't have his back. The hangover of 2011 has carried over to the new year and the Red Sox need to do something.
Maybe they should hand the reigns to Dustin Pedroia. Allow him to remain the team's second baseman while also handling the managerial duties. After all, he clearly believes he's already doing that anyway.
Boston could even make a last ditch effort to recruit God's gift to mankind -- Tim Tebow to come in and dispel the locker room cancer and rid the BoSox of their chicken binging and beer guzzling ways. Despite all the odd jobs he'll be doing for sexy Rexy and the Jets next season, I imagine he'd still be able to find the time to be the Red Sox savior as well.
Or maybe Boston is even beyond the point of saving, even for 'Father' Tebow himself.
Boston is in dire straits right now, and as a Yankees fan, I honestly couldn't be happier. But as a fan of the game, it doesn't seem right to see Boston as the bottom-feeders of the AL East -- until further notice, those spots are permanently reserved for the Toronto Blue Jays and Baltimore Orioles.
Get your act together Boston.
Or don't.
Either way is fine with me.
Be sure to follow Beard And Stache on Twitter 
@BeardAndStache
, 
and also Adam 
@Adam_Parker43
, Like our Facebook page 
HERE
!