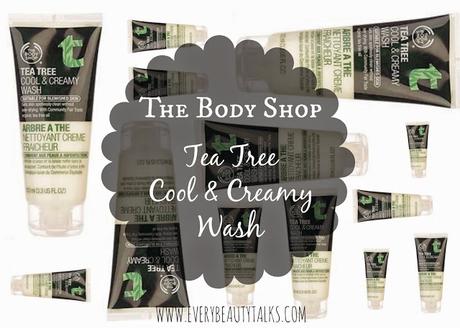 It was love at first wash. The Body Shop Tea Tree Cool & Creamy cleanser feels so cooling and refreshing on the skin that I find myself looking forward to cleansing my face even on those lazy days where it would make life seem a bit more bearable just to use a face wipe.
Since moving to England I have noticed that I have had a lot more unwanted visitors (pimples) pop up and leave red marks on my face. I don't know if it's the water (it's a lot harder here and full of lime scale) or hormonal changes that has been unsettling my skin but one thing is certain; I needed to find a good cleanser stat to help combat the spots that keep popping up on my face.
A couple weeks ago I purchased The Body Shops' Tea Tree Cool & Creamy Cleanser and can now confirm that it has made a radical difference to the state of my skin. Note: I like to trial skincare products for a couple of weeks prior to reviewing to give a truthful review.
This stuff is now my new holy grail skin cleanser for my oily combination skin type. Forget all those high end and highly priced cleansers. If you are searching for something that is not only affordable but delivers amazing results, this is it! Spots have dramatically cleared, skin feels softer and my complexion is brighter. What more could you ask for? A lot I suppose, like all traces of ageing disappearing but lets not be too vain now.
Grab your tube of 
The Body Shop Tea Tree Cool & Creamy Wash for a purse friendly 
£
5
from your local Body Shop store.
Have you tried The Body Shop Cool & Creamy Wash? What is your favorite budget friendly cleanser?