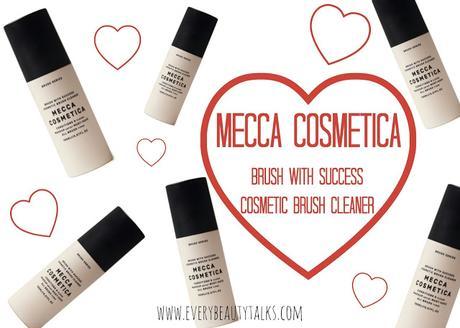 I love a good brush cleaner for spot cleaning and quickly refreshing my brushes in-between shampooing them. After years of using the MAC Brush Cleanser I decided that I wanted to try a different one. Whilst browsing my little heart out at my local Mecca Maxima I spotted their very own brush cleanser and after trying in on one of their dirty brushes, I decided that I just had to take one home.
What Mecca say:
Brush With Success Cosmetic Brush Cleaner conditions and purifies natural and synthetic cosmetic brushes quickly and effectively. The quick-drying formula swiftly removes makeup from brushes between applications and preserves their longevity. Contains antibacterial ingredients, silk proteins and pro-vitamin B5 with a clean scent to leave brushes smelling fresh and clean.
What I say:
I cannot fault this brush cleaner. I pop a couple of sprays on a piece of paper towel and gently swipe my brush clean in no time (did I mention how much I love that this c
osmetic brush cleaner comes in a spray bottle?!)
. This bad boy 
even dissolved hardened cream eye shadow straight off the brush bristles (naughty me 
for leaving it so long it went hard, I know). The point I'm trying to get across here is that the cleaning power this stuff has is insane.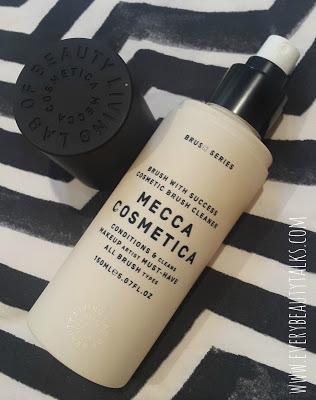 Mecca Cosmetica Brush with Success Cosmetic Brush Cleaner.
Drying time? Pretty impressive! When I use this brush cleaner my brushes are dry almost instantaneously (Not really, but I'll realistically guestimate that they're ready for use within a minute or so). 
Invest in yours now for $24 AUD (150ml) from your nearest Mecca Cosmetica or Mecca Maxima Store.
What's your favorite brush cleaner? How do you like to clean your brushes?