I plunged into The Body Shop at Shangri-La Plaza Mall last night before the Nuffnang Hunger Games premiere (more on that in a bit haha) realizing that I hadn't bought anything for myself from The Body Shop in years…yes, years.  The last thing I bought from them for myself was a pot of Strawberry Born Lippy balm  bout 3 years ago, which I lost for awhile and found again with just a few more uses left at the bottom of the pot and because I sealed it tightly it didn't go bad at all.  They've got an ongoing sale till the end of March with some items marked down up to 50% off, like their world-famous Banana Conditioner (now with Community Trade Banana Puree), the all-time Body Shop bestseller which I happen to have never tried…till now.  This Banana Conditioner is talked about wherever there is a Body Shop boutique and that's in hundreds of stores globally, they sell like hotcakes.  It regularly retails for about nearly Php600 but is now is marked down to under Php300.00 for 250ml of product until the end of March.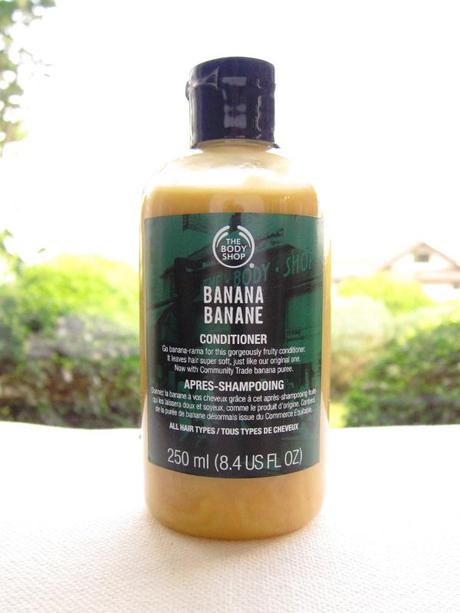 So how good is the Banana Conditioner?  I was concerned I wouldn't find as good a replacement for my lovely Davines Love Conditioner which is now completely gone (because it's "wunnerful" but too expensive), now I have.  It's moisturizing but not heavy on the hair, I think that's what makes it a winner, it imparts very believable (non-siliconey) softness and shine, the smoothness doesn't feel synthetic.  The texture of the product isn't as thick as the Davines Love Conditioner but it isn't too runny either.
I grew up with The Body Shop brand, one of my first ever teen makeup items was their blood red, liquid lip and cheek tints (I went through 2 or 3 tubes), that was the only makeup item I was freely allowed to wear well into college then I graduated to mascara.  Mom didn't want me concerning myself with regular makeup other than lip balm/tints until my last year in high school or even heels till my junior and senior years.  I could play with my makeup gifts (I had lots of Clinique and Estee Lauder samples)  on our makeup holidays but otherwise she had a quick eye and kept my face in check so I was never unnecessarily overdone, one or two times I was asked to wash some off and reset if I primped myself too much.  She never wanted me to look older than how old I really was.  I guess it paid off, because she's not checking anymore and I still look young, hahaha!  I appreciated that maternal consciousness though, even my friend Charlotte of Lipglossiping, one of UK's top bloggers says she tells her daughter Leila that mommy's makeup helps in becoming more colorful, not in becoming more beautiful, and she refers to her makeup with Leila as "mommy's colors".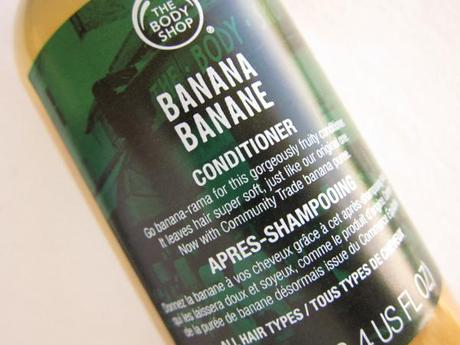 INGREDIENTS: Water, Banana Fruit (Community Trade Banana Puree), Cetearyl Alcohol, Cetrimonium Chloride, Phenoxyethanol, Hydroxyethylcellulose, Lecithin, Propylene Glycol, Panthenol, Fragrance, Benzyl Alcohol, Sodium Hydroxide, Ascorbic Acid, Yellow 5, Yellow 6
I've used the Banana Conditioner today and I truly believe I've found my Davines substitute in this Banana Conditioner and I think I ought to get another 2 bottles for myself before the March sale ends because gee, it's been around forever why'd I only try it now?!  I was hoping the Watson's Pure Beauty Treatment Conditioner would be my substitute for the Davines, it was very good but it fell short for me in the more natural type of softness and volume boost departments.  The summery, tropical smell of bananas tipped with vanilla (that's what it smells like) is very, very, very yummy but not heady or intoxicating. It might make someone want to kiss your head and sniff in the process.  I also got myself a Chocomania set (new arrival) and Strawberry Body Butter at the sale.  If you've been thinking of paying any Body Shop boutique a visit, the best time actually would be now.  They are also currently qualifying people for reward card memberships with a minimum purchase amount, I made sure I got mine.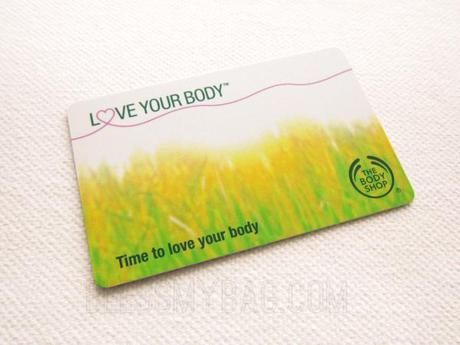 ♥ Earn rewards on your purchases – ♥ 5 points for every Php100 spent  ♥ Bonus rewards of at least Php120.00 voucher for every Php2700 spent.

♥ Divine Discounts – exclusive to members

♥ Invitations to member-only events

♥ Be the first to know about the latest news and product launches

♥ A special birthday treat – one time 20% discount on regular priced products during your birthday month
If you spend a minimum of Php1,500.00 at the sale you qualify for a Body Shop members' rewards card.  What's pretty cool is aside from the other privileges you also get a one-time 20% discount during your birthday month.  My birthday is forthcoming next month, yey!  As for my Banana Conditioner…I need to stock up for now.