Hello and Happy Hump Day,
I bought this lip butter a few week's ago and since then I've been using it everyday. 
It's one of those products in front of the cash register and tempt you into buying it. An Impulse buy is the term I'm looking for. I don't know if I'd have tried it otherwise not knowing anything about Dragonfruit previously so it was a nice little treat, something to try and see if it'd work for me.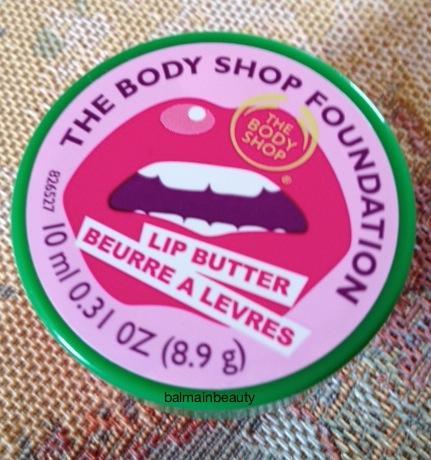 I've never heard of Dragonfruit before so I wasn't sure if it was a native fruit to New Zealand but I've since done a little bit of research and found out it's also known as Pitaya and it's Chinese but there are also variety's grown in Indonesia and Malaysia.
This is what a Dragonfruit/Pitaya looks like.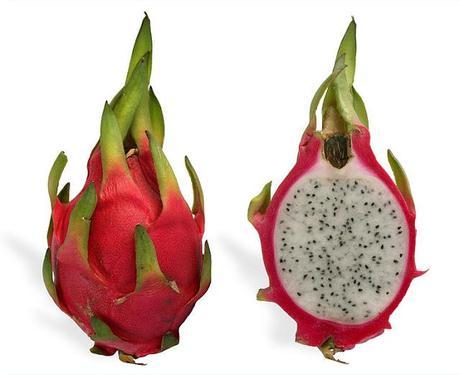 and I'm interested to taste the fruit because I've never seen one before.  The lip butter smells Citrus. I sense a really nice fruity smell to it. I've never smelt anything like it before so I don't know how to describe it, except I'd say it's sweet, zingy and unusual but in a pleasant way. 
This lip butter is a white cream and it feels moisturing on your lips. I can't say the taste is as good as it smells because I don't really taste a flavor but this soaks into your lip's and leaves them very nourished, soft, smooth and healthy.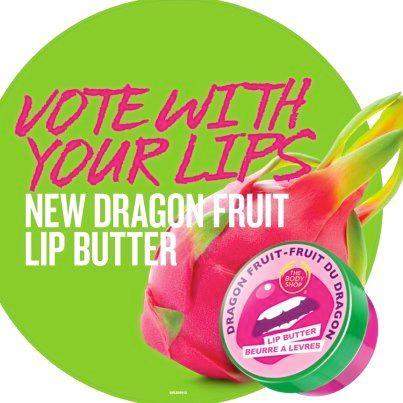 How I apply the Dragonfruit Lip Butter Firstly, if my lip's are dry or flaky due to dehydration I generally apply a chap stick first thing before getting ready for my day. If my lip's are in need of more TLC I make a homemade sugar lip scrub to get rid of the flakies and work the scrub into my lips, then rinse. Once dry I apply this lip butter. I make sure I apply the lip butter after eating breakfast and brushing my teeth but before getting my makeup ready so it gives it plenty of time to soak in and start working.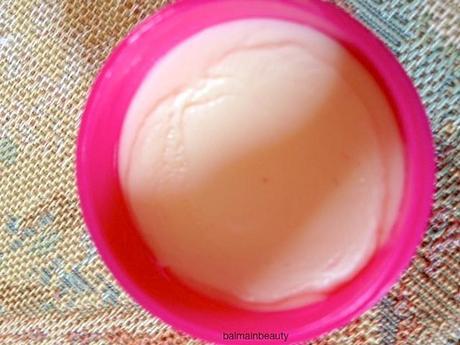 I start off with putting this on my lip's sparingly because I just want enough to cover my lip's and press my lips together to make sure its even, then I apply Face and Body Moisturiser and start applying my BB Cream or Foundation and carry on with the rest of my makeup, then decide on shoes and accessories etc. and then I'm ready for applying a gloss or a lipstick over the lip butter.
Sometimes if I'm having a natural day I don't wear makeup, or just a hint of powder so I leave the lip butter on my lips and work it in until the whiteness has gone, unfortunately because it's white it's quite noticeable and someone might mistake it for Zinc but it feels and smell's amazing and I think the scent gives me a kick of morning zing and help's me to wakeup.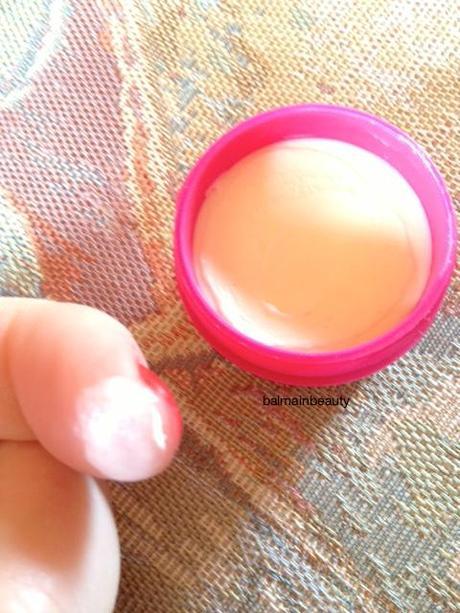 I keep this little pot in my bag and re-apply if I feel my lip's are becoming dry and I let it sink into my lips before re-applying gloss or a lipstick etc. 
I don't know if this scent is for everyone. If your not sure I would definitely smell and test in the store before you buy it. I don't think the scent is offensive, it's sweet and fruity but not all of us will like it.
This pot is 10ml and the packaging is hot pink and green so it's small enough to fit in makeup bags, or pockets you may have in your bag's. I'm sure it was under NZ$15, which is reasonable, you need to apply a small amount a few times a day, this pot will last month's but it has a 12 month expiration date!
Here's a summary of the ingredient's from The Body Shop's website:
Shea Butter, Seed Oil, Safflower, Linalool, Limonene, Citric Acid, Fragrance, 
A skin conditioning agent, Beeswax, Fruit Extract, Dragonfruit Extract.
I've recently found another use for this lip butter. I'd run out of my Lush
Lemony Flutter
Cuticle Butter so I applied dragonfruit lip butter to each cuticle over the last a couple of day's and have noticed my cuticle's looked nourished (
I need to have my cuticles seen to
so I'm not going to post a closeup)
 until I can get to Lush to re-purchase Lemony Flutter, the lip butter's keeping my mani looking nice.
I also like pigmented lip butter's and have used this lip butter under a Revlon Lip Butter in the shade Lollipop and as long as you apply the dragonfruit lip butter thinly, it leaves no trace of the whiteness of the product on your lip's so if you do want to apply a gloss or lipstick or a pigmented lip butter or lip stain, the color of the product your putting over the lip butter shouldn't have a white base. However, I'm basing my opinion on products I've worn and used so there could be some products that may not cover the lip butter and you could see maybe a hint of white cream underneath.
Overall I really like this product. I recommend it and I would re-purchase this product. I also like that it's
The Body Shop Foundation
 and the profit's are split over their Charities, plus under $15 isn't much when you think how little you need to use per application so it'll last a long time but it will expire within 12 month's as with anything fresh and this containing Dragonfruit etc its bound to go off, but I see no need to keep it in the fridge but I guess if you wanted to you can try it out. I don't like putting cold creams on my lip's unless they're wind or sunburnt so I keep it on my bag or on my vanity where the sun can't warm the product up or make it turn bad, go off etc.
Please let me know if your would like me to post a recipe for a Homemade Lip Sugar Scrub, which I mentioned above. I make it up when I need it because I don't like keeping it in the fridge.
Until next time,
Keep Calm and
Subscribe
to Balmain Beauty!