Sorry guy's I don't have time to prepare, film and edit a haul at the moment.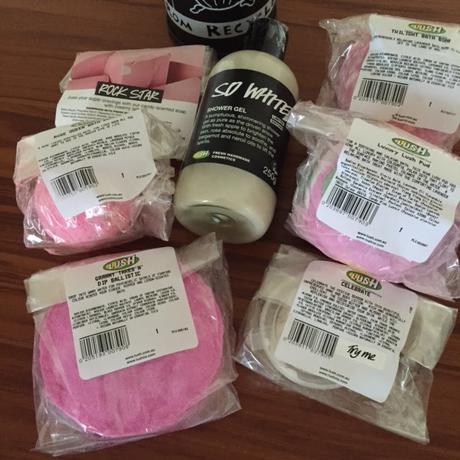 I bought a few Limited Edition LUSH product's from #LushChristmasInJuly! as well as a couple of favourite's in two separate online shop's.


Note

: Everything purchased by me (apart from two sample's listed at the end).
Luxury Lush Pud (Bath Bomb)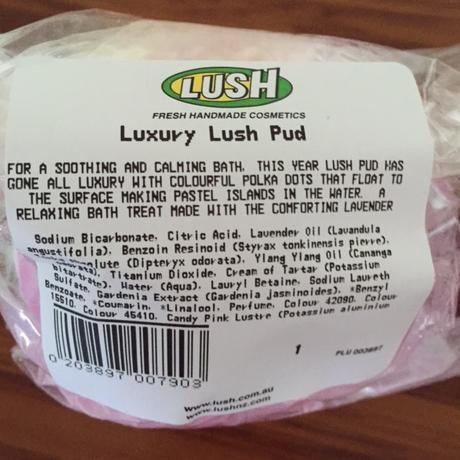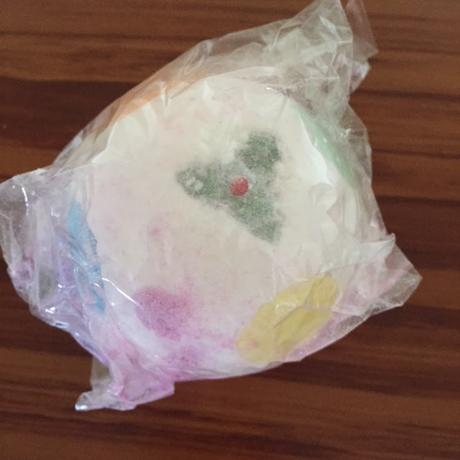 Lush say's: 
For a soothing and calming bath. This year Lush Pud has gone all luxury with colourful polka dots that float to the surface making pastel islands in the water. A relaxing bath treat made with the comforting lavender.
I haven't tried it yet but I can definitely notice the lavender and I like it. If I'm being honest I'd rather Lush bath bombs to be half the size they are because I feel wasteful using a huge one like this. I'd rather get two bath's from one this size but we all know they fizz and scent the water and dissolve so you can't get two bath's from one bomb - unless your jammy and cut one in half, but I can't see the fun in that. Lush should definitely at least trial size smaller bath bomb's, do you agree?
So White (Shower Gel) 250g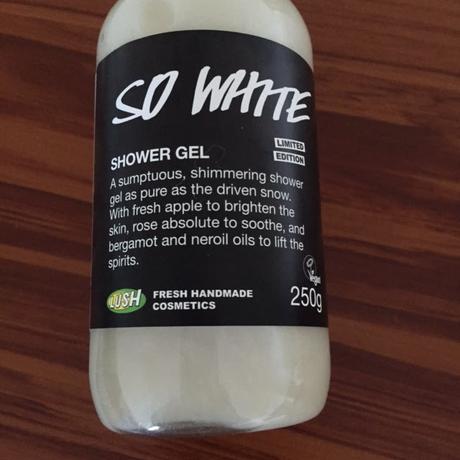 Lush also released Snow Fairy which is a favorite Christmas time scent of mine but I decided not to buy one until Christmas. I thought I'd try So White. I don't know if this has been released before or not but I liked the name and the label say's a sumptuous, shimmering shower gel as pure as the driven snow. Once I read that I knew it was the right decision to put in my basket. 
Lush say's:
Fresh Apple to brighten skin, rose absolute to soothe, bergamot and nerol oils to lift the spirits.
It's quite a thick consistency. I haven't used it yet. It's Winter here so I'm waiting another few week's or a month to take a bath, it's too cold right now. I like the scent of it and I'm looking forward to using it. I'll let you know what it's like in a bath when I get around to using it.
Rose Queen Bath Bomb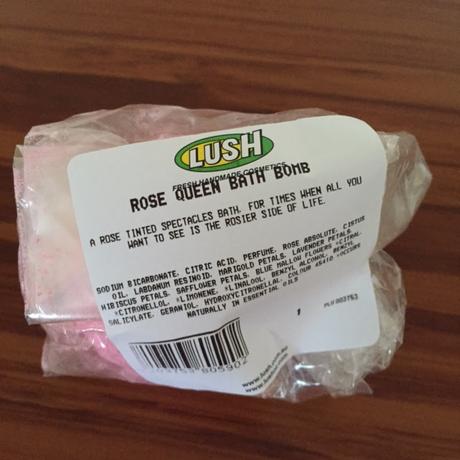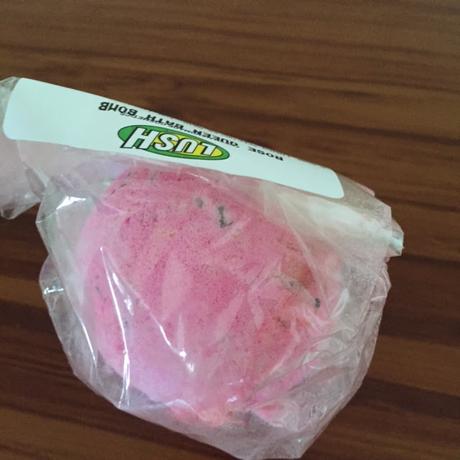 Rose Queen smell's the same or very close to Rose Jam shower gel, which is a limited edition shower gel at Christmas. I noticed they had Rose Jam shower gel for Christmas in July but again I decided to go with the bath bomb because I'm going to wait until Christmas to get my paw's on Rose Jam and Snow Fairy shower gel's! I usually buy the 500gm bottles of those two and use sparingly so they last me over six month's. I like the scent of this. I like that it's a lot smaller than some of the other bath bombs and I can't wait to try it.
Lush say's:
A rose tinted spectacles bath. For times when all you want to see is the rosier side of life.
Granny Takes A Dip (Ballistic)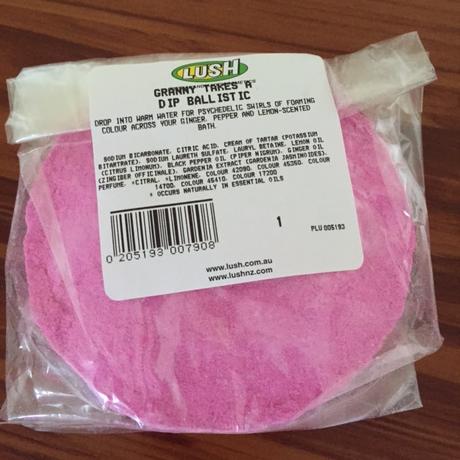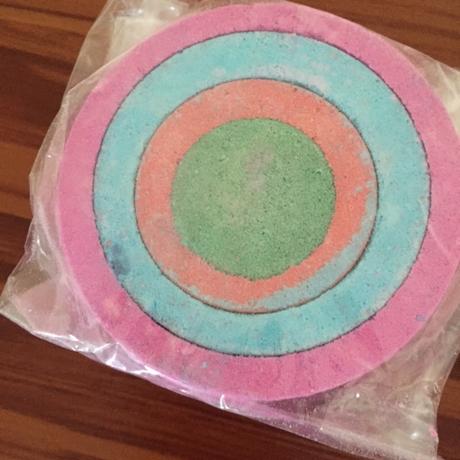 I think I'm more of a fan of the ballistic. My favourites are Granny, Ultra Violet and The Comforter. This is the second Granny I've bought and I think last time I was too heavy handed with the amount's I used for each bath. This time I'm determined to get a few more bath's out of it. If you use this one, how many bath's have you gotten from one ballistic? What size should I be using to get the most bath's out of it as well (without skimping on the product too much).
Lush say's:
Drop into warm water for psychedelic swirls of foaming color across your ginger, pepper and lemon scented bath.
I love the size and colour's of this ballistic and the name's cute. I can definitely smell lemon and the slightest scent of ginger (I've not opened the packet) so I'll have to see if I can smell the pepper once I start using this. I do like the scent and I think of the thing's I have bought I'd probably try the So White first as I shower everyday, next I'd try the Luxury Lush Pud.
Twilight (Bath Bomb)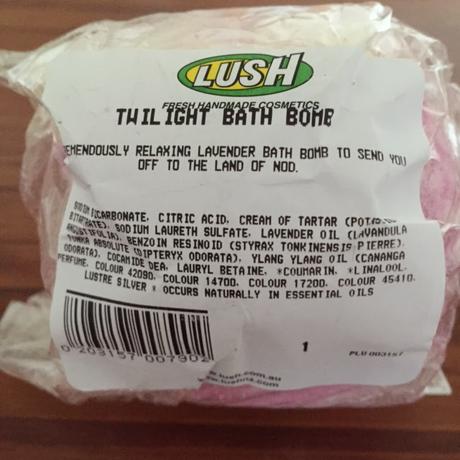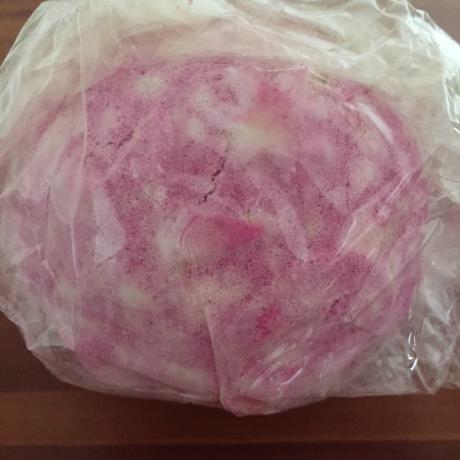 Let me just say that Twilight shower gel is my all time favorite Lush product. I get so upset when I've run out which I have. The only thing that can lift my mood is the Twilight bath bomb. They might not smell identical but when you've been without the shower gel for a very long time it's the next best thing. I really want Lush to bring Twilight back and soon. I think I ran out in September 2013 so yeah I'm missing it.


Twilight bomb is one of my favorite bombs from Lush. I just love the scent and that it's a big bomb so I have cut this in half once and it was great for two bath's but it's not an easy task cutting the bath bomb in half (if you want to try it make sure your prepared for bit's to fall off and you might not get an equal half. I probably won't be doing it again with this bomb, the mess after has put me off.
Lush say's:
A tremendously relaxing Lavender bath bomb to send you off to the land of nod.
I definitely agree with that. The scent is amazing. I love that I can smell it around my bathroom and bedroom the next day. If there was a Twilight room spray I'd be all over that for sure!
Pillar of Fizz (hold's 3 bath bombs)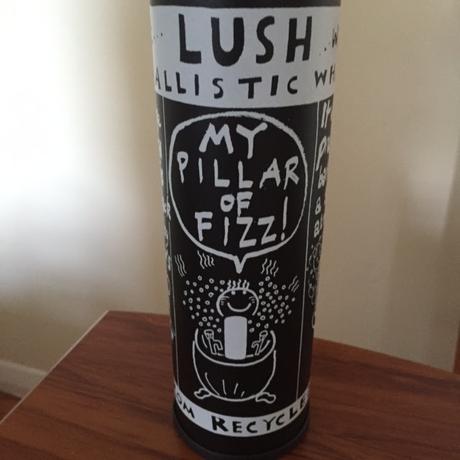 I like the idea of having my bath bombs in one container and I've previously had a pillar of fizz in a cardboard when I lived in the UK, this one is black and white with nice little drawing's on it and it's made from recycled Lush pot's! I bought this probably two Lush haul's back (January or so). It's so handy. It won't get lost in my bathroom and it can be used again and again so I like refilling it.
The lovely mail/internet order team included a couple of sample's for me. They include a small block of Rock Star, which I just happen to be out of and it's my favorite Lush soap! I can't count how many time's I've bought Rock Star, I absolutely love it, I get so many compliment's when I use it. Hopefully, this will tied me over until I place my next Lush order which probably won't be until September at the earliest. I still have some Easter carrot's to use in the bath, comforter and ultra violence. I'm really overstocked on Lush at the moment but I wouldn't have it any other way!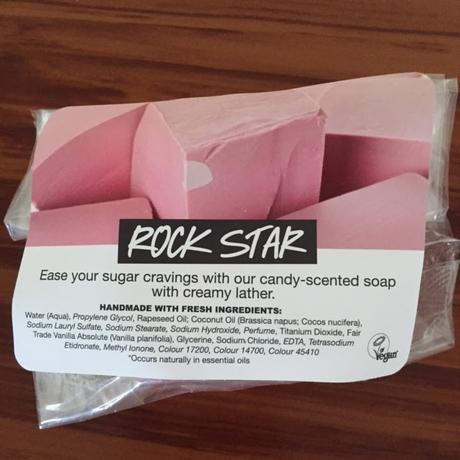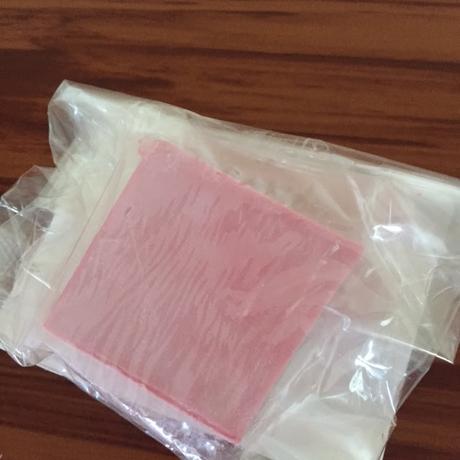 They also included something I've not tried before which is Celebrate. This is also another Christmas in July product. Celebrate the festive season with this beautiful unpreserved hand and body lotion. Rich and wonderfully emollient, the cocoa butter and almond oil will replenish and moisturise your skin while the intoxicating blend of orange flower, lime, benzoin and cognac oil perfumes the skin with a champagne fragrance that lingers for hour's.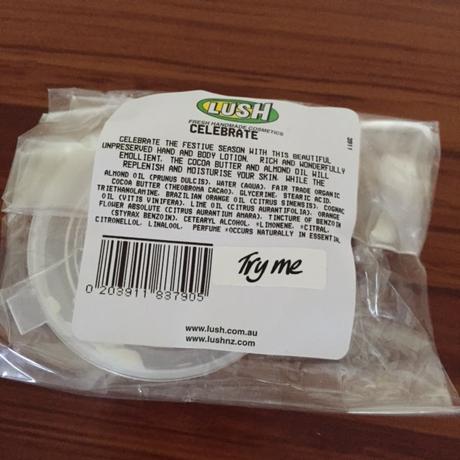 These are nice sample size's. The Celebrate is sealed in a container so it's going into my Uni bag.


I apologize this was long, if you made it this far, pat yourself on back, you deserve a treat!
What are your fave Lush product's? Pop them down below,
along with any link's to your Lush review(s).