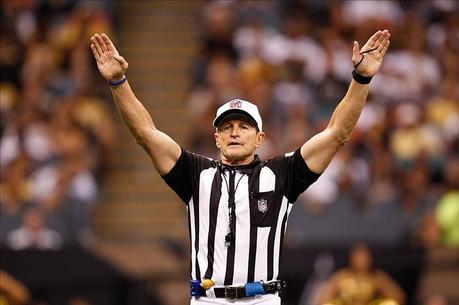 Photo: US Presswire
- Adam Parker
What a glorious sight! Pinch me someone, is this really happening?
After nearly 50 regular-season games of botched calls, misplaced spotting of the ball and lengthy games because of countless officials' huddles holding things up because of their widespread incompetency to understand and correctly interpret the rules, the replacements are being replaced. All I can say is, it's about damn time.
Thanks for the memories, replacement refs. The NFL, its players, coaches and fans would all like to thank you for keeping the game we love so much running, albeit not so smoothly, but running nonetheless.
You've been under endless fire and faced limitless scrutiny throughout your seven-week tenure of calling NFL games for the 2012 season (including pre-season) in place of the regular NFL crews but at long last, (unfortunate that the Green Bay Packers had to have a victory outright stolen from them for it to occur) your time in the NFL is now over and your services will no longer be required.
In the words of Yoda,
"At an end your reign is, and not short enough it was."
Thanks, Yoda. That pretty much sums it up perfectly. Everyone was happy that you [the replacement officials] were there to referee the games only in the sense that the league needed
someone
to do it, but to be blatantly honest, we couldn't be happier to see you quickly disappear into the rear-view mirror.
There really are no words to describe how excited I am that the regular officials will be back in place for
all
of the Week 4 games — including Thursday night's game between the Browns and Ravens.
Seeing Ed Hochuli's (who has quickly become a borderline celebrity and mythical figure thanks to these talks) 'legendary' biceps in the air signaling for a touchdown or a made field goal will likely have me on the verge of tears I'll be so happy.
Pathetic, I know. But nevertheless, that's just how I feel, and even though I severely doubt that many other people will follow suit with me in the waterworks category, there's no doubting the joy that will spread throughout the league like wildfire once the regular officiating crews run out onto the field with the players.
Who knows? We might even see a few pre-game embraces between a few of the players and officials and a few 'Welcome Home's' from the players to our regular zebras as well. But if not, allow me to extend a virtual hug to all of the returning officials (and hope that Hochuli won't crush me with those guns of his). Welcome home, fellas. We've missed you — more than you know.
The chaos has ceased. I know it shouldn't, but for my money, this news makes the season for me. No more having to worry about uneducated officials making incorrect calls, especially in a situation where it decides a game — again, apologies to the Green Bay Packers organization and 'Cheeseheads' everywhere. If you're holding your breath waiting for a genuine, heartfelt apology from the NFL, don't. You'll just suffocate.
Goodell might apologize on behalf of the league and it's owners, but only because it's a necessity at this point. A PR stunt to try and salvage what little face if any the owners and commissioner have left.
Did a deal ultimately get done? Sure.
But the fact of the matter is that this new tentative eight-year agreement with the officials shouldn't have taken this long; nor should it have needed the swift kick in the gonads it received in the form of the most controversial calls in recent memory in the national spotlight on
Monday Night Football
 — again, a call that literally outright robbed the Packers of a win — to get it done.
Goodell talks about how player safety is at the top of his priority list. What a hypocrite. In all actuality, like all  things with the NFL, a resolution to this lockout all came down to money.
But enough of my rant, because I know if I don't stop myself here, I'll probably go on forever, thus potentially causing the site to crash because of lack of necessary bandwidth to support this piece.
Instead, I'll just move forward, as we all must do now.
Rejoice, NFL players, coaches and fans — with the return of Hochuli and the regular officials, the integrity of your beloved game is
finally
back.
Be sure to follow Beard And Stache on Twitter 
@BeardAndStache
, and also Adam 
@Adam_Parker43
, Like our Facebook page 
HERE
!