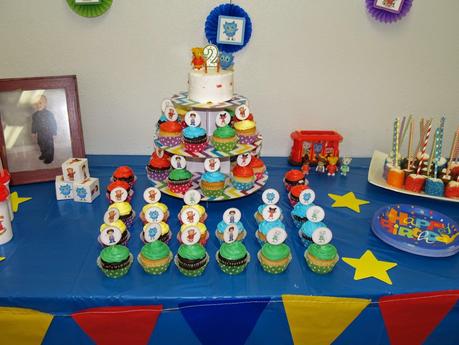 Daniel Tiger Birthday Party
I thought planning a Daniel Tiger birthday party would be really difficult because there are not very many ready-made Daniel Tiger products. But it really wasn't that hard. I was able to make a lot of the decorations that we used by utilizing free printables and other items out there. Also, except for a few kids that would be attending, most of our guest would be family and friends (all adults). So we had to be creative and use our imaginations.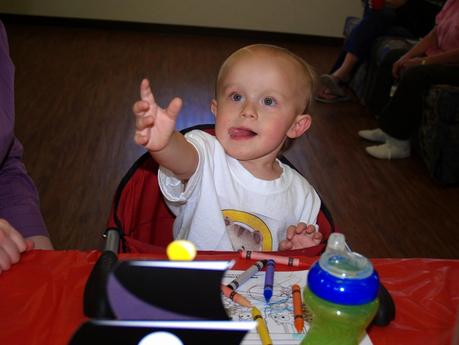 Daniel Tiger Birthday Party
Luckily, Daniel Tiger has a good imagination and after watching 3 seasons of Daniel Tiger, repeatedly, my husband and I have a pretty good idea about his adventures. So we used our imaginations to find some ready made products that would blend in with our party decor. We cruised the internet, the clearance aisle at Wal-Mart, the Dollar Tree store, and PartyGalaxy.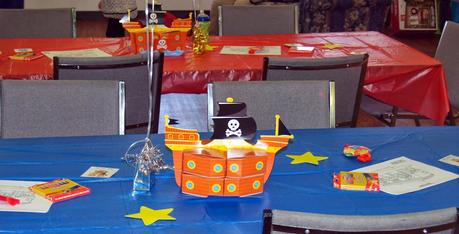 Daniel Tiger Party: Pirate Ship Party Favors
My husband found some plates, napkins, and these great Pirate Sip Favor boxes on the clearance aisle at Wal-Mart. We filled the favor boxes with candy for our guests. The stars and crayons came in a package of cutouts from the Dollar Tree. We printed the coloring pages from the PBS Daniel Tiger Coloring Pages. All of the table covers came from Party Galaxy.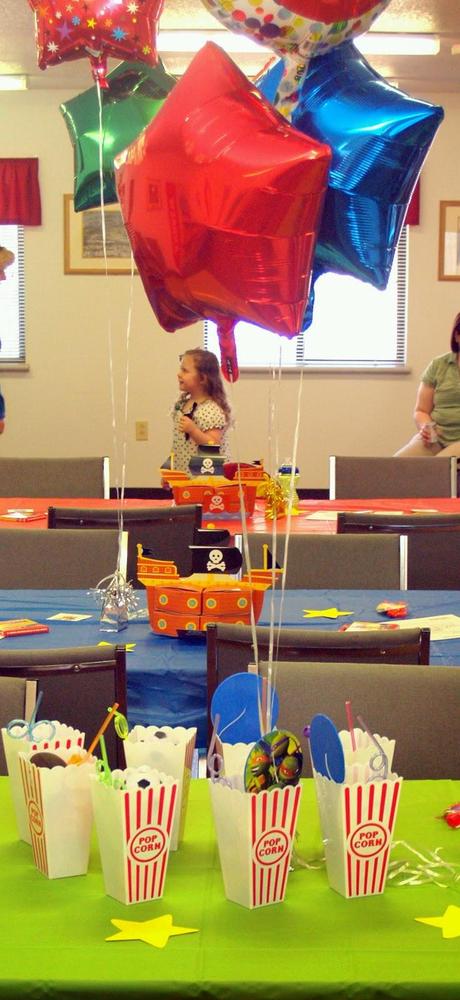 Daniel Tiger Party: Party Favors
The balloons came from the Dollar Tree (where everything is a dollar). I sent my husband on the morning of the party to pick them up. For Mylar balloons filled with helium, $1 a balloon is not bad. Those cool plastic popcorn boxes were also from the Dollar Tree and they were 2 for $1.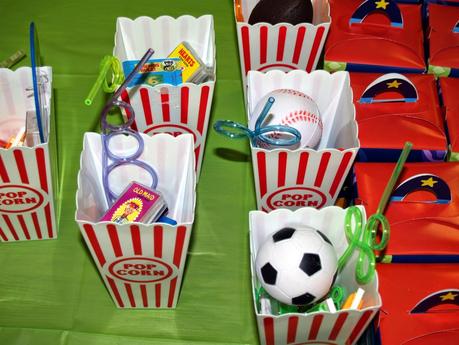 Party Favors
These were the party favors for the "Big Kids". Since many of our guests were kids in the 80's we tried to pick out favors that reminded us of our childhood. Crazy Straws, mini rubix cubes, plastic harmonicas, and mini Old Maid and Go Fish playing cards were some of the items we gave away in the big favor boxes. We made sure the items were okay for little kids, too.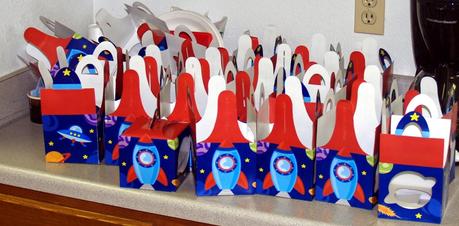 Rocket Cupcake Boxes
So what the heck are these? Well, my husband spent a lot of time putting them together. I ordered the from OrientalTrading.com and they are Space themed individual cupcake boxes. We knew we were likely to have leftover cupcakes, so I ordered these individual carriers so our guests could take home cupcakes and we would not be stuck eating them for a week. They were a really big hit with our party guests.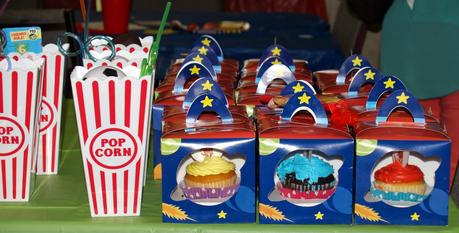 Daniel Tiger Party: Party Favors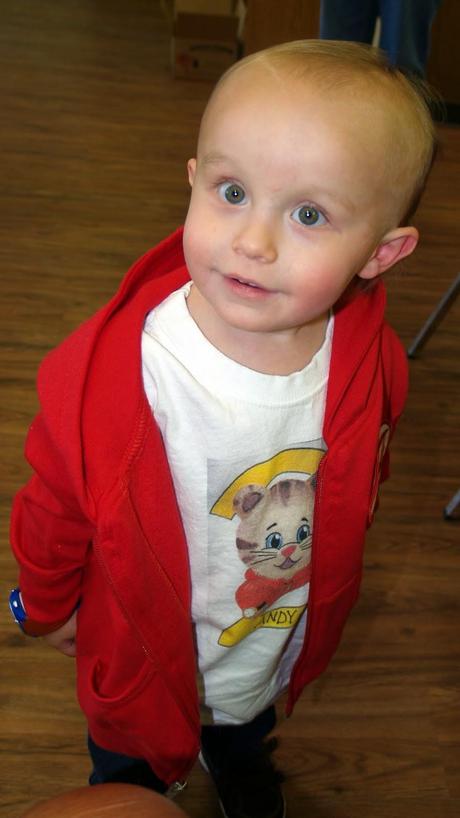 This Daniel Tiger shirt was another of my DIY items. It may look familiar. It has the image from the Birthday Party Invitations for the party. A friend did a watercolor of Daniel Tiger for the party.
I scanned it and uploaded it to Zazzle and had this t-shirt made for our son. It's a one of a kind just like he is. I recommend checking out Zazzle to make your own custom t-shirt for your birthday boy or girl. They have plenty of designs that might match your birthday party theme.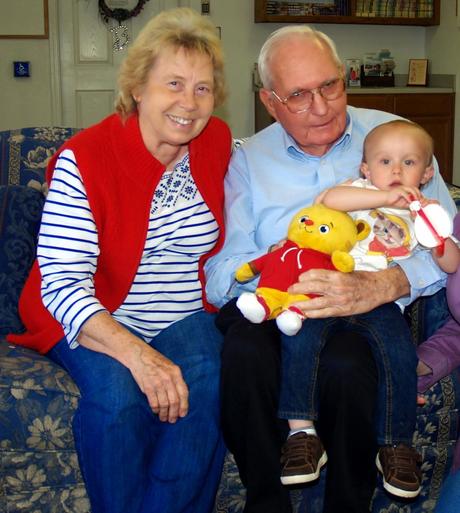 Daniel Tiger Birthday Party: Family
Of course, all of this hard work was so that our son could celebrate his second birthday surrounded by family and friends. This is a picture of him with his great grand-parents.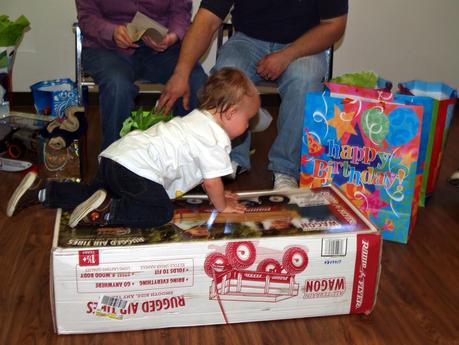 Daniel Tiger Birthday Party: Presents
Everyone had a wonderful time, most importantly, our son. He loved all of the attention and the gifts he received.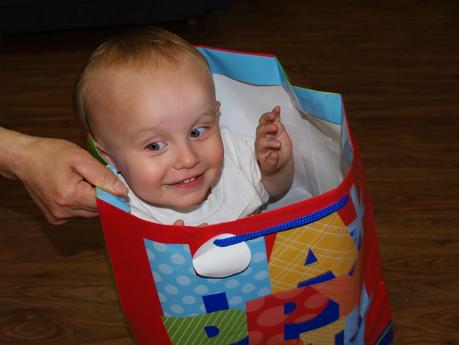 Daniel Tiger Birthday Party: Our Gift
It can be just as much fun to play with the wrapping as the presents. In all, I would say our party was a success. As I look ahead I can imagine that It will not always be this fun. Our son will eventually outgrow this sort of birthday party. Not yet, but it's not far off, either. I plan to have fun while it lasts. 
I want to give special thanks to my Husband, Mom, Nannie, and Mother-in-Law. They all helped put on this party and I truly appreciate it. We Love you all!
If you are looking for Daniel Tiger Party inspiration check out my Pinterest Board. 
Check Out my other DIY Party Posts:
Dipped Marshmallow Pops for a Birthday Party

DIY Daniel Tiger Hoodie

The Big Daniel Tiger Birthday Party Part I
The Big Daniel Tiger Birthday Party Part II
1st Birthday Party
Planning Our Little Dragon's Dol

How to Create Your Own Doljabi Board