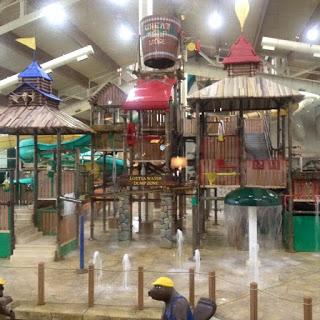 This month, our family took our very first trip to GreatWolf Lodge. We all had a blast and can't wait to go back! I'm the sort that likes to plan ahead and save to splurge. What does that mean? I like to save where I can, so we can splurge on fun stuff. This is not a sponsored post. I received no compensation and the whole post is just our honest experience.
About a month before our vacation, I was wondering what we would do with my husband's upcoming time off. His company requires that you schedule time off well in advance and they have blackout periods. My mom saw a groupon for Great Wolf Lodge and emailed it to me. Also, get automatic coupon codes using honey. I love to save with coupon codes! With half price rooms, I figured we could swing 2 nights at the hotel/resort (save to splurge).  We live in Oklahoma, so it's a short drive to Grapevine, TX for us. Perfect for mom, dad, and 4 year old Speed Racer!
We had never been to Grapevine or Great Wolf Lodge before, so we really didn't know what to expect. Luckily, I did some research online so we ended up with some idea of how things worked. The hints were helpful, but we still made some rookie mistakes and discovered some tricks of our own.
For instance, by reading online I knew the following helpful tips before we left:
You can get into the water park at 1 PM on the day of check-in but often can't check in at that time so pack a pool go bag. They have a changing room and lockers you can rent.
Your room key is a wrist band that you must wear during your whole stay.
Bring Drinks and put them in the good sized mini fridge.
You can bring snacks and keep them in your room.
Your room has a microwave. *We didn't use this option but it was good to know.
You don't need to bring towels or life jackets, even for little ones. They are provided.
There are lots of dinging options, on site.
You can stay at the water park until close on the day of checkout but checkout is at 11. Pack a pool go bag. They have a changing room and lockers you can rent.
You can rent a cabana in the pool area. *We didn't use this option but it was good to know.
The Pup Pass / Paw Pass is worth it. And it really, really is!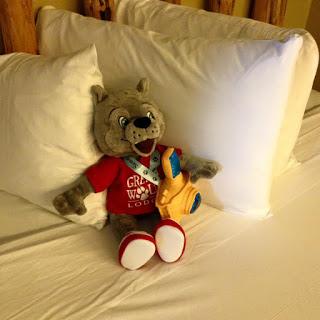 They were great tips and I suggest you read all sorts of blogs about Great Wolf lodge to find different tips that are right for you.
Below is our vacation with some added tips.
Check In:
We totally packed a pool go bag but we didn't end up needing it at arrival. We were able to check in when we arrived. This may not be typical. *Tip: I had read, online, that your wristband was connected to your credit card that you use to check in with. But we found, at check in, that this is optional. We opted out. Still, we love that our wristbands were our room key. *Tip: My parents bought Speed Racer a Paw Pass for his birthday. I added it to our room online. If you can't find it online, see if you can add it at check in. You can read about these things all over the web. Totally worth it!
Our Room: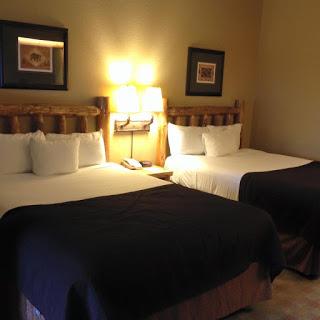 We rented a standard room and it was very nice and clean. It's just the 3 of us and I knew our little Speed Racer would just end up in bed with us. No reason to get the themed room. Maybe when he's older. We totally brought plenty of soda and bottled water for the room. I was glad we did. I had some trouble finding Diet Dr. Pepper at the resort. We also brought plenty of snacks. In hindsight, I wish we hadn't brought but just a few snacks. We barely touched them.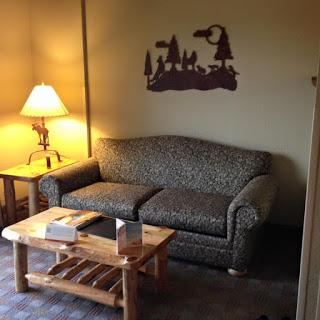 My two guys are very hot natured. I know that if I found it humid and a little warm they were downright hot. Even though we cranked the A/C up, it was hard to cool off the room, probably because of the humidity. *Tip: I wish we had brought a small fan for the guys. They might have slept better. *Tip: One of our favorite parts of our room was the in room safe. I'm not sure if this is standard, but we loved it. We used ours the whole time. Neither of us wanted to carry cash, wallets, or our wedding rings to the pool. It was super easy to stash our valuables in the safe using a code we set ourselves.
The Water Park: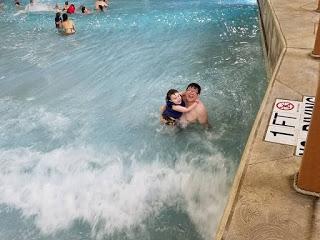 This was super awesome fun and Speed Racer loved it. He could have spent the entire time there in the water and been perfectly happy. He loved the slides, the wave pool, the splash area, and pretty much every single thing we let him do. At first he was a little afraid of the slides but by the time we left he was brave enough to slide on his own (only the slides we were comfortable with). We love that there were plenty of towels and life jackets (first come first serve). It was hard to find an unoccupied table with chairs but we did find some chairs. My husband and I took turns with Speed Racer in the water.
*Rookie Mistake:
Our rookie vacation mistake was trying to cram too much in. We could have, and should have just spent all of our time at Great Wolf Lodge. But I didn't know how much interest Speed Racer would have, if he or we would get bored and need something interesting to do. We either needed to stay longer or cram in fewer outside activities.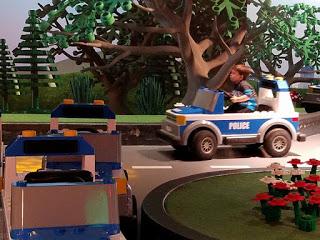 ·

  
So we decided to go to the LegoLand DiscoveryCenter. You are supposed to book a ticket time in advance. I used an online coupon code and got us in for $10 each (Save to splurge). You should search online for a code when booking your tickets or use honey. 
·

  
I also thought that, since LegoLand is at the Grapevine Outlet Mall, I could get in some shopping. I did and found some great buys.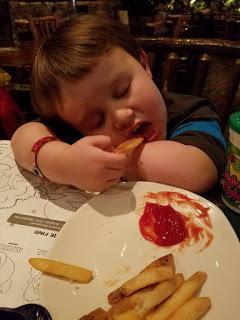 ·

  
One of our favorite and best meals was at the RainforestCafé (also at the outlet mall). We loved it and if Speed Racer hadn't been so exhausted, he would have enjoyed it more. I also got some great souvenirs at their gift shop. Of the 3 extras we crammed into our vacation, going back to the Rainforest Café is the one we will do again. And maybe Speed Racer can stay awake next time.
Dining: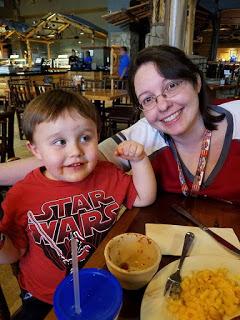 We didn't eat at every restaurant but we did eat well. I'm the sort that thinks a vacation means eating at restaurants most of the trip. It's just a personal quirk. This is always my favorite splurge. Below are our favorite meals from our stay.
Dinner at the Moose is Loose Cottage Buffet: The service was excellent. The food was very good. You can check prices at the resort or call ahead. I would call it pricey but worth it. Our favorite part, they gave us a to-go box for dessert because we were to full to get any. It was a splurge, but worth it.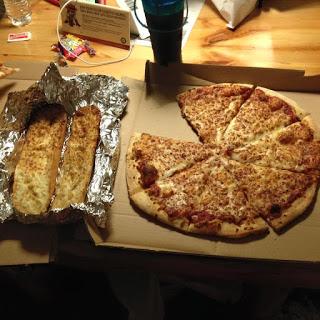 Dinner from Hungry as a Wolf: Our last night we had pizza from here. For a small charge we could have had it delivered to the room but I just waited. It wasn't long. We had excellent 5 cheese pizza and garlic cheese bread all for $20. Great price and great food.
Our other favorite meal was at the Rainforest Café located at the Grapevine Outlet Mall. We had burgers and Speed Racer opted for pizza and fries.
Other Splurges: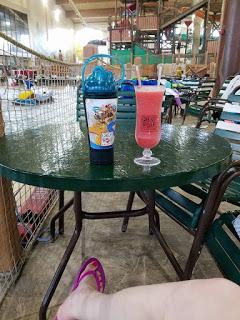 We didn't eat inside Buckets (in the water park) but I did buy 2 drinks there. I got a nice strawberry daiquiri and relaxed while the guys swam. *Tip: I also bought this 32 oz souvenir sipper for the guys. It's $12.99 which sounds kind of pricey but they'll refill it for your entire stay and can be refilled at the Freestyle soda fountains. I wish I had known this going in. I would have bought one on day one and refilled it the whole time. They even had Diet Dr. Pepper in the Freestyle soda fountain. Also, it's a cool cup.
My favorite splurge was a massage at Elements Spa Salon. It was an early birthday present to myself and it had been so long since I'd had one. I got a one hour massage and added on a 15 minute foot massage. OMG! Super awesome, excellent massage. Schedule a little me time for yourself and go to the grownup spa. It was well worth it and not overpriced at all. Be sure to tip!
The Arcade: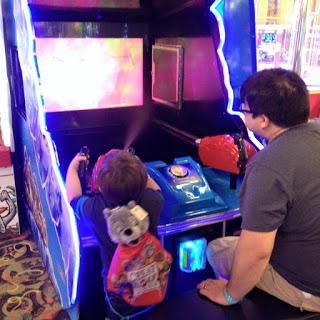 The arcade was a great place to spend some out of water time. This might have been one of the places we spent quite a bit of money, but it's only because we all love arcades so much.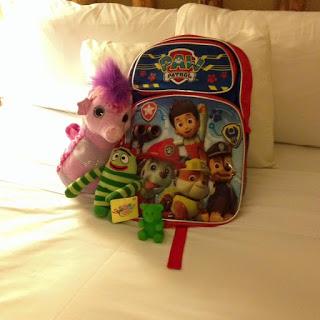 I am a sucker for a claw game and I'm pretty good at them. This is my claw game haul. This was our biggest, best family vacation ever, so far. We will totally go back to Great Wolf lodge.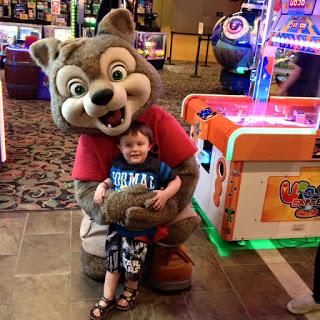 We made great family memories there this year and this post doesn't even cover the half of it. I hope you'll take all of the tips you find here, and on other blogs, and use them to make your family vacation excellent.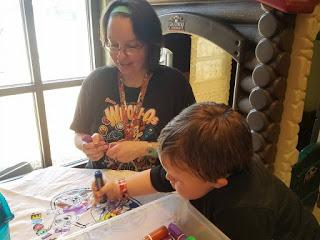 We'll be going back for years to come.