I've been writing a series of posts about our son's Daniel Tiger themed 2nd birthday party. 
On the big day all of our hard work came together beautifully and our family and friends had a great time.
***I'm covering the big day in two more blog posts and this is the first of the two.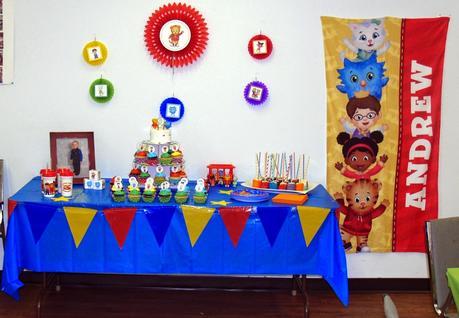 Daniel Tiger Party
We gave ourselves 3 hours before the party for set up and last minute store runs. It feels like however much time we give ourselves for set up it's never enough. We hauled our party supplies over to the community room (the place we used for party) in big plastic storage containers. All the time we spent picking up this and that at different stores, I had some vision in my head and I hoped it would come together as well as what I had imagined. Some ideas came from cruising Pinterest or looking at the PBS Kids website for parents and some I made up. 
We had 2 main tables set up. One was for the food and one was for the cake.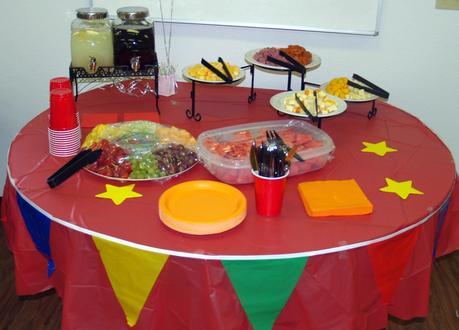 Birthday Party Food Table
The food table held meat, cheese, and fruit. My mother-in-law brought the plates of food. My mom loaned us the tiered server platter and my sister-in-law loaned us the glass drink dispenser. For drinks we served lemonade and tea. To make things easy we bought Red Diamond gallons of tea and Simply Lemonade. Then We sliced a lemon and threw it in with the lemonade. 
We wanted to give our gusts a little something to pick at but we didn't want to feed everyone a full lunch. This was the perfect amount.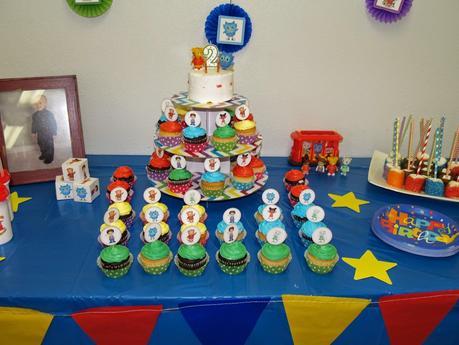 The cake table was my favorite table to put together and it was the main table that I decorated. 
The picture of our son was from his Birthday/Easter photo shoot. 
I made the Dipped Marshmallow Pops.
The cake and cupcakes we purchased at Sam's club. We ordered them the day before and they were ready for us to pick up at 10 AM on the morning of the party. 
The cardboard cupcake stand came from Wal-Mart. 
The Daniel Tiger figures and trolley were part of our son's birthday presents. But before he could have them we used the as decorations. It's hard to find Daniel Tiger cake decorations but the toys worked perfectly.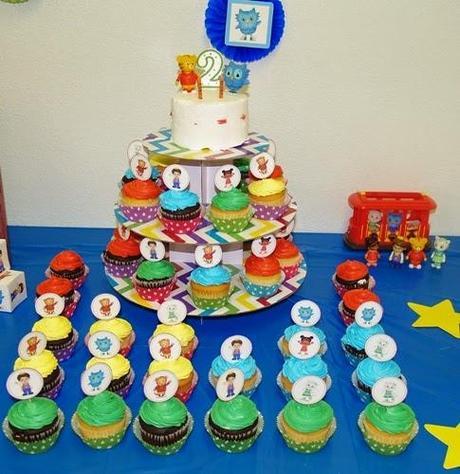 Daniel Tiger Cupcakes
The cupcake picks were pretty easy to make but did take some time. My mom and I spent an evening sitting watching a movie while we cut out those little circles. Then I taped them onto toothpicks with scotch tape.
Where did we get the printables to cut out? Luckily, PBS.org/Parents has a birthday party site with free printables and they are organized by character. The Daniel Tiger Birthday Party pages were a huge help. Yay for free printables and party ideas! Thanks, PBS!
All of the free Daniel Tiger printables that we used were either from the PBS Daniel Tiger Birthday Party pages or they were printables that I found at http://www.1plus1plus1equals1.net/2014/02/daniel-tiger-printables-free/. 
We printed them on our home color printer on card stock paper.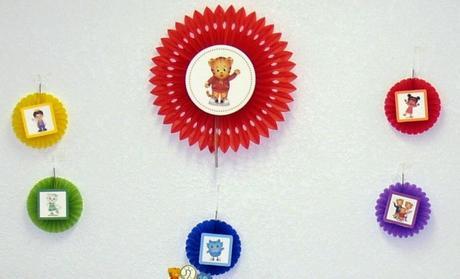 Daniel Tiger Paper Fans
I bought the paper fans at Party Galaxy and taped on the Daniel Tiger printables using double sided tape. The free printables came from both of the sites I linked to above.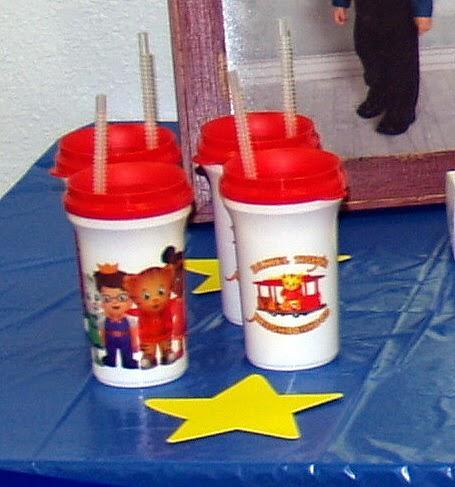 Daniel Tiger Cups. 
These cups were party favors for the kids at the party. They also looked nice on the cake table before the party started.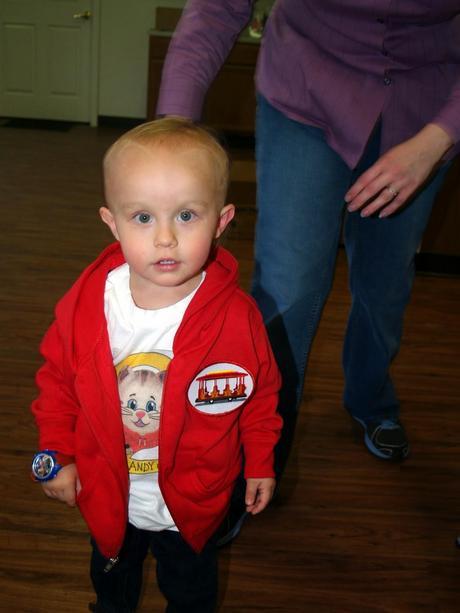 Daniel Tiger Hoodie
This is our son wearing the Daniel Tiger Hoodie that I made for him. You can find out more about the cups, the Hoodie, and the Daniel Tiger Bath Towel that I hung next to the cake table in my DIY Daniel Tiger Hoodie post. 
We had fun putting together this party for our son's second birthday. I hope you'll find this helpful when planning your little one's party. 
Keep an eye out for Part II!
Check Out my other DIY Party Posts:
Daniel Tiger Birthday Party Invitations

Dipped Marshmallow Pops for a Birthday Party

DIY Daniel Tiger Hoodie
1st Birthday Party
Planning Our Little Dragon's Dol

How to Create Your Own Doljabi Board
If you are interested in picking up Daniel Tiger items for your little one or their birthday party I recommend checking out Amazon.com. Below are some Items that our son has.
Amazon.com Widgets