That title is probably the heaviest claim on the lightest and nicest non-sticky but deeply penetrating body cream I've ever put on. The best part is, the Nuxe Body Fondant Firming Cream smells of the spicy, slightly floral warmth of summer, too, with almond and orange flower petals. The scent is attractive but not overwhelming, the texture is buttery but not greasy, win. Straight up, no questions asked, this is an expensive product but for a body cream with this quality and effect I would eventually save to repurchase it if I ran out. The texture is too dreamy to describe in full with words. You have to try it.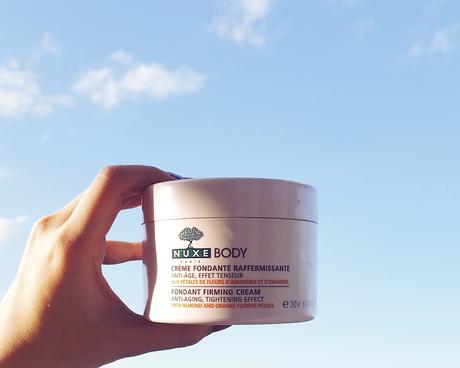 NUXE BODY FONDANT FIRMING CREAM (No.1 firming care product in French pharmacies) "This double-acting firming and anti-ageing body cream with Orange Blossom and Almond Blossom petals has an instant firming effect. Its divine texture is perfect for massaging into target areas which have started to sag (thighs, stomach, chest and arms). It quickly sinks in, leaving skin soft, firm and more toned." Php2250 for 200ml from Rustan's the Beauty Source.
I wouldn't vouch for its firming effects on body sagging. I just love how it smells and makes my skin feel softly nourished. On the whole I've always been a body cream skeptic, especially in this humid country where anything heavy and sticky eventually takes the backseat on the shelf. At first you say upon opening a tub of cream, "Oh this is lovely, and it smells nice..." but usually only time and how empty that huge pot or jar is will tell how well it was really working for you. In tropical beauty a lot of tubs of heavy cream go unloved and unfinished. On the contrary, I have a massive feeling that by the end of summer this tub of mine will be halfway gone. I've reapplied it twice since I first tried it this afternoon and rubbed it onto my mother's shins just to have another excuse to apply some more before this post, and I've reapplied it just now on myself. Read on for the full post.
The texture is light but not as light as a souffle or whipped texture. It's got a density that's midway between a lotion and a heavy cream. Upon application it has the texture of spreadable butter that's not too cold. It has that nourishing base slip of the nourishing oils it contains but at the same time doesn't leave you greasy or sticky. The French really have their skincare sorted.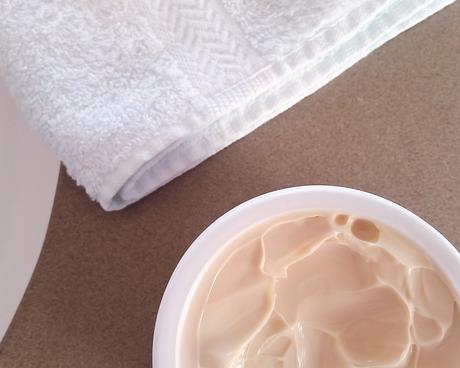 Contains at least 87% natural ingredients (including Almond and Orange Blossom, Rye, Oats, Brazilian Mimosa and Jasmine Flowers). No parabens. INGREDIENTS : AQUA/WATER, COCO-CAPRYLATE/CAPRATE, GLYCERIN, CETEARYL ALCOHOL, GLYCOL PALMITATE, DIETHYLHEXYL CARBONATE, BUTYLENE GLYCOL, DIMETHICONE, CETEARYL GLUCOSIDE, HELIANTHUS ANNUUS (SUNFLOWER) SEED OIL, POLYMETHYL METHACRYLATE, PRUNUS AMYGDALUS DULCIS (SWEET ALMOND) OIL, TOCOPHEROL, STEARYL HEPTANOATE, PARFUM/FRAGRANCE, HYDROXYETHYL ACRYLATE/SODIUM ACRYLOYLDIMETHYL TAURATE COPOLYMER, CAPRYLOYL GLYCINE, TOCOPHERYL ACETATE, STEARYL CAPRYLATE, CITRIC ACID, XANTHAN GUM, ETHYLHEXYLGLYCERIN, SODIUM HYDROXIDE, DIMETHICONOL, DEHYDROACETIC ACID, AVENA SATIVA (OAT) KERNEL EXTRACT, TETRASODIUM EDTA, MALTODEXTRIN, PENTYLENE GLYCOL, JASMINUM OFFICINALE (JASMINE) FLOWER EXTRACT, SECALE CEREALE (RYE) SEED EXTRACT, 10-HYDROXYDECANOIC ACID, SEBACIC ACID, POLYSORBATE 60, SORBITAN ISOSTEARATE, 1,10-DECANEDIOL, STRYPHNODENDRON ADSTRINGENS BARK EXTRACT, SODIUM BENZOATE, KIGELIA AFRICANA FRUIT EXTRACT, CITRUS AURANTIUM DULCIS (ORANGE) FLOWER EXTRACT, PRUNUS AMYGDALUS DULCIS (SWEET ALMOND) FLOWER EXTRACT [N2104/B].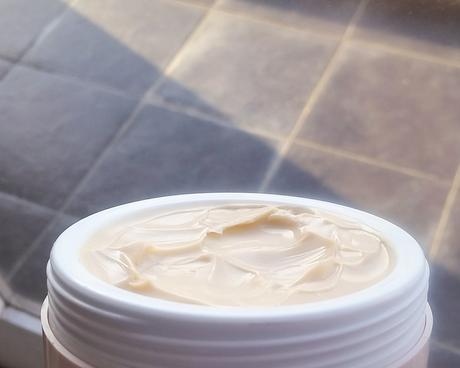 By the way, one of the nice but strange things you might notice about this cream is if for example you haven't exfoliated or scrubbed your wrists, legs, or arms as you rub this cream on and keep rubbing it will shift, gather, and roll dead skin off like eraser bits, especially from knees and ankles. It didn't do that sort of exfoliation on my arms which were obviously better scrubbed than my knees were.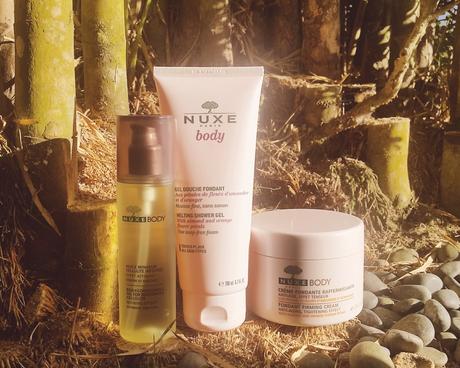 NUXE BODY FONDANT FIRMING CREAM (No.1 firming care product in French pharmacies) NUXE Body Contouring Oil Php1550 - (Sesame, Hazelnut, and Macadamia Oil with Cocoa Extract) NUXE Body Fondant Shower Gel Php575 - (Almond and Orange blossom petals, soap-free) Php2250 for 200ml
I'm loving all three products I've been sent from the NUXE body range. Even if I don't really believe that products like the Nuxe Body Contouring Oil can eliminate or lessen my cellu-jiggle completely (with no physical effort on my part) they're all still made of deeply nourishing ingredients for the skin. It's nice to whip these products out when masseuses come over because you never know what the accumulated benefits might be overall right? To get the most out of the NUXE Fondant firming cream for nourishing hydration I recommend having a scrubby shower first or do a body scrub before applying this. I would do that total exfoliation to save on the cream but for me the fact that it also moves dead skin upon application is a positive feature that not everyone might understand, but I get it and like it. The new skin it leaves behind underneath is quite supple after. Nuxe Paris' lovely skincare range is available at Rustan's the Beauty Source.