This past Thursday, March 30th was the second Secret Supper event of 2017, and it was truly spectacular. And as usual, before I get into the details, I'll quickly go over what is, if you don't already know.

With the exciting news of Baltimore becoming one of The United States' premiere cities for great food, actually coming in number 2 in Zagat's top food cities in 2015, the folks at The Sun decided to introduce the people of this great city to some of the best, most appealing and interesting restaurants in Charm City.
They scoured Baltimore City to find THE outstanding restaurants around, and hand selected their favorites to host this year's second Secret Supper series open to eager Baltimore food lovers, like you and me. Yes. It's a series, and each all-inclusive ticket allows you to enjoy a specialty cocktail and a remarkable 4-course meal with expert wine pairings. Plus the entire evening will only set you back $99. That's a huge bargain if you ask me.
So what's the secret?
In each installment of the year-long 4-part series curated by The Baltimore Sun invites us all to experience an extraordinary menu at one of the city's top restaurants - but which ones will you visit? They don't give us a clue...yet!
And in my opinion, that's the best part. And yeah, maybe it's also the hand-crafted cocktail, the four-course drool-worthy meal and the expert wine pairings, but let me say, the whole build up and anticipation waiting to find out WHERE we would be dining was extra fun. Shaking up the routine is something that I crave, and this steps in right where I need it.
Check out this quick video on the series, starring yours truly and yours truly's husband!
Last month, the 2017 Secret Supper series kicked off with a bang at Cosima, the modern Italian restaurant up in Mill no. 1, recognized for their fresh take on the Mediterranean cuisine of Sicily, while also capturing the essence of traditional Southern Italian flavors, through their menu and cocktail assortment.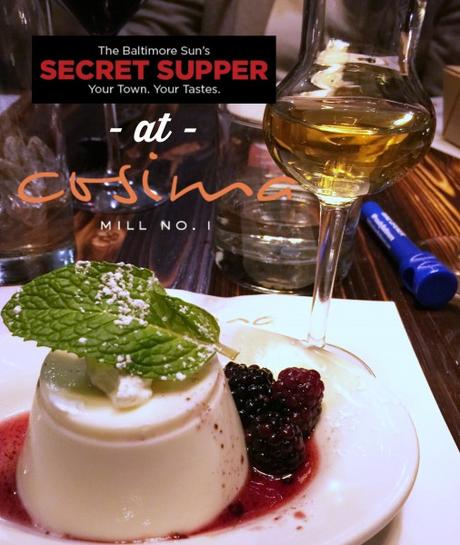 It was a fabulous meal and remarkable experience, and the PERFECT way to start this year's series. It was so fabulous, that I was extra antsy to find out where we'd be dining for part 2. It seems to me that the restaruants being selected this time around are just simply AMAZING, and I couldn't wait. So the morning of March 30th, I sat refreshing my email as often as possible like a crazy person, and finally, the email from the Baltimore Sun Media Group popped in.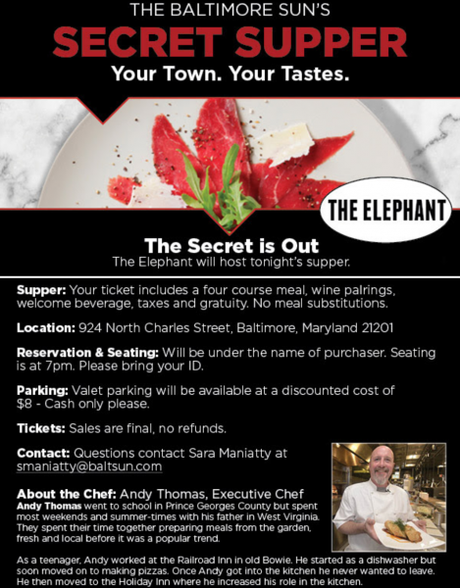 The secret was out, and we'd be dining at The Elephant, another Baltimore Magazine top 50 restaurant, and I was more than amped. MORE THAN AMPED.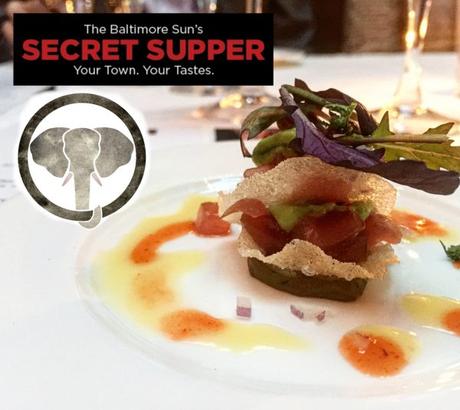 What's funny about finding out we'd be going to The Elephant is that Michael and I had been talking about this place for several weeks up to this point, and it just seemed like one of those "OF COURSE IT'S THERE!!!" situations. Like, of course. OF COURSE it'd be there. I just love when things line up perfectly like that, like the stars aligned and it was meant to be. I was ready, and so was Michael.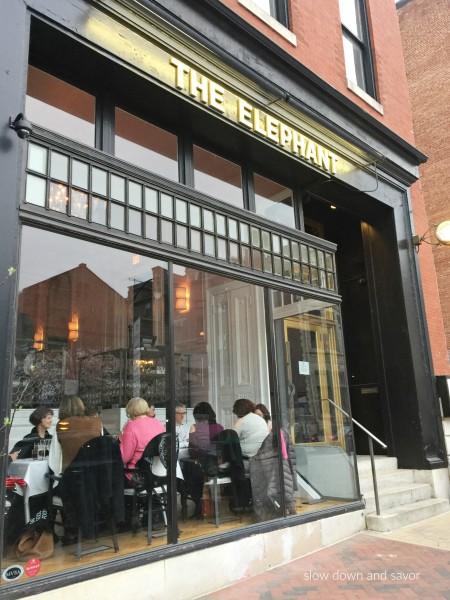 We didn't really know what to expect upon arrival, other than some of the brief stuff Michael and I had skimmed online about a globally inspired menu, and an old-world atmosphere with lavish marble and crystal. Other than that? I knew nothing, and I sort of enjoyed going into this dinner a bit ignorant. I love getting my mind blown.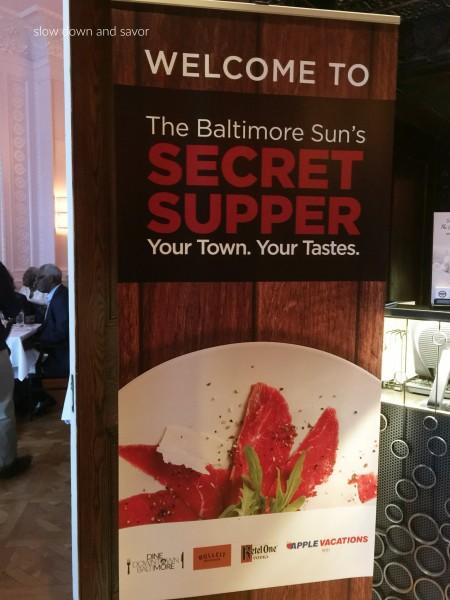 And it didn't take long for that to happen. We arrived, and made use of their valet and stepped inside the former residence turned furniture store turned restaurant and my mind my blown right out of the water immediately. Stunning.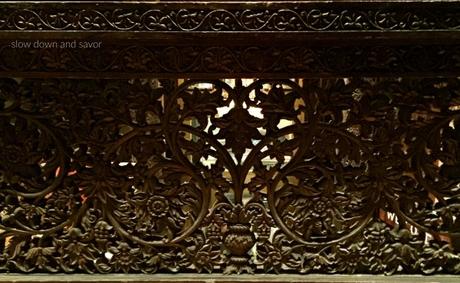 Standing in the entry way, I saw the most intricate and insane woodworking I'd ever seen in my whole life. It was detailed and magnificent in the most beautiful and elaborate way, and I had the need to just stand there and soak it all in.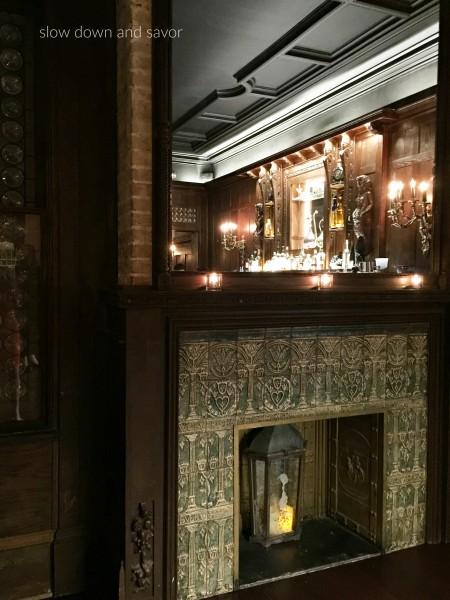 We were greeted by the hostess, as well as by the restaurant owner, Steve Rivelis. The fact that he was there, proud to greet everyone, talk with anyone who wanted to talk and basically be a visible force was impressive to me.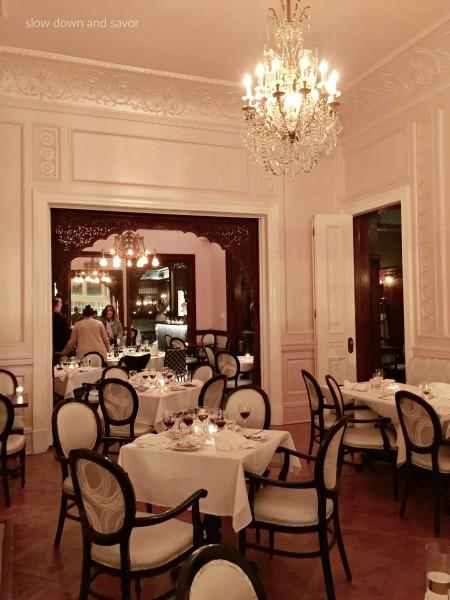 We learned very briefly that the wood carvings were thanks to George Wroth Knapp, Jr.a local merchant, who purchased and used the mansion - built in the 1850s - as his second home during his Baltimore work weeks during the 1890's.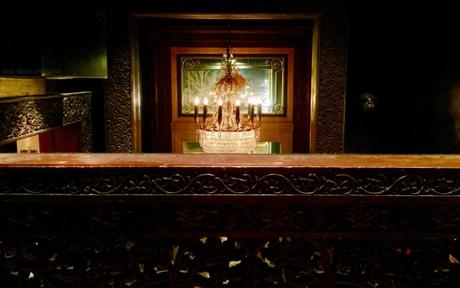 He and his wife, Sara Gilfry invested $100,000 - $2.5 million in today's currency - on decorative fineries such as Waterford crystal, Rinehart marble, Tiffany stained glass, and the de Forest teak wood. Insane.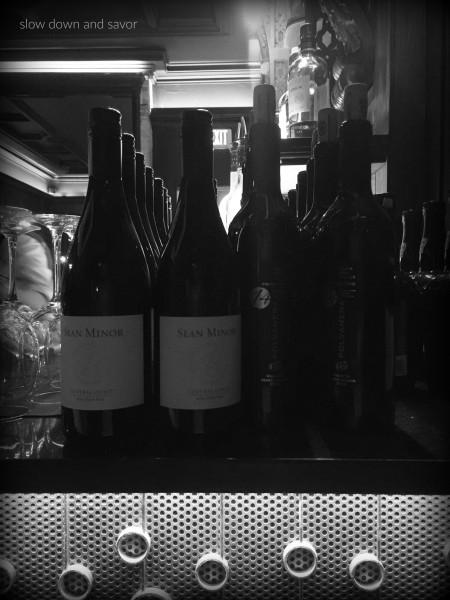 After getting a super brief but awesome history lesson, we were checked in and moved straight to the bar where the cocktails were being served. Being pregnant, I asked for a mock-cocktail, which they were more than happy to provide me with, while Michael chose their Black Mask, crafted with Bulleit bourbon, black cherry juice, cherry bitters, charred orange, brandied cherries and orange zest over rocks. The other cocktail, the Anastasia, was made with Kettle One Vodka, lemon, pomegranate, ginger, Triple Sec and sparkling wine, and if I were not making a baby, I'd totally have chosen that one.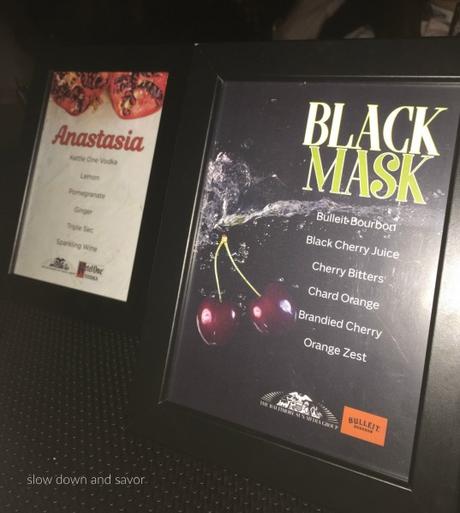 The Black Mask was warm, yet refreshing, and you could taste each of the components. Cherry, orange and bourbon play really well together, and made for a great start to the evening for Michael, and as for me? My mock-cocktail was really yummy. I asked for a ginger beer, orange and cranberry mixture, and they didn't disappoint!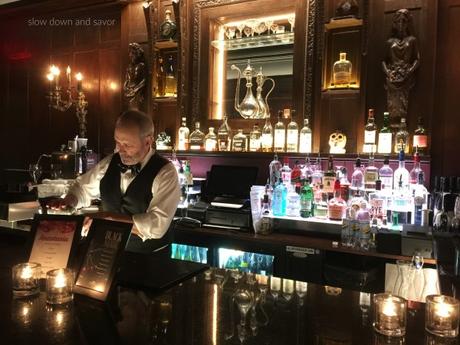 The bar itself was beautiful, and looked like something ripped out from a page of a history book, and that will be a theme throughout the entire experience. No, this place isn't trendy in its use of brand new, but old looking accessories. You're not going to find made-to-look-old fixtures, or light bulbs, or any re-purposed anything. It feels like you're in another era because everything is from another era.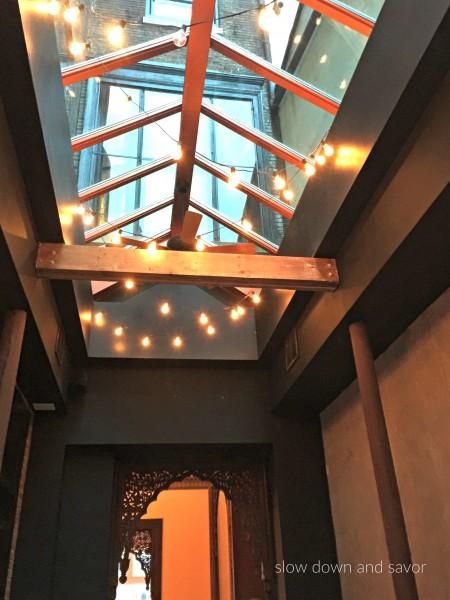 We were seated in the atrium room, complete with a beautiful vaulted, glass ceiling, giving the impression that we were sitting in what was once an outdoor terrace or maybe even a greenhouse complete with a bottle glass window separating the bar and the room. Beautiful.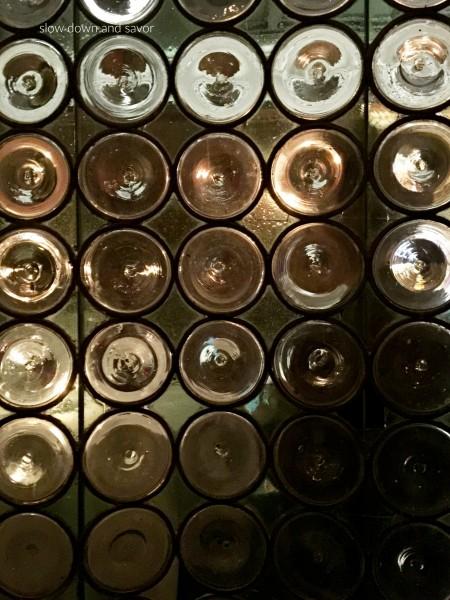 As soon as we were seated, I couldn't help but dive right into our menu for the evening, and it looked promising. It was for sure the longest menu I'd encountered throughout all of the Secret Suppers, with 5 courses, plus an amuse bouche and intermezzo. But it sure did look good!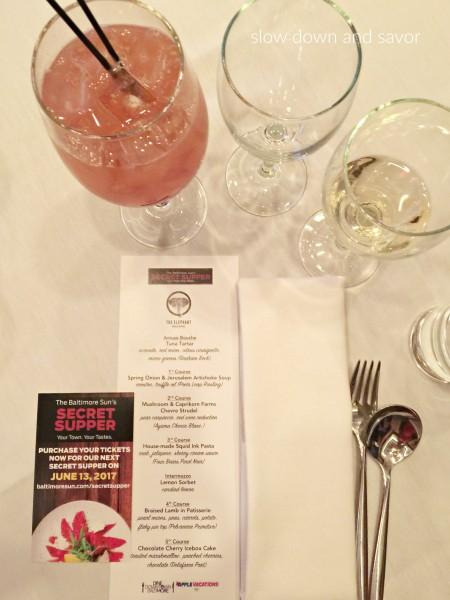 We also got to introducing ourselves to our table mates, something that I always look forward to at a Secret Supper. I mean, it's part of the fun to be able to enjoy a meal with some complete strangers that all have something in common: the love of great food. Michael and I crashed a girls night out, and we were welcomed with warmth. I love meeting new people.
Soon after being seated, it was time to get the meal started. We'd be starting with an Amuse Bouche, tuna tartar with avocado, red onion, citrus vinaigrette and micro greens, served with a Gordon Beck sparkling white wine.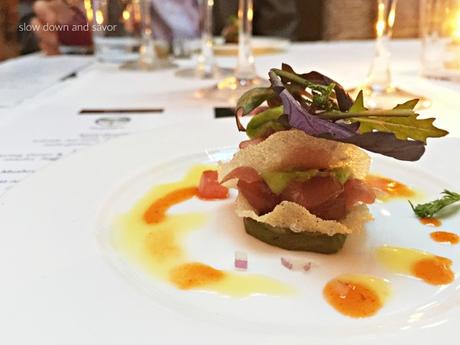 It was a small bite, consistent with an Amuse Bouche, but it packed a HUGE punch. The tuna was sweet and tender, the avocado was cool and creamy, and the chili-citrus sauce was perfectly balanced between acid and heat, with a touch of sweetness.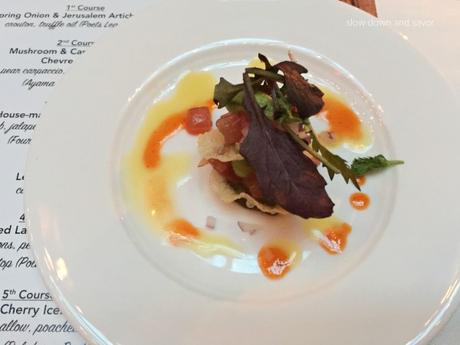 A whole gamut of textures and profiles filled this ONE bite, and I was seriously excited. If the whole meal were to mirror the flavors and excitement of this dish, we were in for a huge treat.
The next dish was our first course, a spring onion and Jerusalem artichoke soup with croutons, and truffle oil, paired with a Poets Leap Riesling. A quick Google search told our table that Jerusalem artichokes are one and the same with sun chokes, an ingredient that I am constantly hearing on Top Chef and other such cooking competition shows.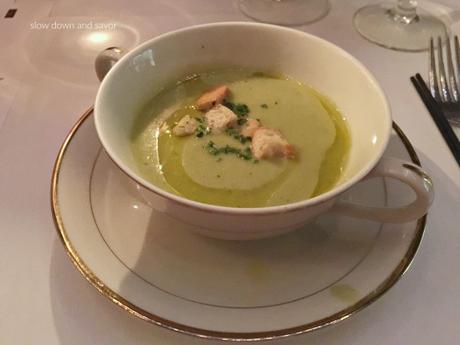 The soup was a light, mossy green color, and the texture of the finest velvet. It was earthy, slightly nutty and sweet, with a seriously savory tone brought in from the truffle oil.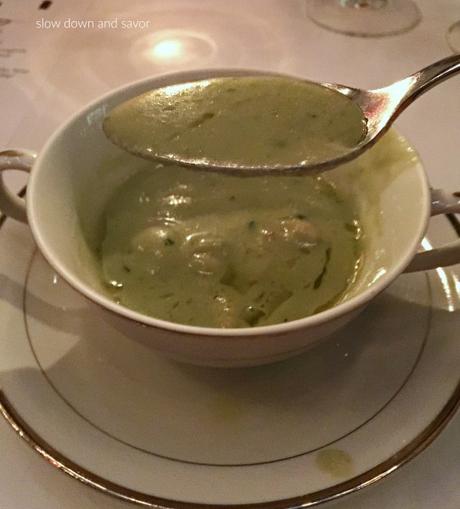 The soup was rich and luxurious, and once again, full of flavor. It was perfectly seasoned, perfectly balanced, and absolutely divine. I looked around the table and noticed that all 6 of us were scraping the bowls when we were through, hoping to catch every last drop.
The second course followed and was an intriguing sounding dish: a mushroom and Caprikorn chevre strudel, atop pear carpaccio and a red wine reduction, served with an Ayama Chenen Blanc. While I was trying to envision a mushroom and goat cheese strudel, I was promptly reminded of the absolutely amazing dish we were served at the Cosima dinner, the roasted pear.
I learned that we can't be too quick to judge a strange sounding course, because man, it could end up being something you think about and talk about at least once a week. Yes, I literally talk about that pear weekly...
So when we were presented with the strudel, I dug right in.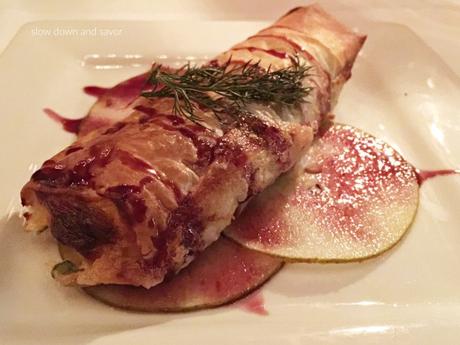 The light and crisp filo exterior gave way to a super creamy, pungent-in-a-good-way filling that was savory, salty and sweet. The pears were a natural compliment to the goat cheese and mushrooms, and this savory pastry was a really smart choice to follow the soup. The dish progression was shaping up nicely here.
The third course piqued my excitement the most. We were served a house-made squid ink pasta with crab, jalapeño, sherry cream sauce and a glass of Four Bears Pinot Noir. Now, I was a bit disappointed with the portion size of this dish, for the sole reason that it was SO GOOD.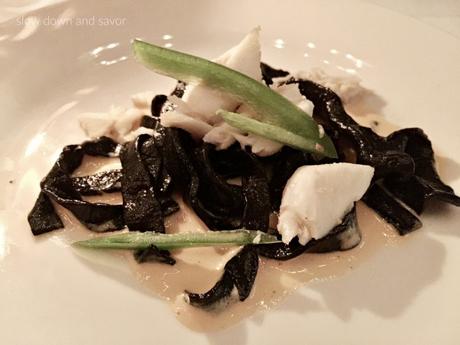 Seriously. I could have used an entire bowl of this. Like a big bowl. A really big bowl. One bite and I was transported to the beach, sand between my toes, sun kissing my cheeks, ocean spray misting my legs. I could smell the sea, and taste the sun.
The pasta was tender and tasty, perfectly cooked with a slight taste of ocean. Plus, I think it's fun to eat black pasta. It doesn't seem quite right, but oh it TASTES more than quite right. The crab was sweet and succulent, and the oceanic pasta, the savory sauce, the sweet crab and the crunchy heat from the jalapeño combined to make a true winner. I want more... A lot more.
Now that we had made our way through half the menu, and about an hour and a half had elapsed, it was time for the intermezzo, typically a small, light and refreshing course, also typically a sorbet of some kind, so this intermezzo was, for lack of a better word, typical.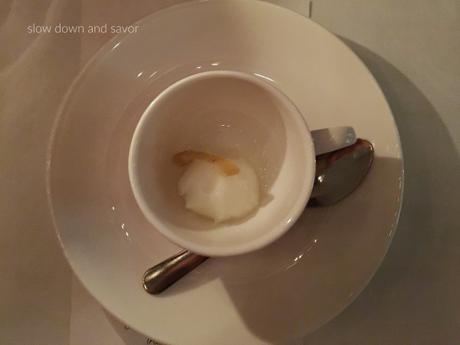 It was a lemon sorbet with candied lemon, and boy oh boy did it pack a punch. It was the lemoniest lemon sorbet that ever was. It felt like I popped an ice-cold lemon into my mouth. While tart and sour as can be, it did its job of cleansing the palette.
Next up was the 4th course, braised lamb in patisserie, with pearl onions, carrots, and potatoes, with a flakey pie top, served with a Polvanera Primitivo. I assumed it was going to be pot-pie-esque, and I was right.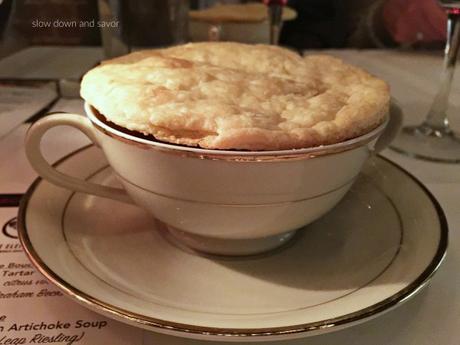 I really hate pot pies. I am not kidding you. I think they're weird and gross and can't stand behind them, however, I AM a huge fan of lamb, and the rich, yet mild gamey flavor, and somehow, I found myself looking forward to this dish.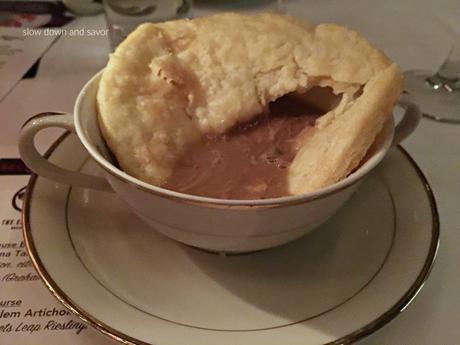 The dish was presented beautifully in the same dish as the soup from earlier, with the lamb stew beneath a golden, crisp and flakey crust. The lamb mixture was fragrant, elegant and savory, and I enjoyed every bite of it. But here's the surprise of it, I loved the crust. It was so beautiful. I treated it more like a biscuit and ate it separately from the stew, and this way I was able to trick myself into thinking it's NOT a pot pie. I loved it, whatever it was, whatever you want to call it.
And now we were at the point where we found ourselves at the end of our meal, left only with the 5th and final course, the dessert. We were served a chocolate cherry icebox cake, with toasted marshmallow, poached cherries and a chocolate cookie crust, served with a Delaforce Port.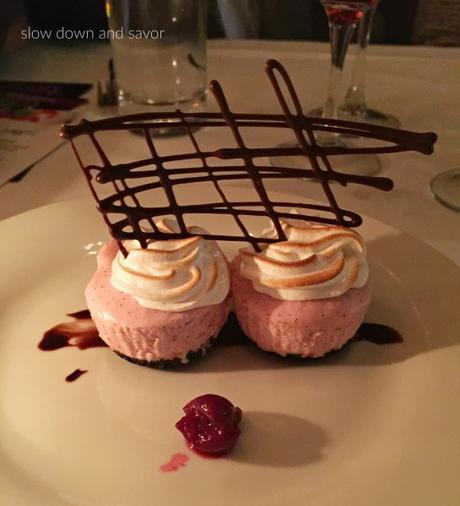 Just reading the description didn't help us figure out what would be set before us, and it didn't match what Michael was expecting (chocolate cake with cherries), but I do have to say, I was happy with what was presented vs. what he was expecting. I'm not a cake-cake girl. But ice cream cake? I can get behind that 100%. This dessert was solid, delicious, and a great way to end the meal. Plus, those poached cherries? I could use several jars of those in my fridge.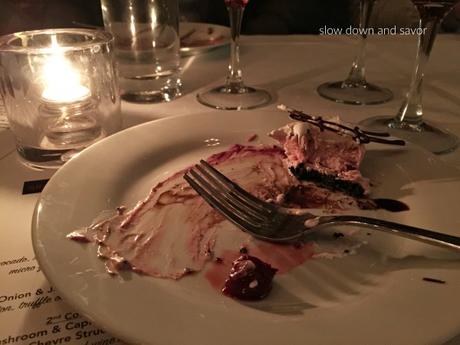 The elephant is seen as a symbol of authority, strength, intelligence, power, and wisdom. Owners Steven Rivelis and Linda Brown Rivelis may have named the restaurant for the wall sconces they found in the space during renovation and embraced beautifully, but I'd say that their food stands up to the characteristics of its namesake.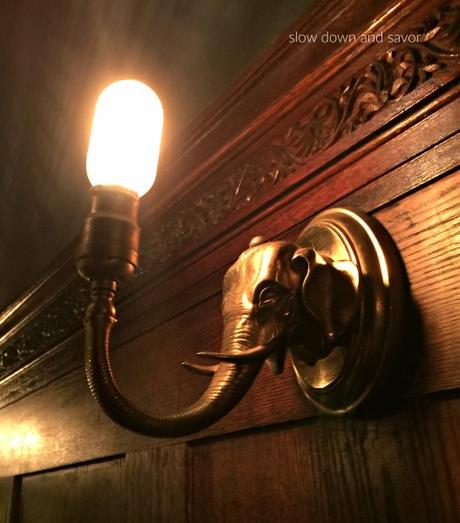 Each dish was carefully thought out, and the flow from start to finish, and each dish was meticulously crafted and somehow, each dish on everyone's table was HOT. These dishes weren't just sitting there on a hot plate, waiting for service. The dishes were fresh, packed with flavor and intrigue.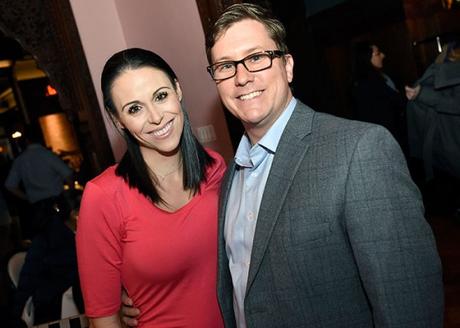 Michael and I had ANOTHER amazing evening, thanks to The Baltimore Sun and The Baltimore Sun Media Group's Secret Supper. The Elephant was sensational, both in food and atmosphere. And now I'm officially excited for the next supper on June 13. Where do you think it'll be?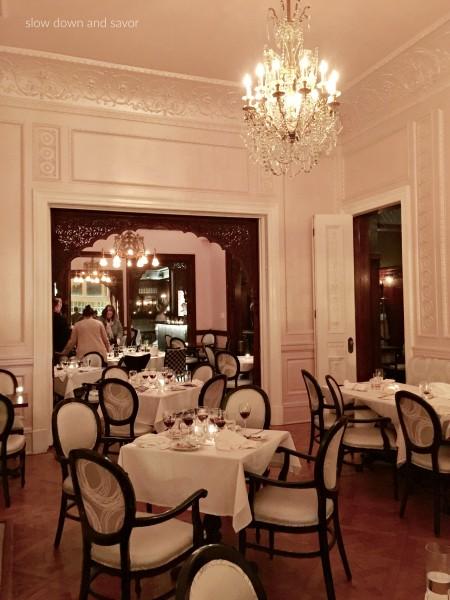 Do you want to join us at the next Secret Supper on June 13? OF COURSE YOU DO!!! Grab your tickets NOW, here!